Eight slot-heads showed up to race Vintage Econo and Flexi at STR on 11/7/22. Track conditions were a bit tight for the Vintage Econo class but excellent for Flexi cars.
Results are summarized below.
In Vintage Econo, it was Rich, Mark and Bob for first through third. All within a few sections of one another
In the Flexi class, Bob ran away from the pack finishing first with a collossal 97.8 laps. Rich was a distant second followed by Mark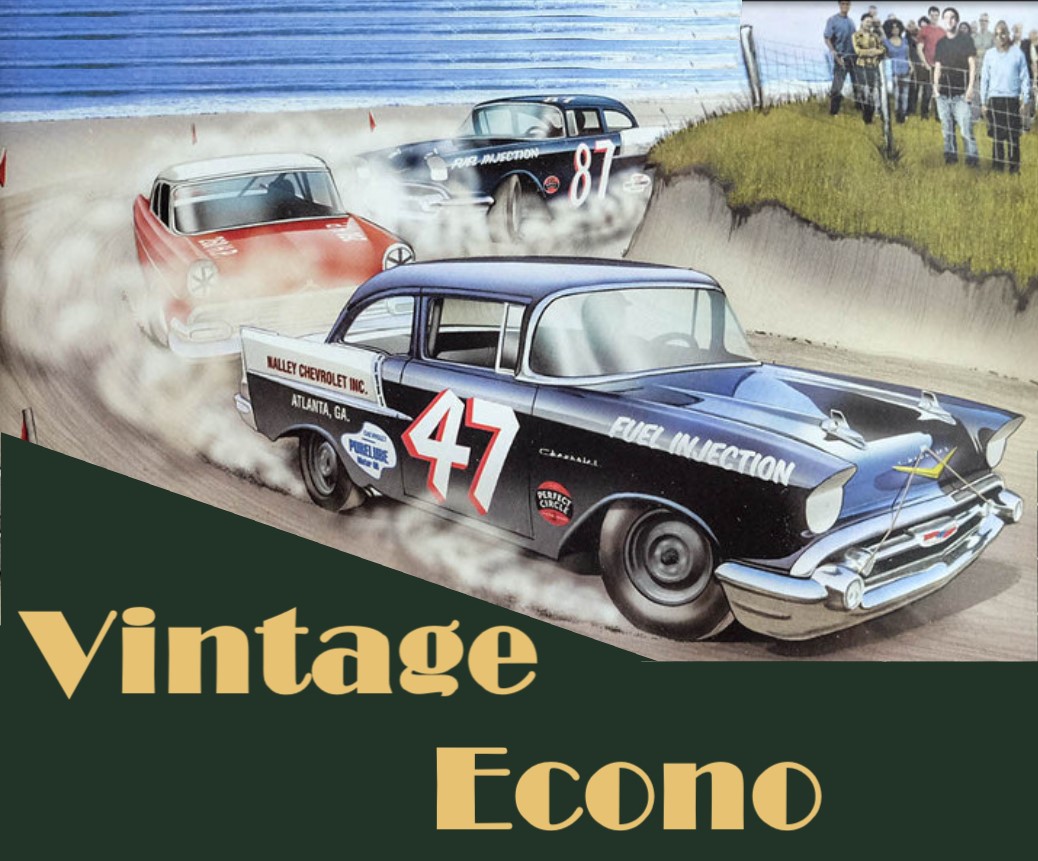 The last time we raced Vintage Econo at STR was on 5/2/22. Studebakers driven by Rich, Mark and Ron swept the top three positions. It has become obvious that the Studebaker body is the one to beat because it is quite low and light. Lowell latched onto the only remaining Studebaker model in Bobs for sale collection. Ron was kind enough to assemble, paint and decal Lowells ride for the upcoming race. Unbeknownst to me, Ron was also building another Stude for the upcoming race, this time in purple. His old salmon colored Stude was sold to Mike.
Prior Race Observations
Bobs Ford was plagued by gear problems which severely impacted his lap totals, otherwise he would have been in the mix for the win
Joe races with his hair on fire and this contest was no exception. Unfortunately, pushing hard with new tires and a tight track was not a good strategy. This led to several unforced errors, relegating Joe to a fifth place finish. His Ford is certainly capable of vying for the top spot and actually holds the record for total laps in this class
Lowell and Scott both achieved personal bests.
Below are the detailed results for the prior race. 
Current Race
Theyre back and have multiplied!!!! Five Studebakers swarmed the grid as Lowell and Mike were added to the club. As the top racers rotated in, it became clear that the race for the podium spots would be between, Rich, Mark, Bob and Joe. All had poor initial heats but came on strong. Joe actually holds the record for this class at 88.6 laps but in looking at the detailed results Rich, Mark and Bob could have challenged for the record with decent first heats. Ahh, but I digress.
Rich was the first of the top competitors in the barn with a personal best of 86.5 laps. Joe was next to finish. Joes car was quick, however, several unforced errors put him out of the running for a podium spot. Bob entered his final heat next in his favorite lane, white, and had a shot at winning it all. He ran a fine heat but finished with 86.1 laps. In the final heat of the race, it looked like Mark had a great shot at eclipsing Richs lap total. Mark did run a consistent heat, in fact, he ran a totally clean race (95.58% consistency) but it was not quite enough. Mark finished a section behind Rich. So, it was Rich, Mark and Bob for first through third respectively.
A few observations are in order.
I arrived early, as usual, to make sure my rides were ready to race. I watched as Mikes car was having some handling difficulties. These were traced to a bent guide tongue. The problem was diagnosed late in the practice session, but, by that time, Mike had lost confidence in his ride. Unfortunately, he finished about four laps short of his personal best.
Lowell had some mysterious controller problems and also found that his rear tires were rubbing against the fenders. Both of these factors led to poor results. In fact he fell short of his personal best by about seven laps.
See below for detailed results, images of the top three finishers and the new Studebakers of Lowell and Mike. To see images of all of the Vintage Econo rides, see the link below
http://slotblog.net/...ge-econo-class/
In the handicap competition it was Mark, Bob and Rich for first through third respectively. 
The Flexi class is not one of my favorites. The cars are quick but appear far from scale replicas of their 1 to 1 counterparts. That being said, the class is the least expensive for novice racers. It is also one which requires no building/painting skills because these cars are available in ready-to-run form. Several chassis brands populated the grid and power plants range from Deathstar to Blue motors to the new Plafit Cheetah motor (my favorite).
Only Bob, Joe, Rich and Mark have broken the 90 lap threshold and it is likely that these racers will be fighting for the podium spots in the upcoming race. Lowell might challenge for a podium spot if he can improve his consistency.
Current Race
Bob was dialed in with his Orange machine winning easily with 97.8 laps. Meanwhile, Rich and Mark battled it out for the remaining podium spots. Richs car was quicker and managed to hold off Mark for second place. Joe finished a distant fourth. It is interesting to look at the battle for fifth place. It was Nick, Mike and Lowell for fifth through seventh. Only two sections separated these three competitors.
See below for detailed results, images of the top three finishers and new rides. To see all of the Flexi cars, click on the link below
http://slotblog.net/...tr-flexi-class/
In the handicap competition it was Bob, Mike and Mark for first through third respectively.