An old slot racing friend now living in New Zealand scanned a bunch of his old photos and sent me a CD a while back. Here are some of the club tracks we ran on back in the day and some that are still in operation:
The first one was in Bulawayo in what was still called Rhodesia in those days, now the chaos known as Zimbabwe; it was unique amongst the tracks we ran as it had 5 lanes:
This one was a 6-laner in Cape Town, still in operation as far as I know, built in the mid-1970's: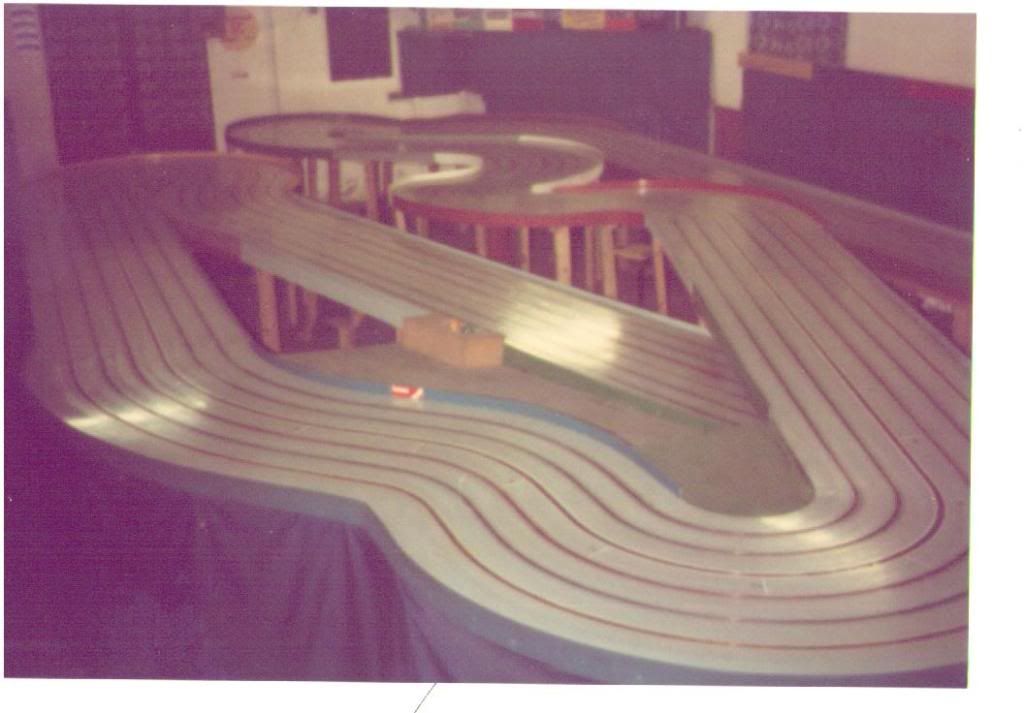 This next one started life as a commercial track in Johannesburg, then was bought by a club that took out the banking and re-surfaced it. I still hold the all-time 3minute heat record on the banked version, as I was the last to set the record before they changed it!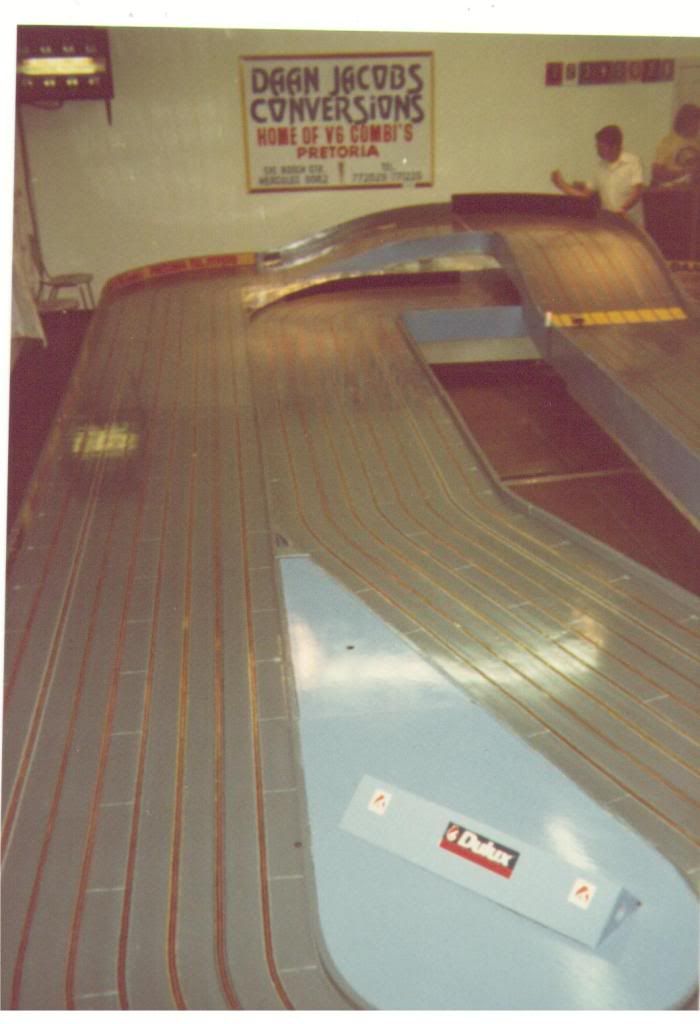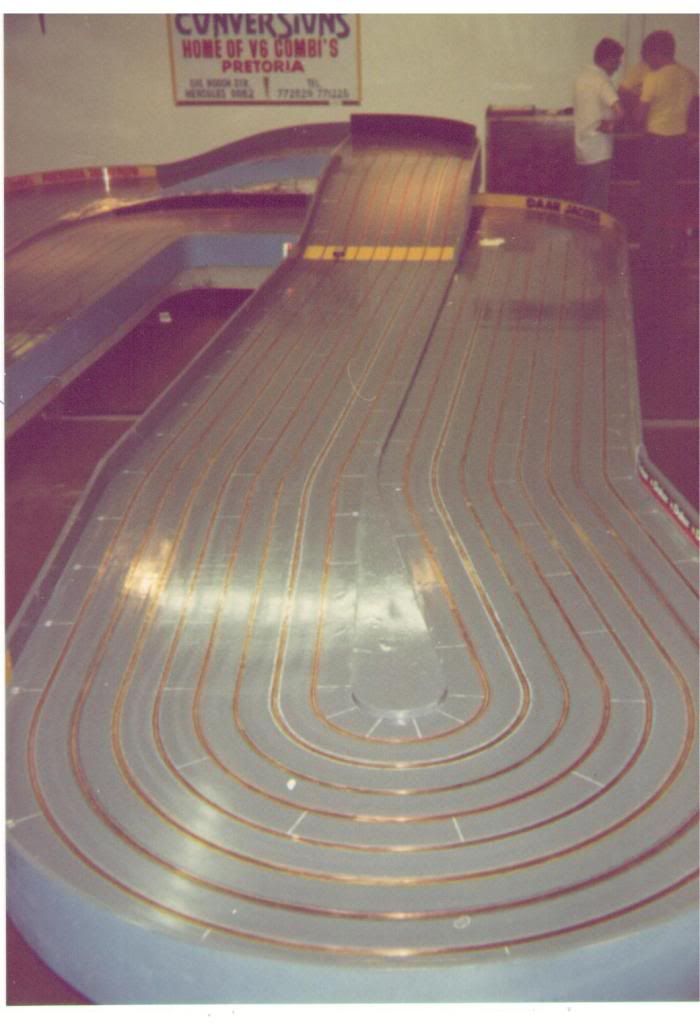 This was the track at Ecurie Elite, the club in Durban that could possibly lay claim to being the oldest slot car club in continuous operation, since it was established in 1963 and is still going strong: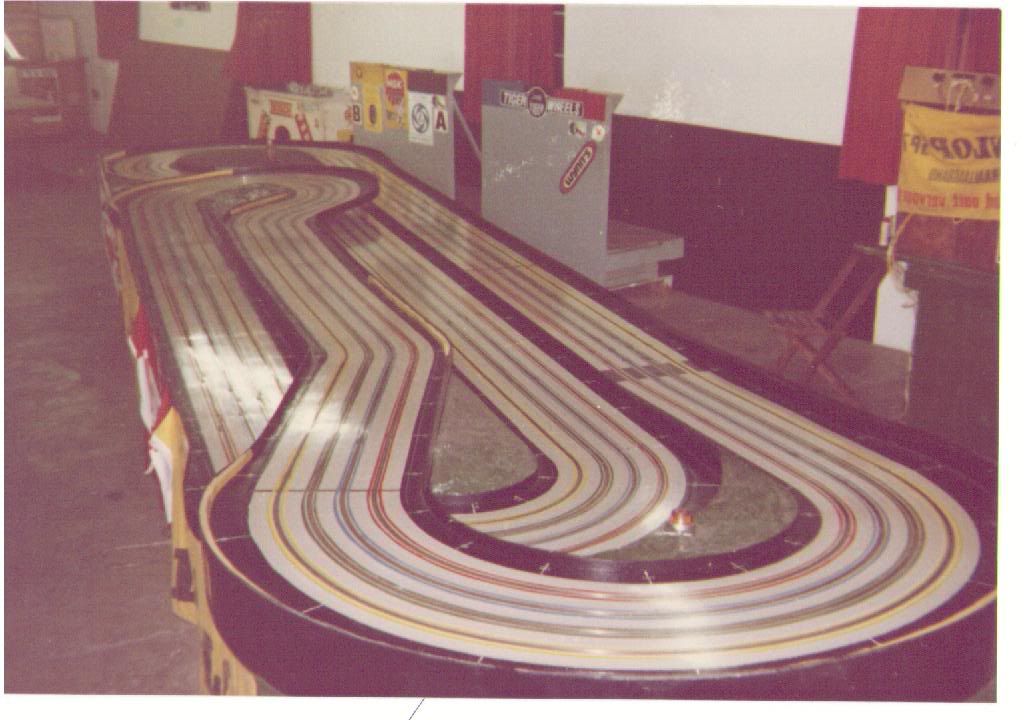 A very fast 4-laner, it was later repainted a striking orange that caused much comment and jollity: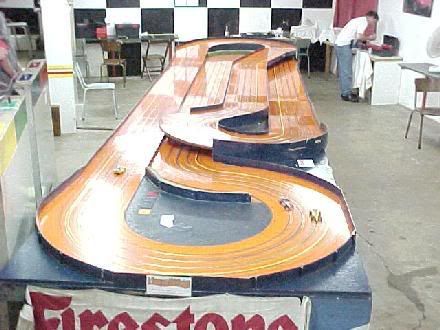 Later on, Ecurie Elite built a small king-type track that is still in use today: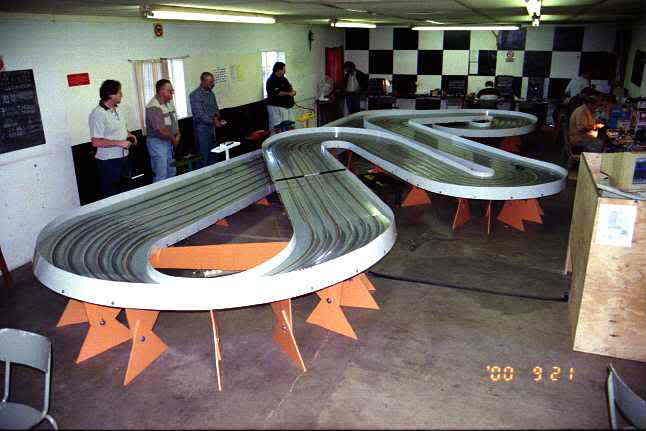 They still had some of the orange paint left for the legs!
Next up, the original track of the East London Slot car Club. It had a downhill section that was a car-killer: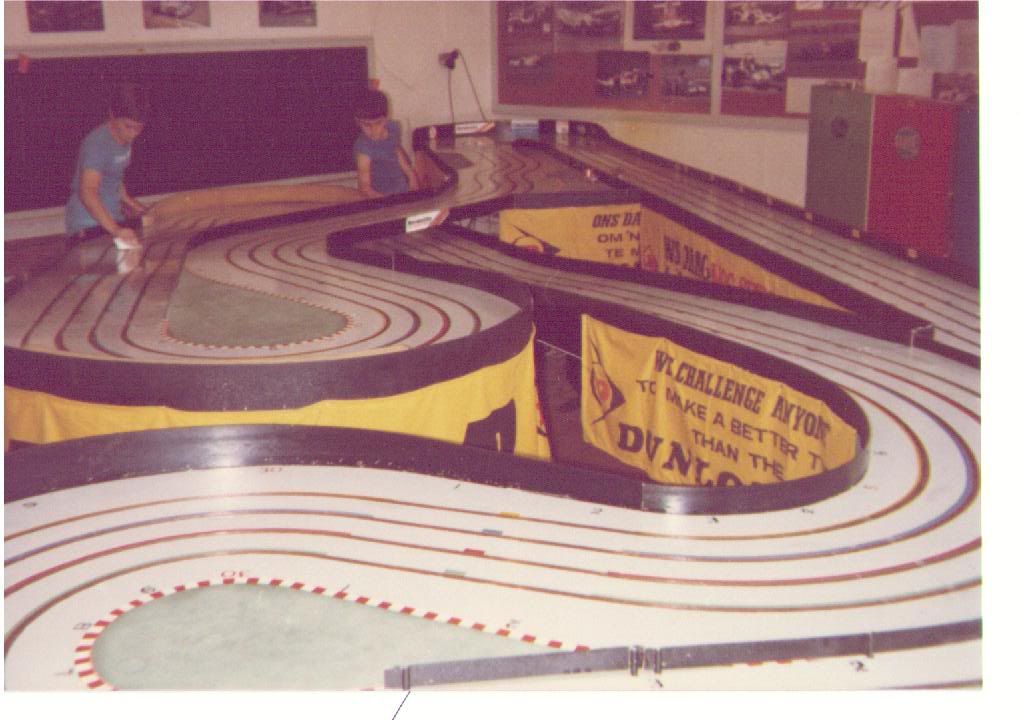 In later years, after a change of venue, the rack was completely rebuilt according to almost the same design: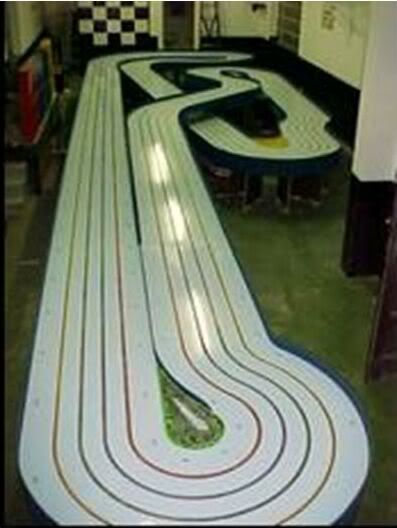 This next one has a long history: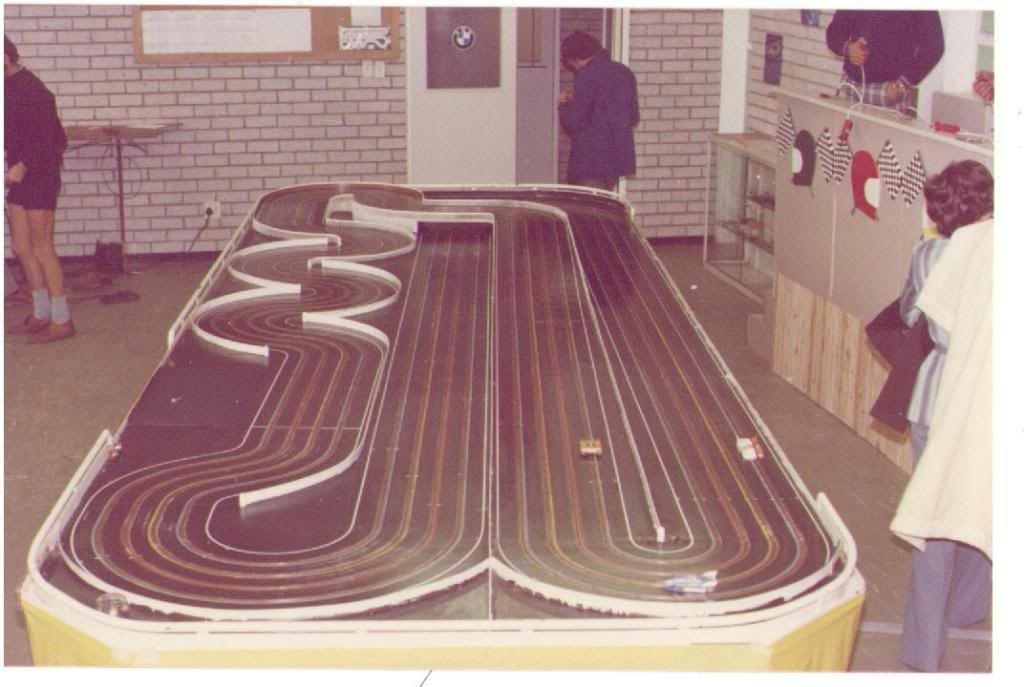 Originally built in Pretoria in the mid-1960's, this was the track of the Pretoria Atoms Club, which operated until 1975. I was one of the last members before it closed down. The track was taken to one of the gold-mining towns by one of the members and then later sold to a new club starting up in Newcastle, one of the coalmining towns in Natal. It was operated there for years before being replaced by a newer track (of which I do not have a photo right now).
This photo shows a track with probably the most moves and the most owners of all SA club tracks.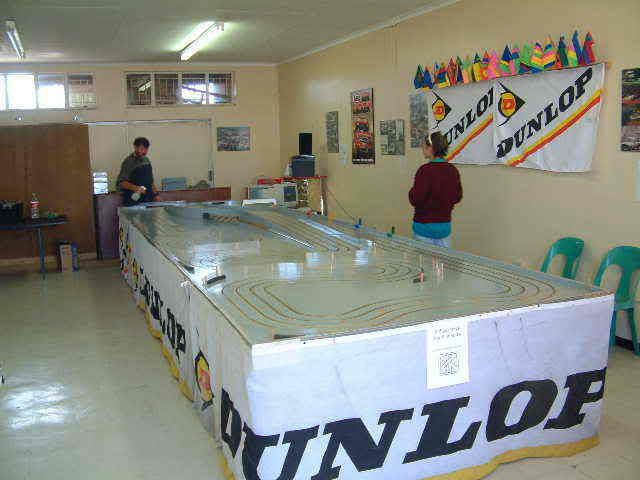 Originally built by the members of Roues Volantes Slot Car Club in about 1966, it was moved by them to three different venues before it was lost totally for about 5 years. We finally found it and it lived along the wall of my garage for a year while we looked for premises. Once we found a spot, the track was resurfaced to the grey color in the photo, then moved twice more before being sold to the current owners. A very tight and technical circuit that gave the home club drivers an enormous home track advantage.
This one was also situated out on the Gold fields and has to be my least favorite track of all - long straights joined by sets of turns all the same radius. Also the scene of a total melt-down on my part resulting in verbal abuse of a turn marshall that nearly got me banned for life!
And finally, the tracks of my home club from 1975 till 1989 when I stopped racing:
We started with a small 4-laner that we dis-assembled to build a bigger one that re-used a lot of the parts of the old one: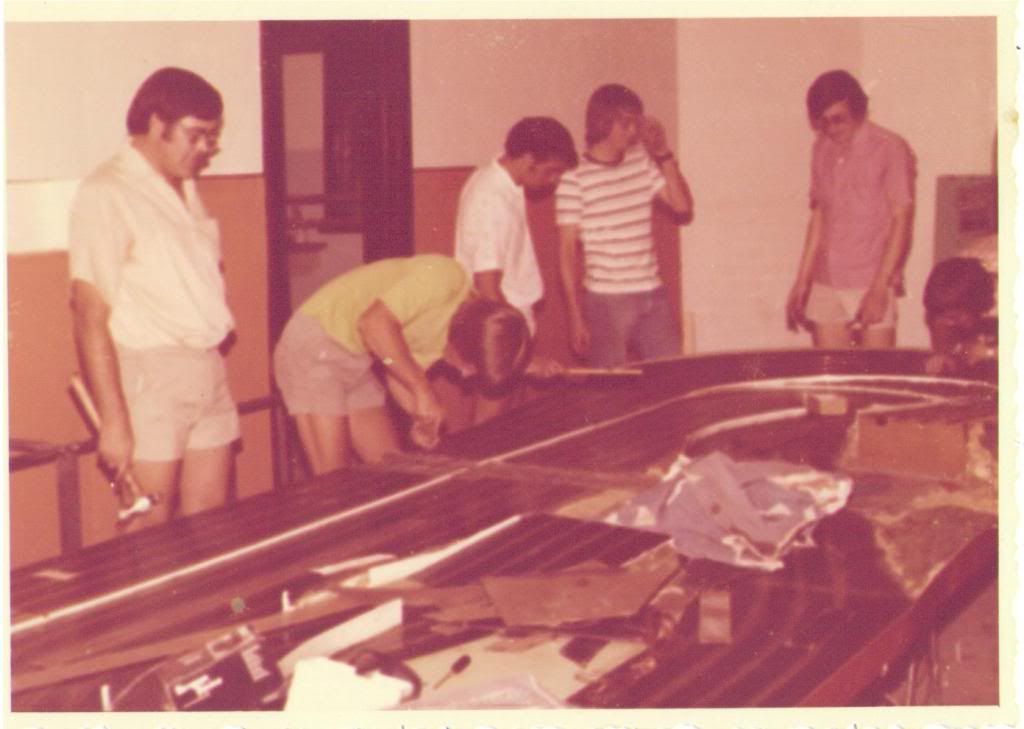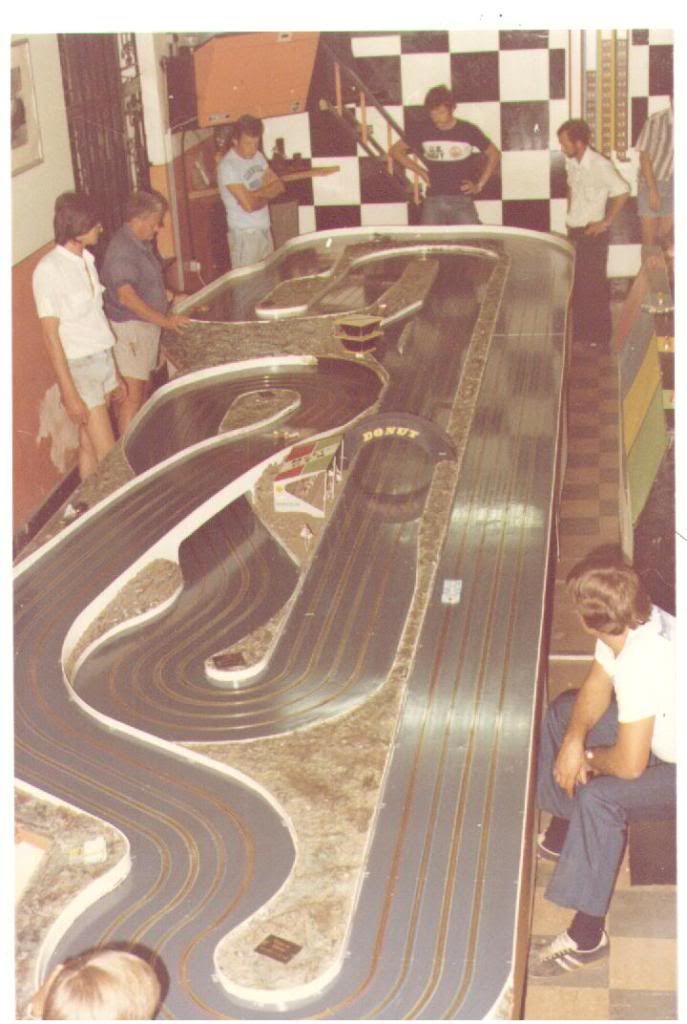 I won my one and only SA Championship event on this track, which is why I used it as the basis for my new home track.
This track was destroyed by a fire in our clubhouse in 1981, after which we used the re-found Roues Volantes track for some years in two different venues. Shortly after I retired, the club built a new 6-lane track that they still use: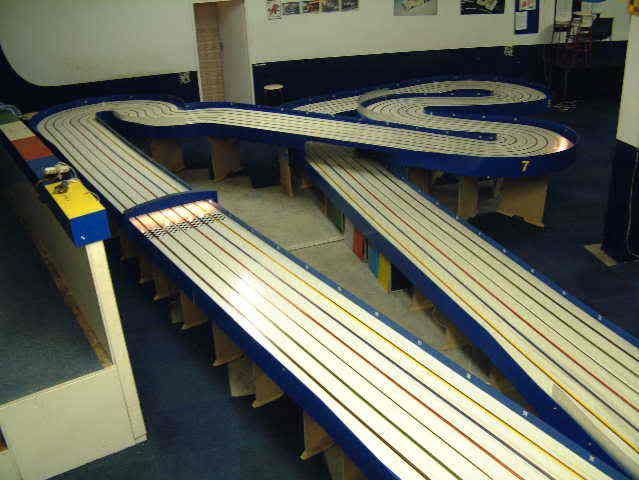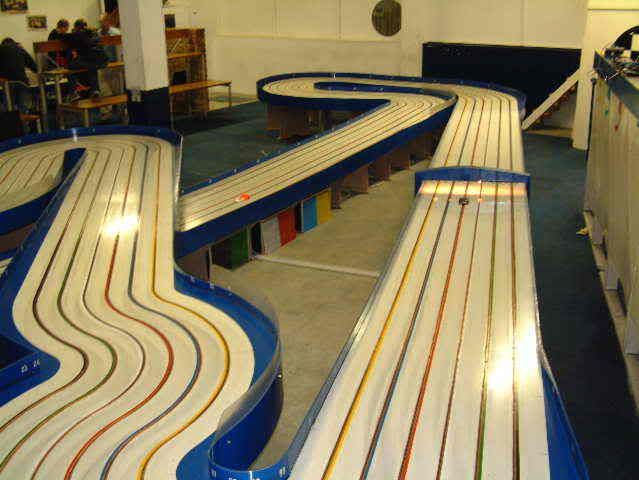 I hope this is of some interest to you all.