While I wait for some Vanwall stuff in the mail, I"ll pull some things together for another build over here. This car's been tickling my fancy for some time, and before I chafe my fancy I figure I oughta balm it once and for all.
Now, how cool does a car have to be before someone falls in love with it?
These puppies represent, to me, the real essence of American racing on the International level; they were giving Enzo and the boys a hard run long before FoMoCo really got serious and started tossing serious money into their program, and I opine that the subtlety was not lost on the other players.
John Dilworth, bless 'is cotton socks, has done a nice pop of the early Coupe; I pulled Greg Holland's fine and extensively-disclaimer'd Daytona tome off his VSRN website (URL currently giving me fits, PM me for a complete .pdf if interested) and will probably do this car in one of its earlier outings, like this one--graphics from the article and typical of Greg's work: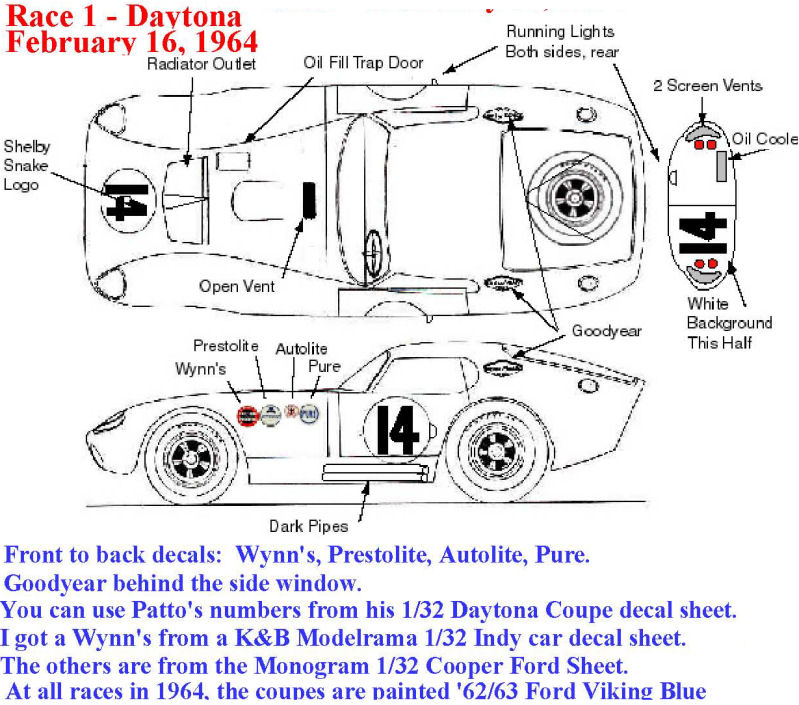 So, I pressed the Dynamic 36D sidewinder chassis into service for this one, along with some aptly-named Daytona mags - four spokes, but I'm frankly disinclined to eschew casual this late at night... the tyres are old Russkit, nearly large enough all around but reasonably Peryod-Korrekt I think.
In this picture, Super Cucumber pouts at the neglect and turns to Blimpy for moral support.
Some of you've seen these before but they belong here: I decided to bush-out the 1/8" holes in the aluminum frame with ball bearings, so I needed to jig up and carefully bore. I did this in The Lost Cause tradition, "anything attainable by a 12-year-old boy with his Dad's hand drill"-
- And the result was surprisingly accurate:
You can believe as much of the above sequence as you like. 'S a free country.
More in the next days, as rest and work allow.
Duffy