A friend asked me a while back if I could build a Mike Steube first generation angle-winder Lola coupe. Many years ago Philippe asked me to do some lettering on a body he was putting on the actual chassis Mike ran back in 1968.
This is the body prior to my doing the lettering and shortly after the chassis restoration.
The body for me is very important since I am a painter first and a builder second. I don't have the same body Philippe sent me but will do my best to replicate the chassis and lettering as close as possible. (Frankly... even Philippe admitted to me that he didn't even have the correct body either but the one shown is pretty close.
I have two such Lola bodies... one by True Scale which seems flatter and more like the pictures in an old MCS racing report. The second was provided by my friend Howmet and is more scale in appearance. However the wheel openings are more scale and require larger diameter tires than this build provides in my opinion.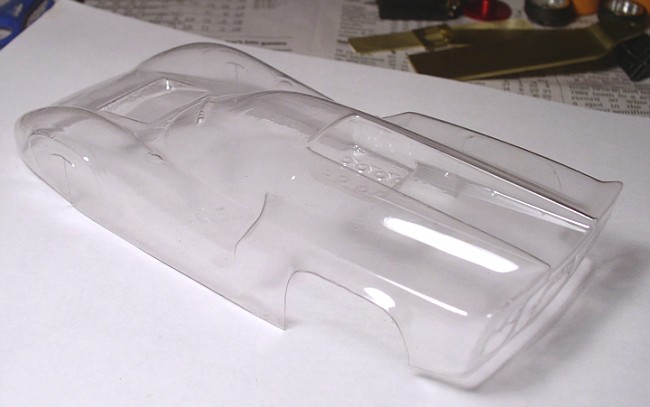 The motor is suppose to be a 517 Champion. My version didn't have the aluminum can bearing but is fairly close....
Ring gear is Weldun, provided by Rick Thigpen. (Thanks Rick!)
The magnets are from a Parma Death Star which I have usually understood to be about as strong as '68 era Arcos. But the arm was re-wound by Sir John Havlicek a while back. The wire wrapping, though beautiful, is way too heavy of a gauge (H55). I ordered a set of Pro-Slot HEQ magnets so the wind won't melt the endbell but.... if John has a milder wind, well I am listening...

Cutting brass is done and ready for some wire bending! I learned from Rick's past thread that he messed up the chamfered corner on the motor bracket back in '08. I shall not be making that same mistake, but it is interesting that Mike skipped over the "motor box thing" and went right to steel rails front to back! Huh?

Truely a man before his time!
Front wheels are Associated and rears Parma knock-offs. The fronts only fit a 3/32" axle... so I will either sleeve the front axle tube or attempt to drill out the axle hubs to accept 1/8" drill blank front axle.
Not sure what path to take at this moment. Drilling out vintage wheels has never gone well for me in the past so sleeving the axle tube seems the least risky path.
Stay tuned as I will be firing up the iron in the morning along with a fortifying cup of French Roast!
Ciao!