In a week where it seems everybody's arguing and nobody's building, I figure it's a good time to post some thoughts on a class that it seems--nobody's building...But, I'd passed along my veteran GP chassis (Duffy #02 if anyone's counting) and needed a new JD ride for the race this weekend, so I pulled out my brazing rod and went at it. Kind of a nice change from building Can-Am frames.

So as I set up this build, some of the stuff I've been applying to my current torsion-based Retro builds crept in. Here's how that worked:
One thing everybody talks about with these JDs is how fragile they are, how easily out-of-tweak they'll get if you wall 'em. Maybe so...I haven't found mine to be too crooked after a race, but maybe it's just because I'm so d@mned slow!--OR maybe there's something really viable in making these big swoopy gentle-radius bends and staggering 'em, and maybe there's a benefit to rigidity in soldering every wire available right up next to the other. --Making a [bronze & solder] pan, so to speak.
Maybe. Let's try it.

I chose to use the McLaren "Serenissima" bod from Howmet's Bodies For Beer International on this ride, and that's a pretty narrow car, a quarter-inch under the allowed JDGP width; but I want to play with the concept some guys have concerning keeping weight low & close to centerline with these cars; lacking any real width anyway, nor any aero advantage from a wide bod, it seemed like a good time to try narrow & dense.




So the inner run of rails just nuzzles up against the motor here, affording two runs inside the Duffy JD bracket. the inner-est one got a little bend to fetch up against the cheeks just like the forward set does--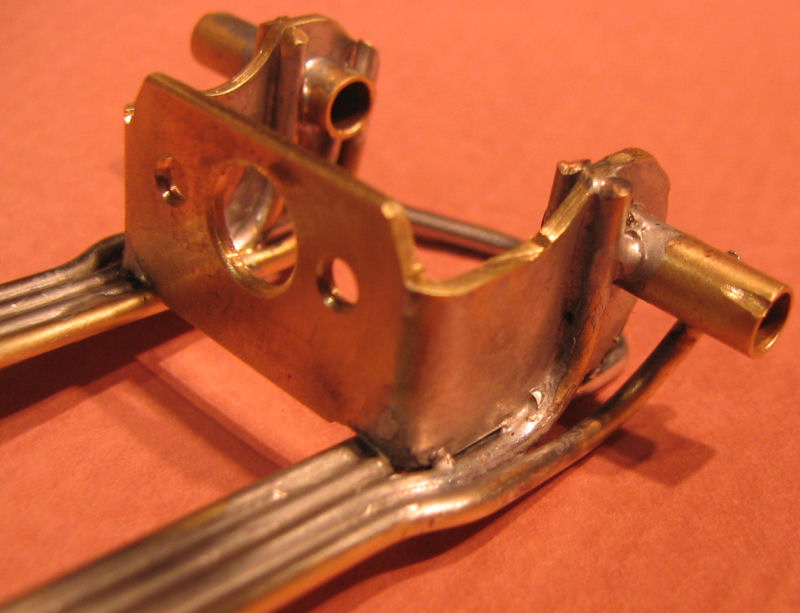 --And the outer runs also snake around to keep everything as dense and in-contact as possible. Put 'em all together, and--




--And we get the "Slithery Jungle Tail" in all its glory. What I'm hoping by all this is to minimize any gaps or structural faults that might flex independently, in a sense creating a "pan" of wire. Initial bending tests indicate the idea works, and there's no need for those small right-angle gussets we like to use on Sports Car chasses.
The other thing you see here is the steel hoop I fit into the gap shere the bracket cheeks are; it needed grinding down to the .040" cheek thickness.




While I was doing all this fancy squeezy-narrow junk, I took the opportunity to do my math and stack up all the bits aforehand. A quirk in the Duffy JD Bracket (it's so hard to get quality components these days!) necessitated a droparm stackup of .615" width, so when I made up my droparm central unit I filed away half that loss before attaching the bearing rods, and then filed those to slip-fit. I vainly believe a perfect slip in the droparm is more stable: better & faster racers have pooh-poohed that conceit.




So there's the Duffy "Chillon Castle" GP Jaildoor, as close to a solid pan as I could manage. The droparm is also kept as close to minimum-movement as possible in up-down mode.




A couple of guys (YOU know who you are!) who like to mess with wire and the limits of motion will quickly hip to some interesting possibilities vis-a-vis selective rod grouping and partial-soldering. To those I say only, --it's a bright future.





Here's the body mounted. Livery is totally made-up. My sentimental approach to Jaildoor determined my exclusive use of brushes for the body; sometimes it's fun to be sixteen again.
I really do enjoy painting, I should gear up to do more.




I wanted to save as much of the transaxle as possible--like I say, I intended this to be a celebration 0f 16-year-old Duffy's scale-like leanings...so I spent more time than I should've cutting&fitting&trimming&cuttingsomemore...and even then, the crown gear was jammed. That's when I pulled out my soldering iron and dialed it up to LOW, & gently pulled the box out to clear. I swear, if I'd hipped to that trick before I'd started cutting away...

So that's what I'm taking over to SAL this weekend. I'll report on how well I wrought after.
Duffy