Chaparral 2E by IMC
Started by
Régis4446
,
Oct 07 2011 01:52 PM
Posted 07 October 2011 - 01:52 PM
Régis Baron
---
Posted 07 October 2011 - 06:29 PM
just for comparison: left - Fisher 1:24 resin kit. Right - IMC 1:25 plastic kit
Niels, DK
---
Posted 08 October 2011 - 11:47 AM
That's real nice Regis! More pix please!

Ernie

Ernie Layacan
---
Posted 09 October 2011 - 10:07 AM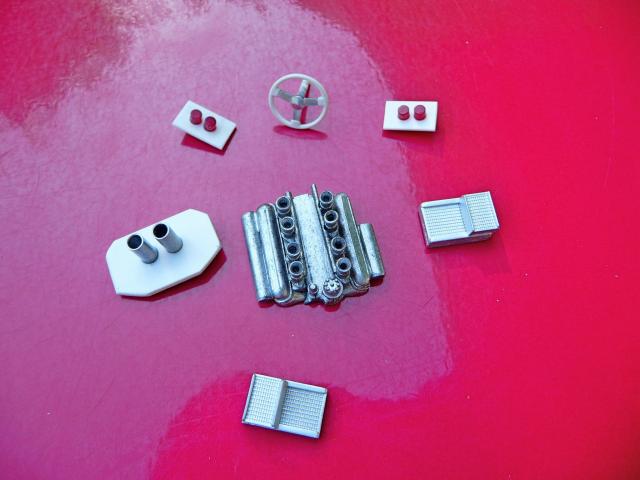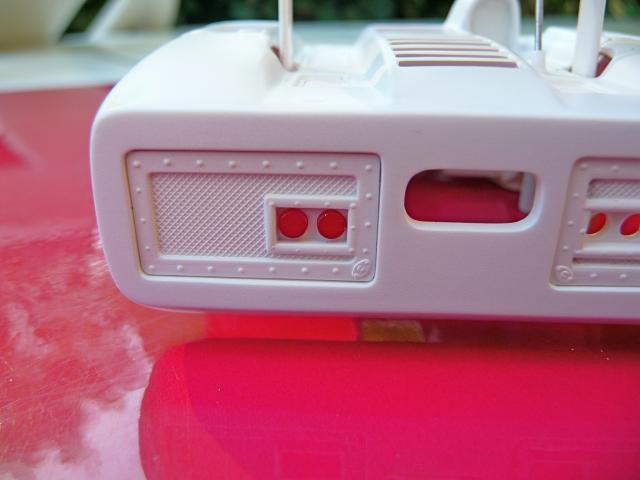 The frame is made of brass and aluminum.
The aluminum wheels have been made with my lathe
.
The engine is a 22 Russkit
.
The fin works like that of Cox and it's a real pleasure to see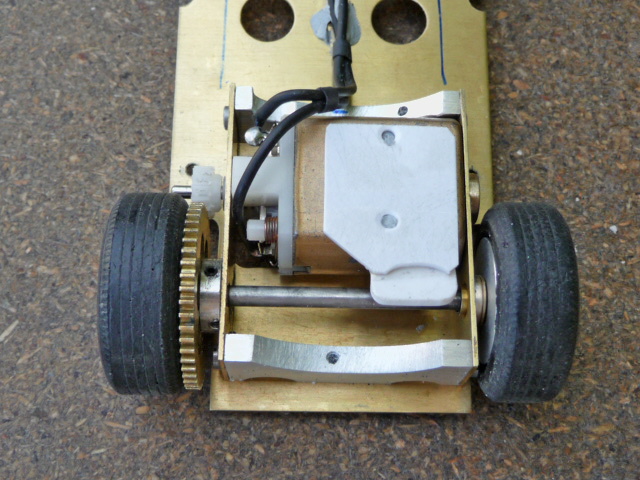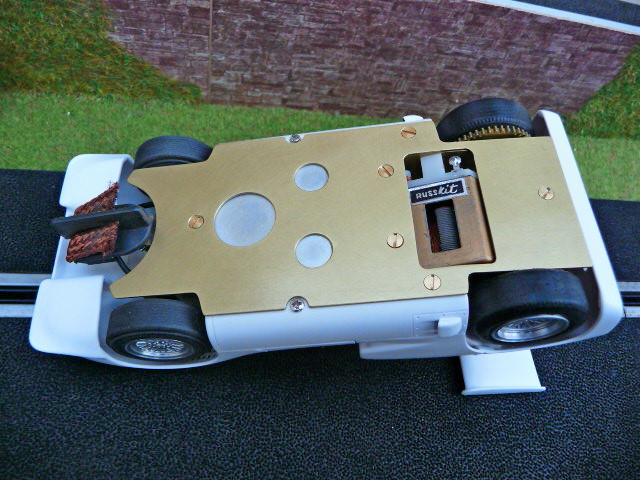 Régis Baron
---
Posted 09 October 2011 - 10:23 AM
Beautiful work Régis and brilliant working wing.
---
Posted 09 October 2011 - 11:03 AM
Very nice work indeed. The IMC kit is unfortunately not very faithful to the original car, with a windshield that is too large and especially too wide (like that of the current model by Racer), and the whole design of the front-end also quite messed up. It is unfortunately a common feature of all IMC models, every single example of them, from the ford GT to the Lola T70 and going through the Lotus 38, MK2, MK4 and Cougar 2 etc., simply way off, as if they never used factory drawings or even decent pictures to make their patterns.
However, these intricate kits did offer to the modeler a ton of parts, and the Ford GT was a fantastic kit to build, one of the first ever with a realistic tire tread pattern.
The Cox 2E slot car body is absolutely spot on, but represents the very first version of the car before it was even raced for the first time. However that's easy to fix, by simple additions of spoilers and wing extensions. At least its proportions are correct, and at this time, I cannot think of another 2E/2G model in either 1/32 or 1/24 scale that has correct proportions.

---
Posted 16 October 2011 - 02:08 AM

Thank you friends.

Under the sun of Brittany
, Here are the photos of 2

E

completed.

It was started
in 2009.



More photos tomorrow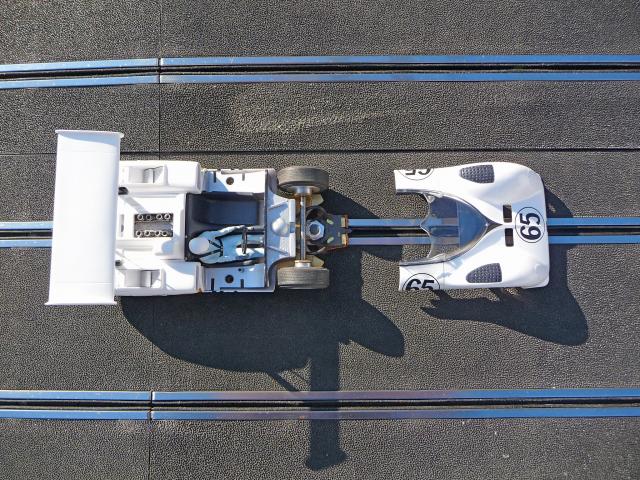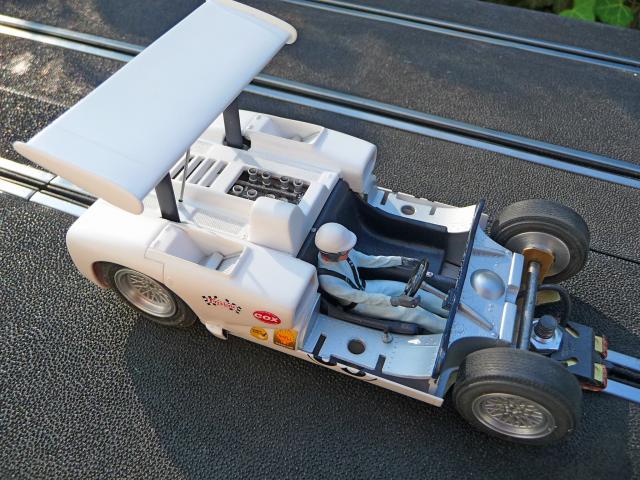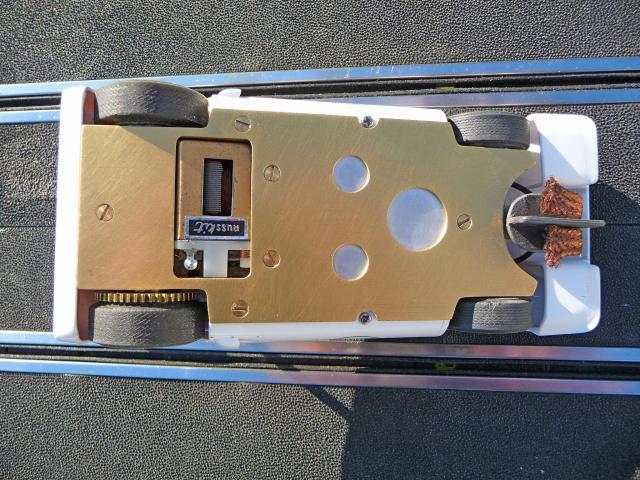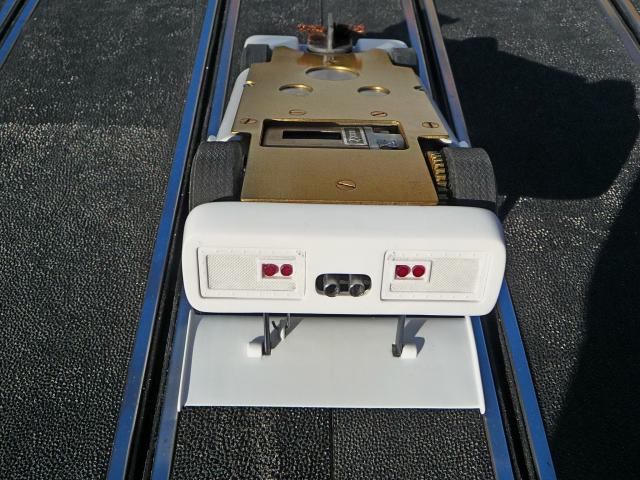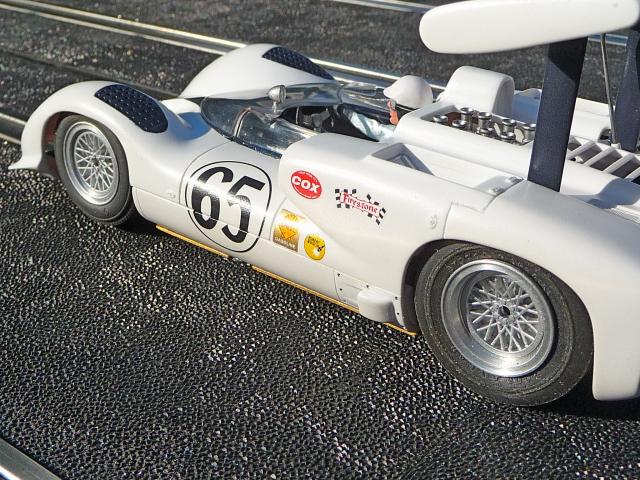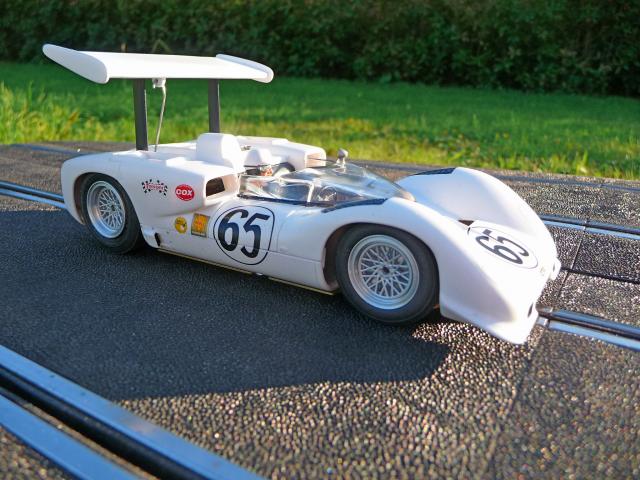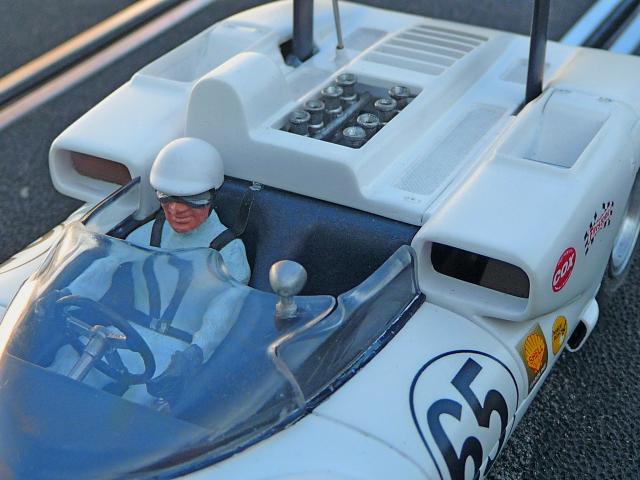 Régis Baron
---
Posted 16 October 2011 - 08:30 AM
Wow!!! This looks great! I really like what you have done.

I just bought a UNION JIM HALL CHAPARRAL 2E 1966 kit and was thinking of doing a real nice version of the car. I wonder if that kit is all over the place. To me (not being a huge "purist" fan) the car looks fantastic. Although the Cox 2E is spot on it's very, very hard to find a hard body. There's plenty of the thick plastic version but that's a nightmare to work with.

Well done brother, lovely build

Chris Clark
---
Posted 16 October 2011 - 10:44 AM
What an awesome build Régis. Truly beautiful.

---
Posted 16 October 2011 - 11:44 AM
The 2E is such an icon; thanks for sharing it with us.

Richard L. Hofer

Remember, two wrongs don't make a right... but three lefts do! Only you're a block over and a block behind.
---
Posted 17 October 2011 - 12:43 PM
Régis Baron
---
Posted 17 October 2011 - 03:45 PM
Definitely a gorgeous job.
Regis, you need to get a real track, the Ninco is like driving off road with all those pebbles on the surface...

---
Posted 24 April 2019 - 11:55 AM
Wow,
I just came across this old thread while researching ideas of how to build my IMC 2E.  Regis, that is absolutely an amazing build!  
Wow again...
Paul
Paul Quick
---
Posted 24 April 2019 - 01:20 PM
Nice, nice build.   I have a kit and an old built up.   I don't think I could build the IMC/Union model kit.    It is a very detailed kit with many parts.     You've done a great job and all true scale issues aside, it is a very nice looking kit.   I'm sure the Fischer kit makes a great static, also.
---
Posted 27 April 2019 - 01:59 PM
Thank you Matt and Paul for your comments.

I hope this will help you build your 2E.

Mine is still in very good condition, I love it.

Régis Baron
---
---