A few months ago, while I was doing the health recovery thing here at home, I ran across an old friend that I went to school with,using the social media Facebook.
Looking at his pictures, there was an oval slot car track. Being surprised to say the least would be an understatement. I say this, because if where he lives now, is where I grew up and never thought ever would I hear of or see a slot car track in that area.
He told me it's a private club track where the guys get together and race Parma FCR chassis with dirt late model bodies.
I went on to ask him If he'd ever heard of an offset chassis for the oval. He had not. So I told him I would build one and send to him to have for fun. This give me the total liberty to build a car with no rules in mind.
Now? how would I build it?
Of course, a copy of the most popular car, in the Retro East belonging to Matt Bruce. it took going thru a lot of the old race reports that Noose had posted here on Slotblog to finally come up with enough pictures of this car. Some parts of the build where not clear enough to do an exact copy, but since this was a No Rulz type build some parts of the build where improvised on.
4.5" wheelbase, 3.25" wide, .050" clearance front and rear, JK Retro Stock Car fronts, Pro-Trak rears, TSR D3 motor, Parma guide flag, TQ wires. The body is something I made.
The airbrush and me just don't get along sometimes!

I hate to paint, and am really not good at color selection. The following pictures will prove that.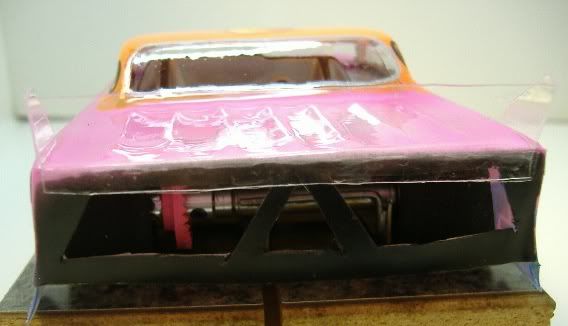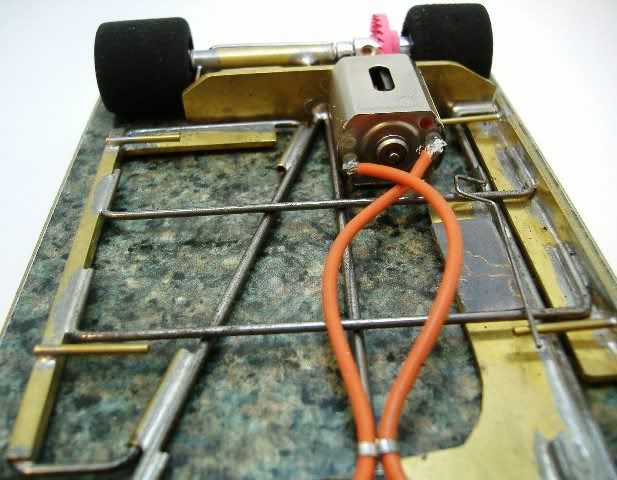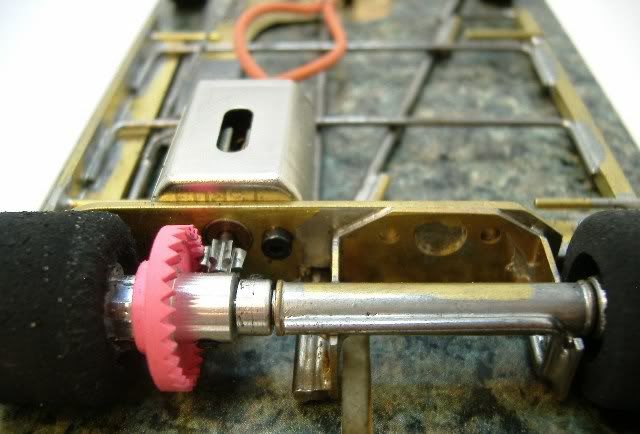 A big Thank You, to Tony P. andSteve Kempson; with their knowledge and keen eye, they helped keep me on my toes on a couple of mistakes along the way.