How many people use their mobile device?
Started by
One_Track_Mind
,
Nov 25 2011 05:07 AM
Posted 12 July 2015 - 12:46 AM
PC for following the forums.
Nexus 5 for txting and chat.....
Ron Thornton
---
Posted 12 July 2015 - 02:56 AM
All I want is a mobile phone as I always seem to be close to an interweb enabled computer.
Remember the Steube bar! (ask Raisin)
SUPPORT YOUR LOCAL RACEWAY!!
"The denial of denial is the first sign of denial." Hank, from Corner Gas
Nelson Swanberg 5618
Peace be with all of us and good racing for the rest of us.
Have controller. Will travel. Slot Car Heaven
---
Posted 12 July 2015 - 09:27 AM
IPhone 6Plus

---
Posted 12 July 2015 - 10:18 AM
Noose! You found my Phone! Too hard to text with so if'in I need'ta get hold of people I use
messenger pigeon.....
Just think texting all started with.....
Barney Poynor
"BRONCO" BARNEY
Team CORT!

Hello my name is Barney and I was... I am addicted to glue, magnets, and wings... I have been clean and sober years now... NOW I'm hooked on 1/32 club track racing! Dang!
 
"Even if you're on the Right Track, you'll get run over if you just sit there!"

If you remember screw-on braid, motors that look like padlocks, that dang fuse wire in Cox controllers, "hand" painted bodies, the very first can motors from Mabuchi, and the smell of wintergreen then you are OLD!... like me!

Enjoy life! Race Slot Cars and read SlotBlog!
---
Posted 12 July 2015 - 11:09 AM
My phone/internet budget is $50 a month, so it my paper/ink budget for my printer.  I like to read my info rather than squint at it.  H##L MAY freeze over before the price comes down to my reasonable levels.
Larry D. Kelley, MA
retired raceway owner... (for now)
race directing around Chicago-land
Diode/Omni repair specialist
USRA 2017 member #404
USSCA  member
Host 2006 ISRA/USA Nats
Great Lakes Slot Car Club member
60+ year pin Racing rail/slot cars in America
---
Posted 13 July 2015 - 10:30 AM
No. No browsing anywhere with the "mobile".
Click
HERE
to contact Sonic Products. The messenger feature on my Slotblog account has been disabled.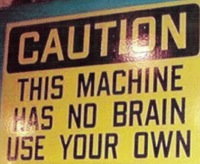 ---
---