I'm going to order some D3 2012 calendars (8 1/2" X 11"), but before I do I want to get as many D3 racers birthdays added to the calendar.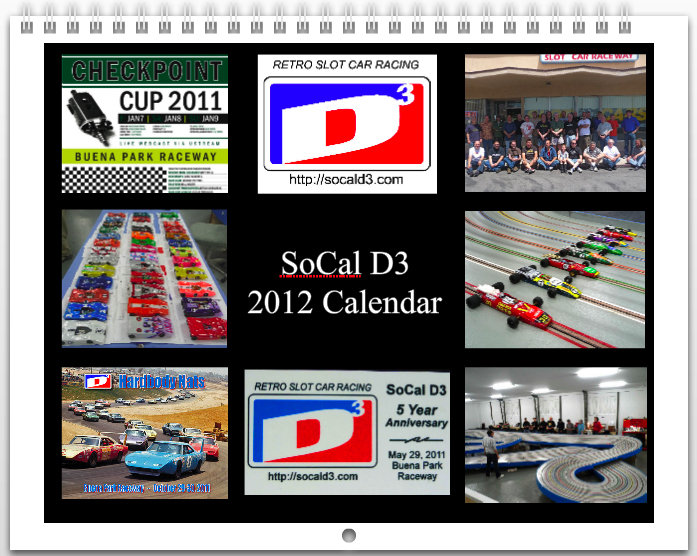 This calendar has a lot of photos for each month, highlighting major races (Checkpoint, Narrow Retro32 enduro, Western States, Hardbody Nats) as well as the various D3 racing classes including Tokyo D3.

If you would like to have your birthday (with photo) on this new calendar, please let me know your birthday (month/day) and I'll add you to the calendar.

I need your birthday (month/day) within the next few days before I order the calendars.

I should receive the finished calendars in 7 to 10 days (after ordering). So far, the following racers already have their birthdays in the calendar: January: Bob Crane, Bryan Warmack, Bob Scott; February: Mike Boemker, Tim Neja, Tim Hould; April: Paul Sterrett; June: Lee Hines, Nesta Szabo; July: Keith Tanaka, Charlie Nelson, Howie Ursaner, Ron Kiyomura, PdL, Duran Trujillo, Roger Uusitalo; August: Mill Conroy, Oscar Morales, Mike Steube, Dave Fiedler; September: Tore Anderson, John Gorski, Phil Nyland, Haruki Kan; October: Gil Gundersen, John Cukras; November: Craig Correia; December: Barney Poynor, Jeff Easterly. Rememberance days for Chris Gallegos and Pete Zimmerman.

If you'd like to have a calendar, the cost is $20 (plus postage if mailed, no extra cost if delivered to BPR). The price is the actual cost of the printed calendar.
Keith