This will be my last report of a D3 sanctioned race, you will soon know why.
Today, only a few racers showed up, and the ones who did not missed a great opportunity to test their cars for the SCRRA event in two weeks. Their problem, their choice. So here we go with the report:
Marc Franco, Greg and Mill cleaned the track as it was a bit over glued, no big deal, we are used to it!

Greg then glued the track and it was just about perfect the whole day, thanks Marc, thanks Mill and thanks Greg!
We only had eight entries and decided not to run the F1 race today, but lots of practice and testing took place, and I am very happy with my new F1 ride, of which the chassis was kindly built for me by my friend Bryan Warmack. I mean that thing hauls, and after a few laps I put it back in the box for the Zimmerman bash.
anyway, this is what it looks like: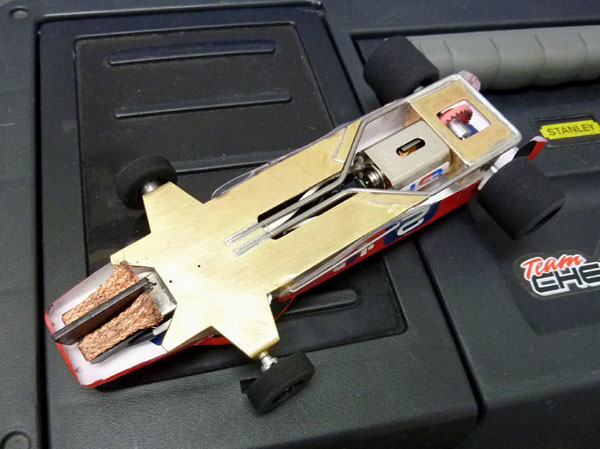 Tim Neja was working on his new brace of Retro Pro cars in preparation for the Zimmerman race, and they DO look awesome:
After I forced him to trim some of the USRA-style rear skirts, that thing was awesome to drive and will give me one more car to worry about on race day!
Tech inspection and Concours was next for the Can Am race:
Concours was won by Mill's Ti22 painted by Eddie MacDonald, a really cool looking machine.
Lining up for racing, we ran "4 & 4" so that we could marshal our own race. From left to right, Jay "Mr. Music" Henry, Mill "Mr. Blue Magic" Conroy, Marc Franco, Yours Truly, Mike low, Eddie Shorer and Tim Neja. Bryan Warmack is MIA but will return in time to race!
Mike Low was brought by Eddie Shorer for his first retro can Am, and he really liked it!
The marshals are ready, the cars are ready...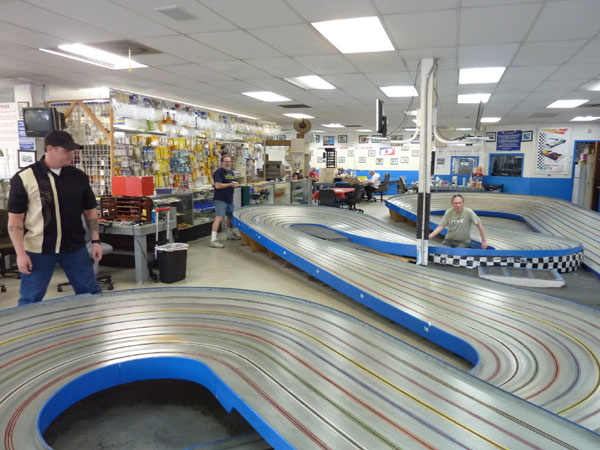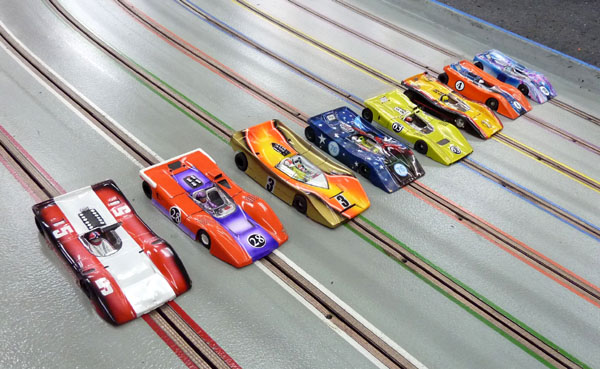 Racing action as the race was filled with minor mechanical incidents that shuffled the running several times between Bryan, Mill and Yours Truly. Eventually, Bryan prevailed over Mill and I.
Pit stop for Jay, while Marc checks things out.
The king of race directors, Barney the P of Team CORT:
The Usual Suspects after the "Kablammo" as David Hobbs would have said...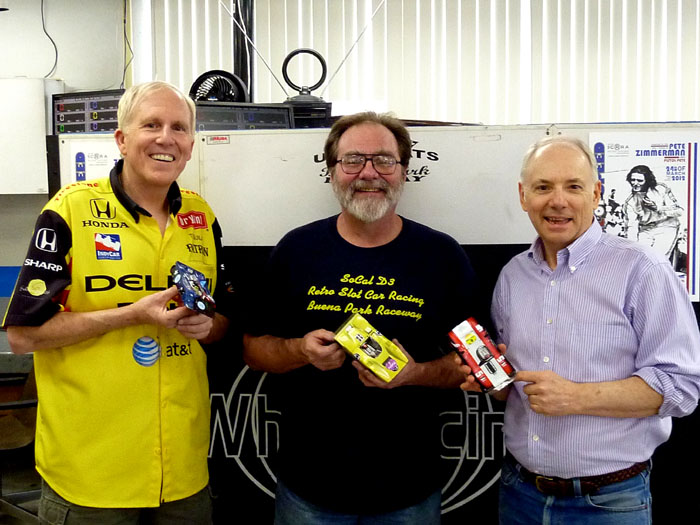 Bryan will post more car pictures, this was mine, that lost its motor clips not onece but TWICE after minor hits... I need to tighten those things for the next race!
The chassis is by Bryan Warmack, the motor was on its 4th King track race (and still has brushes...) and the body is a 1969 Champion Ferrari painted then! Well, the driver is by Noose...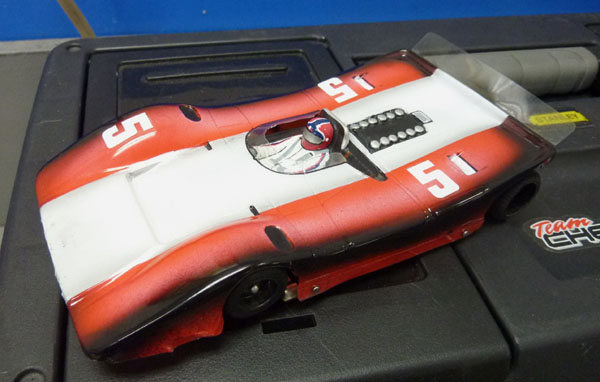 Dennis Hill has built a new can Am car and it is absolutely beautiful:
After the race, we had a meeting between the D3 board members who were present, and you will soon read in these pages what we talked about... it is all good.