Let me say this: for the first "bigger" event organized by the SCRRA, it was an unquestionable success.
This was also the first race run by the now reunited Southern California retro racing concern.
SCRRA was founded by John Cukras after it appeared that there were irreconcilable differences between the autocratic D3 management and most of the racers. When a reformed board of directors in the D3 series failed to convince its virtual dictator to cooperate and bend a little for the good of everyone, the board members resigned and joined the SCRRA, after John Cukras accepted an offer by the former D3 racers to have the SCRRA run by an informal board of directors.
At this time, with a handshake and a verbal agreement, the new group has taken over the former D3 racing dates, with full cooperation by the Buena Park Raceway owners, Jim and Debby Watterson.
In the next few weeks, board members will be named, so that the whole responsibility of running the show does not rest on a single person. A set of rules, that will strictly address the needs of SoCal racers, will be discussed and published, but at this time the rules are based on what we had all been running, plus the acceptance of IRRA cars fitted with Falcon 7 or TSR motors. I am posting this to make attentive racers nationwide aware that in this new deal, the RACERS won the day, and not either "faction". It is important here to understand that a single person pretty much caused the rift, and that same person also caused the racers who tried very hard to save his hide, to eventually give up on him.
Very regrettable of course, but now, past history, Amen.
Now onto the actual event:
First, many thanks to Jim and Debby who were most cooperative in their welcoming of the racers, as well as welcoming the film crew from New Imaging, that conducted interviews and shot footage for a full-length documentary about slot car racing. Than ks to Greg Cater who took care of the race track cleaning and prepping.
Second, many thanks to all the sponsors who helped this event being as good as it was:
Parma International, Racemasters Inc. Outisight Designs, Rob Hanson, Jairus Watson, Team CORT, Ray Price, Mill Conroy, Warmack Racing and Oscar Morales. Please let me know if I forgot anyone as I would of course give credit where due. Also more thanks to Jim and Debby who had a truly delicious lunch catered for all, free of charge. I am quite picky on what I eat and generally bring my own, but this was truly outstanding.
Third, a round of applause to Barney Poynor and Adam Kirchhoffer (and a little one to moi since I initiated this) for sorting out the King track power issues we have had now for too long. And it sure looks like we got it handled. We purchased a seemingly bullet-proof 50-Amp adjustable power supply that simply by-passes the batteries, for use with our inexpensive Falcon 7 and TSR motors. I am pleased to say that it worked and no one appears to have had any motor issues.
We also added a large capacitor to the existing Rivergate supply/battery charger for Retro Pro use, and the RP motors ran cool. Barney donated a switch that regulate the power from one to the other, and I added funds to pay for the capacitor and Adam's fuel costs in running around to buy the parts.
Fourth, another round of applause to Kathy Mitone for the outstanding race poster, a true classic that is possibly the nicest I can recall from my nearly 50-year involvement in slot car racing. Simply remarkable of simplicity and effectiveness in representation of the regretted "Pistol Pete" Zimmerman, one of the most colorful slot car racers ever. While most probably do not know you owe a lot to Pete who made major contributions to the advancement of slot car motors at a time when they were not the reliable and fast motors of today. Pete worked along with John Cukras to convince Mura to get their act together, which they eventually did.
OK, now for the races
This event was recorded by a crew from New Imaging, a film production company led by Christian Stoehr, who is also a slot car enthusiast. Christian will actually join the fray as he just purchased a used retro Can Am car and will soon learn the ropes. Christian and hsi crew conducted interviews and wired me for the day with a remote mike, so that I had to keep my vocabulary as subdued as possible.
The actual detailed results will soon be posted here, but basically the young guns had the measure of the old generation. Duran "The machine" Trujillo and Alex Freund made mincemeat of Bryan Warmack and Yours Truly in the F1 "A" race, while the same Duran humbled Bryan and Doug Matthes in the Can Am "A" race.
The Can Am "B" had two move ups, and I was the lucky winner after quite a battle with Gary Donahoe. We were both overwhelmed in the "A" by the more rapid pace.
The Retro Pro was a contest between Alex and Duran, with Tom Hansen "first in class" and third overall.
Before the actual results for each race are posted as well as pictures taken by the Szabomeister, and "Barney the P" here are a few of my own that I had a chance to shoot between performing tech inspection and taking care of my own cars.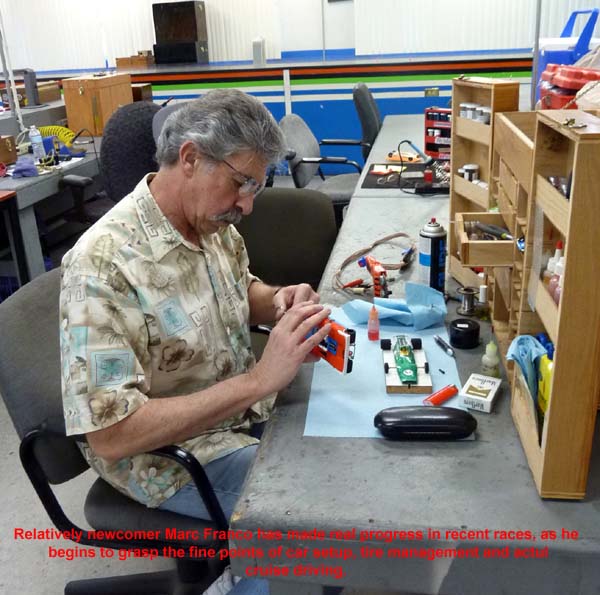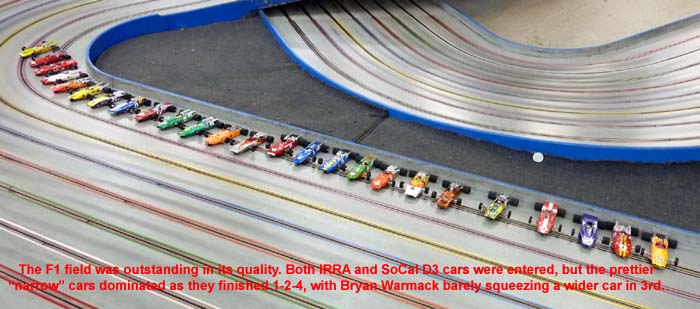 Anonymous body painter wandering in the raceway, actually led his race, for a while...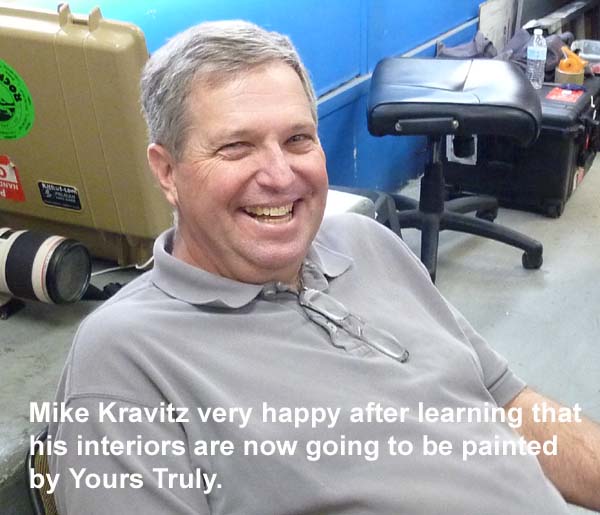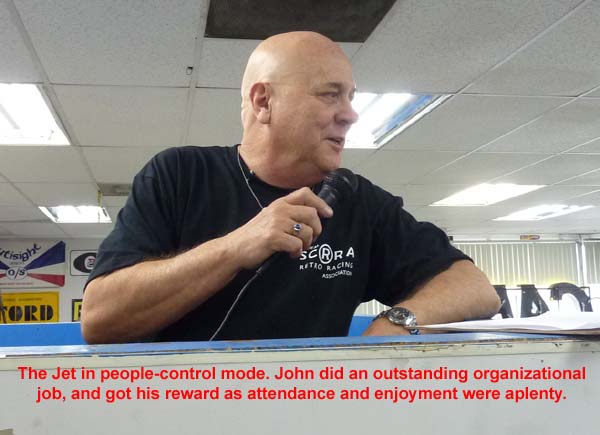 OK, so now we begin by the Retro F1 tech inspection and qualifying. We thank Nesta the Szaboster for many of the pictures.
First, the goodies kindly offered by the aforementioned sponsors:
Tech inspection begins:
Here are the qualifying times:
The first race was the F1 "C"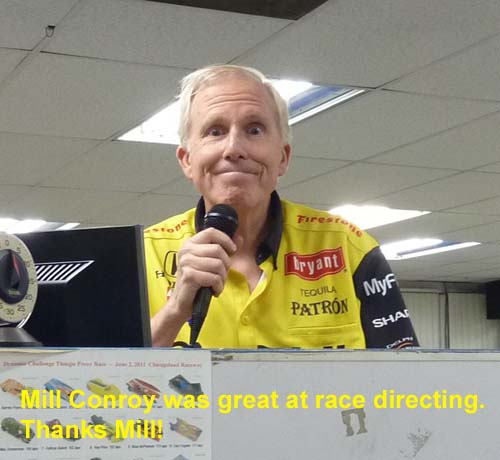 And here the guys are fighting for glory and fame in the round-robin "C" race.
And the winner is...
Quoting the winner:
This was a great race for all... I learned a lot again... and hope to have some faster cars for the next one!! But Eddie Shorer, Mike Kravitz and I had a VERY fun race in F-1! I think we all finished on the same lap, with me only 2 feet ahead of Eddie at the end!!
Well done Tim, your F1 was a rocket and you drove it well. So did Mike and Eddie, but there is only one winner per race...
I will post the actual results soon, at this time I cannot find them in the pictures that were mailed to me.
OK, now to the F1 "B" race
This was won by Mill Conroy, one of the true masters of Retro F1 racing at Buena Park Raceway.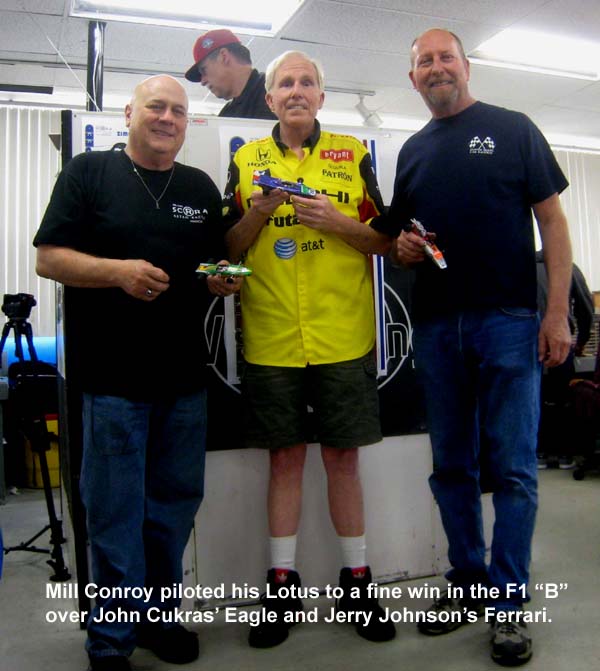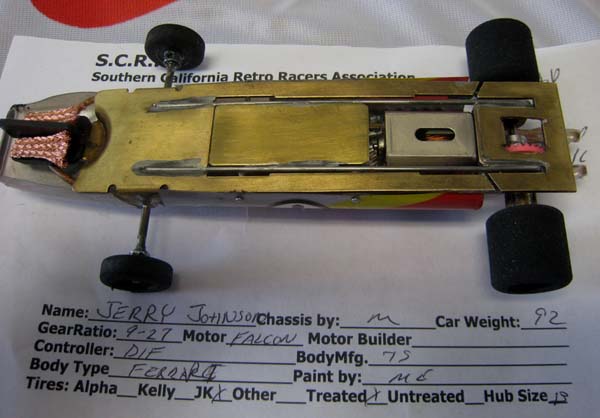 Just for the fun of it, another picture by Bryan Warmack of the amazing Devil-Eagle painted by Jairus Watson for Nesta Szabo: