Sunday's monthly D3 Hardbody races had a light turnout on Father's Day as expected. Most of our regular racers wereprobably at home celebrating their special day with family and friends.Some diehard hardbody racers did show up for some fun crash and burn races on the BPR flat track.Thanks to Jim and Debby Watterson for their support of hardbody racing at Buena Park Raceway.Since we had Crash and Burn races, no race directors (or turn marshalls) were needed!
Here's the complete race/photo report: http://socald3.phanfare.com/
Crash and Burn Jalopy race
Jalopy racers, L-R, Craig Gilbert, Russell Van Wyck, Bruce "Wayne" Frye, Phil Dragoman, Ken Dylke, Keith Tanaka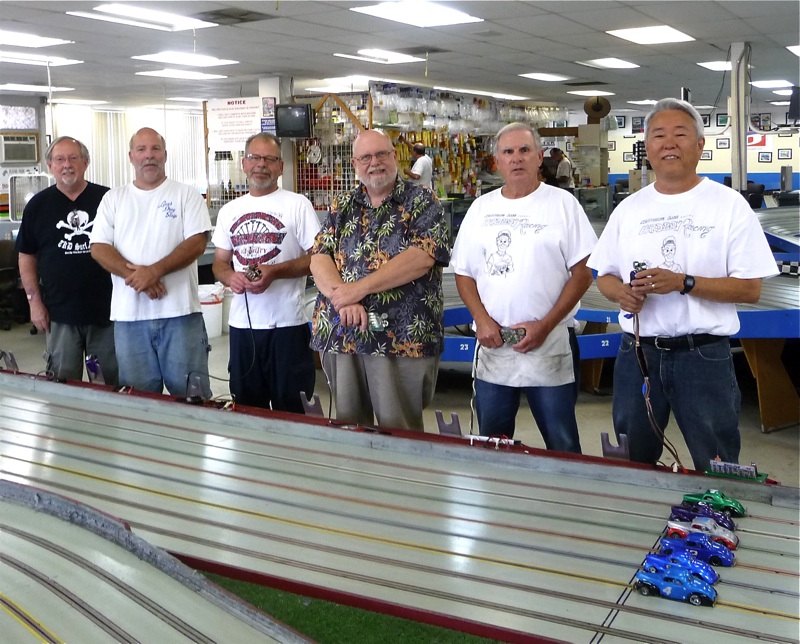 Jalopy podium, L-R, Bruce Frye 2nd, Keith Tanaka 1st, Ken Dylke 3rd
Trans Am/3 C's combo Crash and Burn race
Trans Am, 3 C's racers, L-R, Keith Tanaka, Ken Dylke, Craig Gilbert, Bruce Frye, Russell Van Wyck
Trans Am, 3 C's podium, L-R, Ken Dylke 2nd, Keith Tanaka 1st, Craig Gilbert 3rd
The next D3 Hardbody races will be on Sunday, July 22nd (4th Sunday). Track opens at 10 am, first race at Noon.
The 2nd D3 Hardbody Nats races will be held on Saturday/Sunday, September 29, 30. Besides the races held in last year's Nats, we "may"
also have a new class race based on 2000 thru 2012 Sprint Car NASCARs. Checkout the rules for this new class at the socald3.com website.
Keith