In my never-ending quest to have one of every Dynamic part ever produced these are some less common entries. I know the pictures stink so if you want to see any individually just ask.
I have so many different Dynamic parts already it is staggering. I am sure there are so many I do not have yet. I really think that some kind of catalog should be made to ID these parts with pictures. I have many package variations as well. Would anybody be willing to put something together here. I will share any pics of loose and packaged parts I have. Maybe they can be listed by number. Who knows. I think the definitive listing should be done.
Left to right: #514 for K&B Challenger (never saw a built car that used this chassis) ,#551 for Hemi 400 inline, #552 for Russkit 34, and #554 for Pit Can 6001.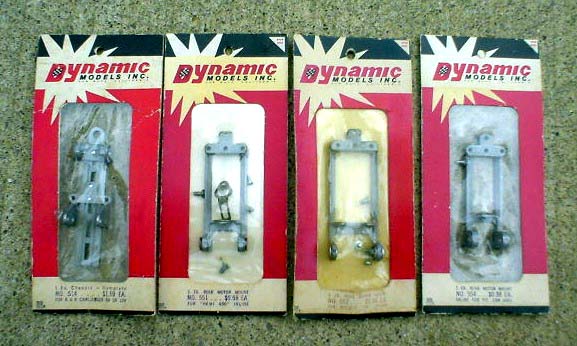 Left to right: #681 wire axle. Note that this one does not have the wire suspension, you are supposed to "hammer" the axle into the holder. #586 wire suspension, #675 high crown front wheels (no, you can't have them), #679 Siliconite wheels and tires, #662 and #663 body mounts in different lengths, and #580 roller bearing front end, a pricey $2.49 back in the day.