Pelican Park Speedway
, Eugene, OR, is a slot racing club still going strong after 25 years racing 1/24 scale cars every week without interruption, and is probably one of the longest existing clubs of its kind in the US. It doesn't present a public or commercial "face". PPS is an adults-only key club.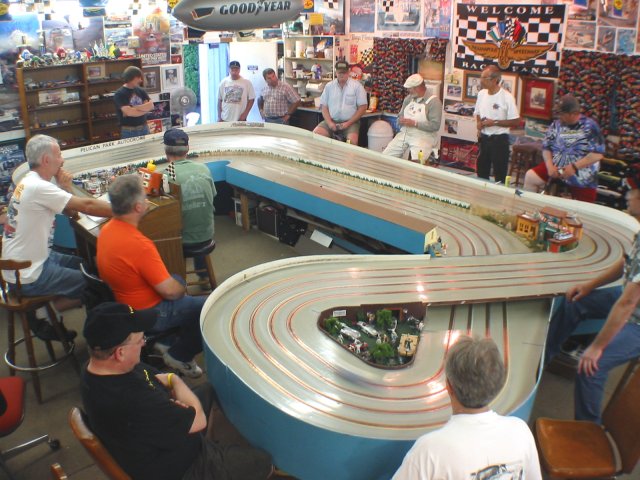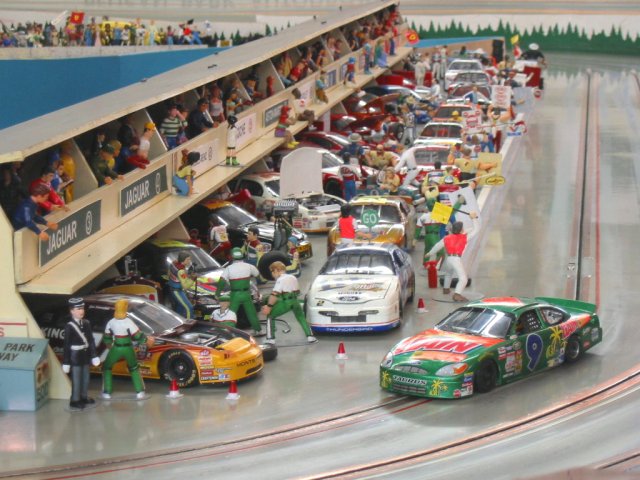 Members have built a custom, fully-landscaped race track 68 feet length that, like many 1:1 race courses, has turns and curves equalling or exceeding the lengths of straights. Thus winning cars possess high torque motors for acceleration and braking and competitive racers/builders emphasize handling over utmost speed.
PPS rules start from the philosophical proposition that the twelve varied classes are designed to encourage performance through inline chassis scratchbuilding innovations and building. Therefore, "what matters" on the track, i.e. what members are competing to determine... is who can build the fastest chassis. Motor performance is not a factor. By requiring stock bottom-line sealed 16Ds with no modifications allowed. members have taken motors... and their costs... out of the equation. Theoretically, everyone races with relatively equal cheap horsepower.
The club's racing schedule rotates through a twelve class schedule, racing 1/24 scale, well-modeled, "hardbodied" slot cars. The classes represent various eras in motorsports from the 1930s to the present.
The club is supported - building rent, utilities, and the cost of maintaining our systems - through monthly dues paid by "the faithful", a dozen full-time members plus occasional guests.
Over half the members have raced in the real world, so the scale replication of real world racing is one of the club's highest goals.
Anyone desiring to join in a truly terrific racing program is welcome to contact Todd at
htm210@comcast.net
.