As I mentioned I got in some testing @ SCR over this last weekend. Here are the results for my Can Am cars and a quick thumbnail of what I'll be running for the next few months.
Car at right has been in my fleet for over a year now. It has won races and podiumed as a loaner. This one is 4"x1" with an .078 main rail, fixed plumber, and weighs in @ 112 gr w/out body. This is my current "no brainer" car b/c it works everywhere. In testing @ Franks, this car ran 5.31 with a F-7 @ 9-29 and Alpha Untreated big full hubs. This car works with basically any body. Testing was with a Kirby TI-22.
Car at left is new. It was intended to be a lightweight for our last race at Eddies but I didn't get it finished in time. In original form, it didn't have the weight tabs at the rear or the secondary pans on the inside of the main 1/4" pans. This car is 3 15/16" X 7/8", is also a single 078. Without the additional weight, this 94 gr. car was wicked fast @ SCR but very hard to drive. After the addition of 12 gr. of brass weight, the car was very good. At 106 gr, this car ran 5.21 with JK treated 8763 narrowed. This will probably be the race car unless the track is severely different.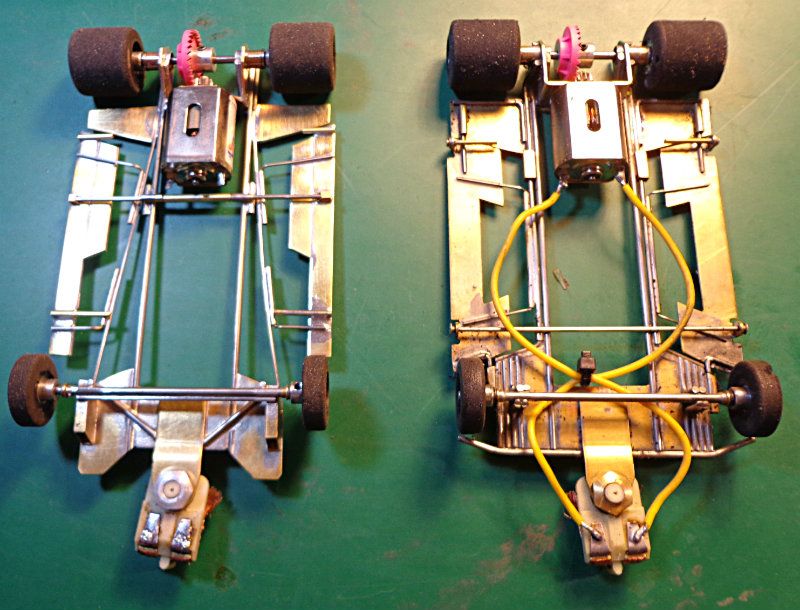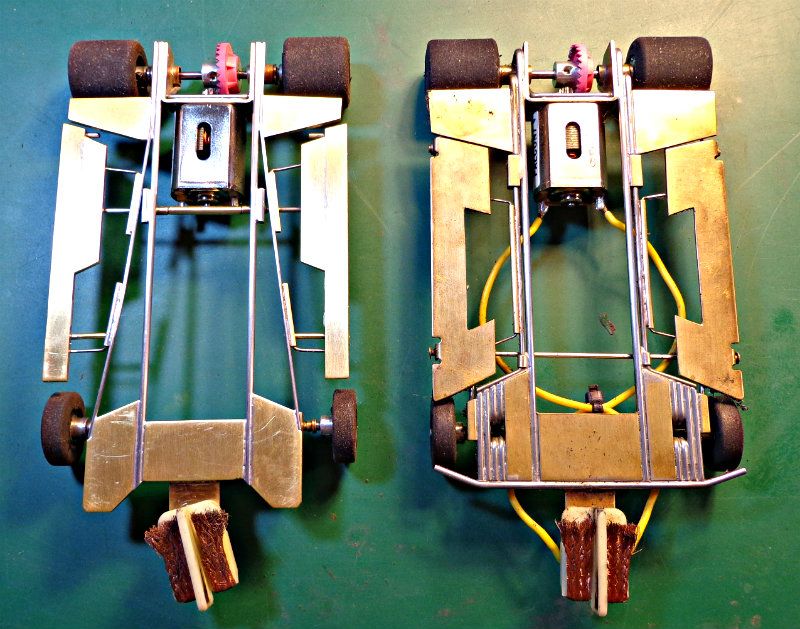 The three bodies that I tested all ran well on the designated race car. The TI-22 was very fast in the donut but a little tippy in the lead-on and the finger. The Parma Lola 163 w/1/4" spoiler was best in the main straight and easiest in the flat turns like the finger turn. The O/S Lola 163 had the best balance of the three and will be the one I choose to race unless the track is severely tight. If that happens, the Parma is probably the better call. I've never seen Frank's track loose but in case it gets that way, the TI will be warming the bench.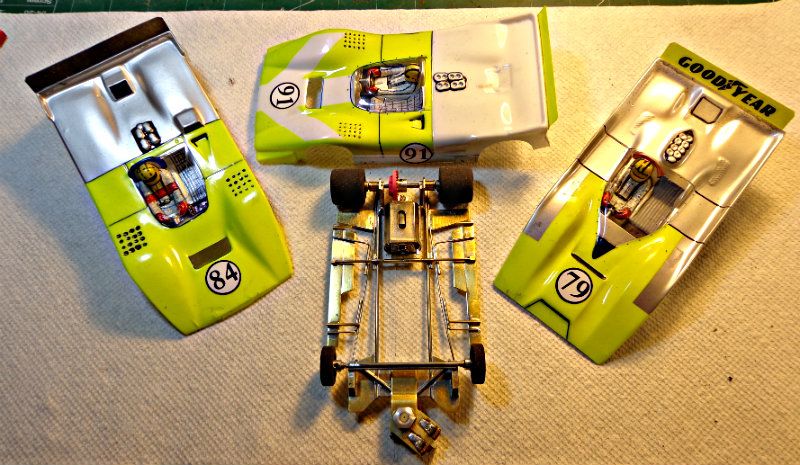 So.....what I mean by the back to basics thing is that I have experimented with a lot of fairly exotic frame rail combinations in the last year. Most of them worked but most were also a little tempermental. The single 078 rail can be built with enough variations and different characteristics that I think they can be optimal for any of our tracks. As always, testing @ SCR shows how different track surfaces can be. This track is always very tight for my tastes and dumping just enough bite is always a challenge.
Similar article on new F-1s to come..............