Mike Morrissey's Stainless Steel Racer
A replica early 1966 chassis by Steve Okeefe
Some time back, Philippe de Lespinay gave us all a peek into our collective history when he opened Len Vucci's Team Russkit box and put it's contents on display.

I became very intrigued with Len's # 3 McLaren-Elva, particularly with the material the chassis seemed to be made of, or put more exactly, WASN'T made of; it clearly wasn't brass tubing!

Around that time Mike Morrissey was posting messages on the Old Weird Herald message board, and made mention in passing that the chassis in Len's car was made of stainless steel tubing, I knew right then I had to build one myself!
Mike wrote:
"Speaking of which, I finally got around to reading all of Gene's story on the 1st Rod & Custom race at the beginning of this thread. Take a look at the second-to-last paragraph.
The McLaren-Elva we've been talking about (here and on Scratchbuilt.com) was a very rare bird, ndeed. I had forgotten (yet again) that it was one of the few we built with tainless steel tubing, in a desperate ttempt to save a few tenths of an ounce. his was the era of the super-lightweights, before the glue started getting hick and the motors started to put out some real power and the tires turned orange.

I can't remember the specifics of how we soldered the stainless tubing, either, but we couldn't use standard solder, as I recall.

So forget my comment on Scratchbuilt.com about this chassis possibly being the one we first tried spoilers on. This stainless-tube car was built specifically for this race.
We were obsessed with reducing weight for a little while there, and the stainless definitely made a difference.

The car I used in this race was probably the first one, and it gave me an acceleration and braking advantage over every other car in the field. It was very fast on that track and I remember being able to pretty much cruise away from everybody in the main event.

Ron still out-qualified me though, but that's no surprise. He was a better driver than I was."
Some months of research, experimentation and parts manufacturing later: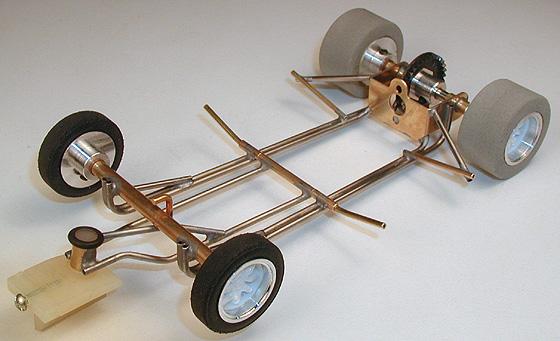 Above: With the addition of a nicely restored Russkit 23 motor and some paint and various cosmetic bits, we shall have our replica. The body mount pin tubes are angled upwards to accommodate the fact that the body sides curve under most realistically! The body is a freshly minted Tom Andersen McLaren-Elva, the motor bracket and wheels are from Electric Dreams, and the wheels inserts are from BWA.
 
Above: Mike Morrissey said stainless steel is tough to solder, but he didn't say it was even tougher to bend smoothly!  I had to soften the tubing a bit by annealing it in order to get it to take a smooth radius, and then had to fabricate a bending tool for those front axle tube uprights.
Above: Mike said his goal in using thin wall stainless steel tubing was to make the chassis as light as possible.  Toward that end he also omitted a fair amount of bracing! There are only two small solder joints forming the drop arm attachment, and there is virtually NO motor bracket bracing save those two diagonal braces (partially obscured in the photo by the rear axle and gear).
One more thing; at the last minute, I changed the rear body mount pin tube braces (shown in the drawing below) from brass tubing to stainless steel tubing. I figured stainless tubing is lighter, so it belonged there. I'm pretty sure that's what Mike did, too.