Russkit Bodies
Part of the Superleggera series, this is the Porsche RSK #603 from late 1963. It is formed of thick opaque Styrene plastic and is, by modern standards, very short, narrow and heavy. It is a reasonably good scale model of the original, and is significant because it is one of the first widely available manufactured body shells specifically intended for slot cars.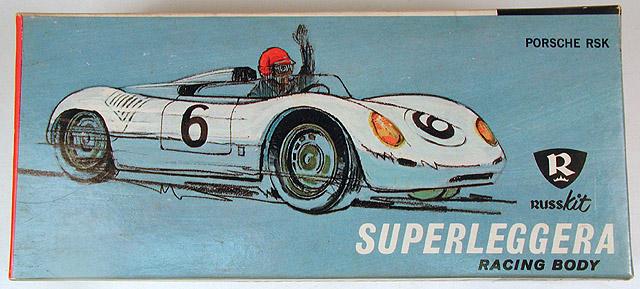 Going into 1966, Russkit began producing bodies made of thinner (e.g.: lighter) clear plastic. Competition in the slot car body market was heating up; there were close to a dozen other manufacturers producing clear bodies, and Jim Russell wanted (needed) to keep up! This is a McLaren SP.1 #613, a.k.a. McLaren Elva. Its wheelbase and width are to scale, which means it is less than 3 inches wide.
This style body was used by Team Russkit in the first R&C race held in SoCal in early 1966, however there are rumors that the team actually had specially made w-i-d-e-r (3" wide) bodies on their race cars...
If that is true, one wonders about the dynamics of how it came to be.  Both Jim Russell, who owned Russkit, and Mike Morrissey, who was at the the time the Russkit team captain, were notorious for being scale advocates.  Beyond that, I wonder what ever happened to those w-i-d-e-r molds...