Friday, I got in some testing @ Eddies in preparation for our race on the 21st but also for some future events. There were several new cars to test and although the turns were black as tar with rubber build up, the track was fast although not quite at lap record conditions. There were a few surprises in the results that I'll share below.....All car weights are listed without body.
Formula One. This is a new car sharing the same basic layout as the one I ran here in November. The rails are 2x.055 with solder flowed only to the front of the motor. This car has been narrowed somewhat from the 1 5/8" of the stock JK kit layout as the extra width has not been shown to be any advantage. This one is tapered to slightly under 1 1/2" in front and slightly over that in back. Pans are hinged and the center plate is .025 brass that is primarily there to carry lead for flat tracks. This car is 4" WB X 7/8" GL and is 92 grams ready to run w/out body. 
This car was very good out of the box and ran between 5.38 and 5.45. The best I ran last time here with my race winner was 5.32. While this car was not quite as fast, the track was probably a tick off of it's very best. Moreover, this car handles better than the last one so this car is a better race car. A modest surprise was that this car ran exceptionally well on untreated tires (not my usual choice)
Can Am: These are the three cars that I tested.
On the left is an old standby, 1x.078, 3 15'16" wb X 7/8" GL. Weight is 110 gr without body. This car runs well everywhere and is always dependable. This car ran 5.04 with a TSR, treated JK 8713, and 9-27 gears. This car was best with the O/S TI-22 (left)
Middle is a new car. This is 1X.078, 4 1/16" WB 15/16" GL. Weight is 101 gr. This car is the same design of the "Murph Mobile" that Mike ran so well last month except It is slightly longer and 10 gr lighter. This car was also good right out of the box. It was built specifically with Eddies in mind but should do well elsewhere as well. The best combo was 9-28 gears on a Falcon 7 w/Koford xtra soft wonders for a best time of 4.98 and was very easy and consistent at that speed. The best body for this car was the Parma Lola 163 pictured below (center).
Far right is another new car that is 2x.062 on a narrow 3/4" bracket, 3 7/8" wb, 13/16" GL and 90.5 gr w/out body. I built this as an experiment to test later this summer down south. Surprisingly, this short, light car was really good right here at Eddies. This car ran 4.89 w Falcon 7 geared 9-28 and with Koford soft Wonders. The fastest body on this car was the classic Lola T-160 (right) however, the easiest was the Ti-22 and the Lola 163 as a blend of the two. This car ran comfortably sub 5.0 with all three bodies. I think maybe this car could use a slightly longer guide lead.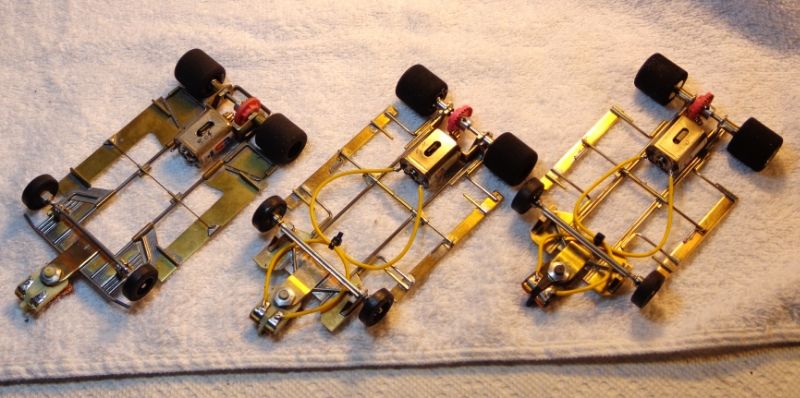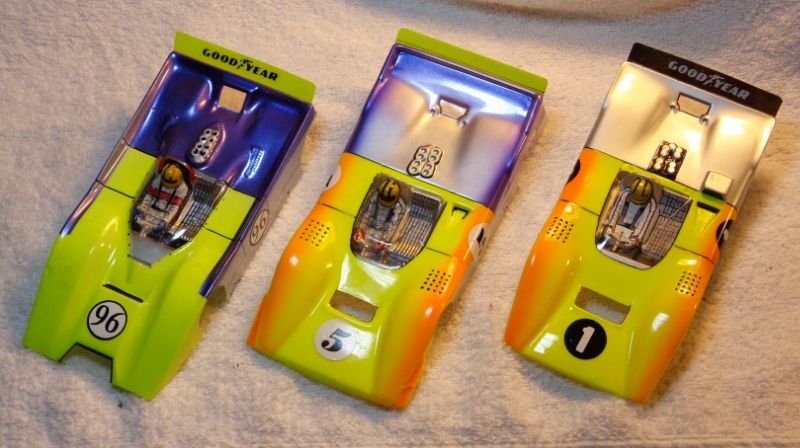 Last is the 4.5" stock car.
This is the R-Geo kit built in stock form. This car was slightly faster today than my most recent stock car build. Best time today for this one was 5.72 with the boxy O/S Fairlane shown here. As much as this car did not like Wonder rubber in the last test, it was fine with Wonders in this test. Best results were with the Koford Soft wonders. This car can probably become my fastest stock car. I have a few ideas that I'll share on the building thread for this chassis.