I've gotten some requests from our racers that I evaluate this new body (JK #70812B) for approval. Remembering that our criteria in NorCal is more about parity than ultimate performance, our goal is to not obsolete everything else that we currently use. We do not have an overall length limit (within reason) and our criteria is not a super-fine focus on the model year. Rather we check out how does it look? and....it is it reasonbly competetive or does it blow away everything else?
The players, L-R
New JK TI-22, (shown here w/.230" spoiler)
Current "Kirby" TI-22, True Scale, O/S or Red Fox, shown here with a .425" spoiler (max is .500"),
Parma Lola T-163. shown here w/..250 spoiler. (max allowed on this body)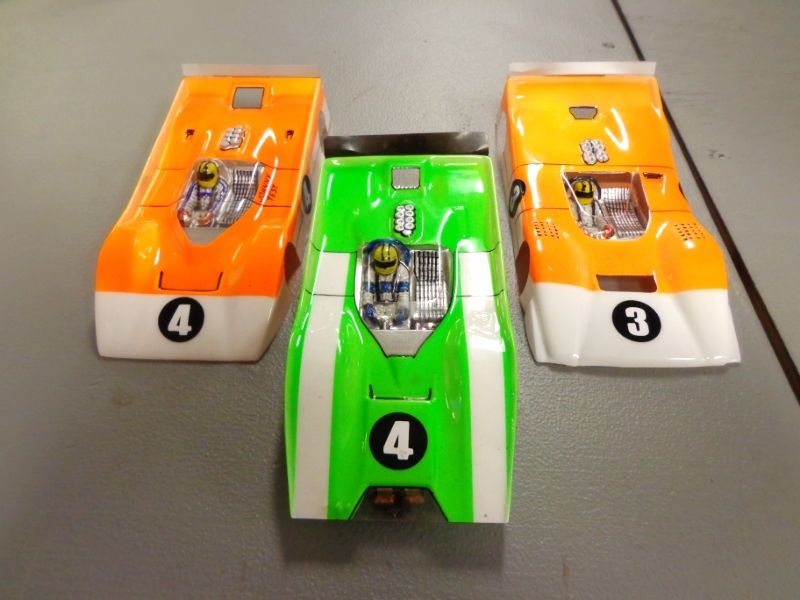 The contender: JK #70812B
This is a long body @ ~~ 6.75". This is about the same as the Parma Lola and longer than the "Kirby"
The side dams are about .300 @ the deepest spot. The "Kirby' is about .190" at the same spot.
Front fenders and nose shaping is much better than older JKs as far as fitting the fr. tires and guide.
Generally, this body is nicely done and the side to side thickness of the lexan is equal......... .
I would say that the body is long, but the overall appearance is acceptable.
Given past experience, I expected this body to outperform the current crop that we allow.
Test Car:
This is a brand new car with no laps on it. I had no idea how it would go so I purposely chose a pretty mundane motor for the test. No attempt was made to tune either by weight, motor, gear or tire during this test. Car is a JK pan with no side pan hinges (torsion frame). "Straight fork" rails are .062 wire hinged @ front, solid @ rear. WB is 4.093', GL is 1.0" weight as shown is 97.5gr.
Test Track: The "Engleclimb" @ Motown Raceway Modesto Ca.
This track offers a combination of full punch banks and pretty flat turns. Shown here from the blue-black panel, you see the flattish deadman (foreground) and the flattish "climb" up to the leadon which is tiltled but not really banked. The big turn (bottom bank) under the leadon is banked, very fast and is full punch if your car is right. This turn and the the short chute coming back toward you are key to body stability. Out of view to your right is the high bank and the tucked under "finger turn" which is pretty flat.
Here's the view from the other end with the full punch bottom bank right in front of you. The flat "climb up" is starting right at the end of the orange driver's station, then the high bank, deadman and finger turn in the distance. Because this high bank is steep and very tight, the body performance when the car comes steeply down toward the deadman should be noted. At the far right.....Mike Colvin (no hair) is guarding the driver's panel.
This is the first time I've done a formal body test here at this track. This is a good test because the combination of downforce for the turns and stability in the two banks are a contrast to the advantages of low drag in the straights.
The first laps with the new car were with the True Scale TI shown. This is a standby body that always works. After a warm up and getting the feel of the new car, this was run for record. I followed my usual body test criteria and did each test at least twice. Average total laps/body = 30 over 2-3 repeats.
True Scale TI-22 Long: (.425" spoiler)
Best 5 lap run: 5.22, 5.24, 5.24, 5.21, 5.26. Avg of 3 middle = 5.23
Hair lap = 5.18
This body was loose out of both banks but very good in the flat turns and felt "loose but fast"
Parma Lola T163 (.250" spoiler)
Best 5 lap run: 5.27, 5.22. 5.21, 5.28, 5.25, Avg 3 middle = 5.24
Hair Lap 5.20
Solid and stable out of both banks. Solid in all turns. Easier to drive than the above, I'm surprised it wasn't faster....but it wasn't.
JK TI-22 (1/2" spoiler)
Best 5 lap run: 5.22, 5.16, 5.15, 5.12, 5.16  Avg 3 middle = 5.15
Hair lap: 5.12
More solid in banks than either of above. Felt 'planted' and like cut tires would be necessary. Really fast.
JK TI-22 (.225" spoiler)
Best 5 lap run: 5.26, 5.21, 5.20, 5.23, 5.24. Avg 3 middle = 5.23
Hair Lap: 5.18
Still solid out of both banks. A little more critical than other two but maybe potential for a tiny bit faster.
Conclusions to date.
General:
We have enough bodies on our approved list currently. Probably don't need more.
Still........if parity can be found, general availability on JK products is good and consistency is also good.
Model Specific:
This new body looks fairly good and is well done.
No irritating blobby areas in the pull and thickness is consistent. No paper thin one one side issues.
Will be very good on longer chassis....can't say yet on shorter ones.
This body will not be approved with 1/2" spoiler.
This body may eventually be approved with a shorter spoiler such as the Parma Lola.
I'll have this body with me @ Eddies and we can discuss among the core group there. Meanwhile.....commentary is welcome.