Finished October 2013: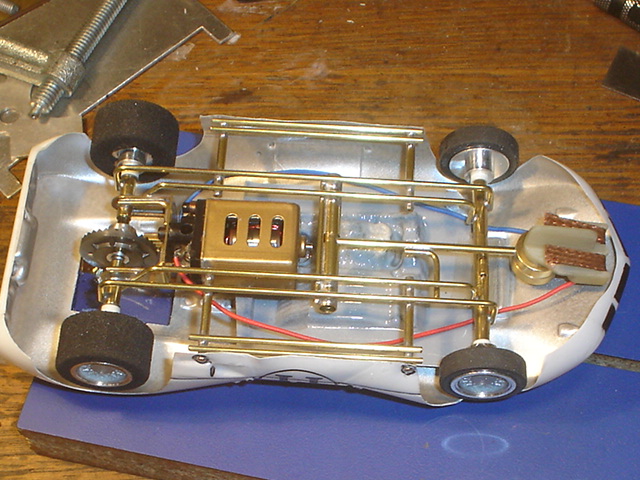 Here's where it all started:
I changed my mind, I'm going to attempt this. It looks simpler than I originally thought.
In 1966 I was soldering chassis and rewinding motors, but I was 150 miles away from the heart of racing in the Los Angeles area. That's a long drive on a Schwinn

   I never even heard of this R&C stuff until I started reading the blogs in 2000.
I need guidance in the parts gathering phase. I have the parts but I don't know what they are
First, I found this super sweet Doug Azary built motor in my parts drawer.  It was a birthday gift from Doug a few years back, an Atlas can painted gold, black Cox NASCAR motor endbell and a Deathstar arm that was made into an endbell drive and wound with 60 turns of #30. It was professionally balanced and trued by Jim Hahn, noted slot car motor expert. The magnets are Tradeship and the lead wires are Plafit.
Second, is this body legal ? What is it ? WB is 3 3/4, width is narrow but will accept 3" wheel widths if they extend 1/16