Shades of the "To Tell the Truth" TV show of the late 1960s, so many "Pactra Jupiter" cars out there, but so few that are real...
Copies are generally made from either real Pactra clear plastic bodies or replicas, but all the ones I have seen so far fail to capture the depth of that incredible gold color of the real thing. There is a good reason for that, so few real ones are out there in decent shape to make a good copy, and many survivors have had serious sunburn, turning their gorgeous color into a pale reflection of what it once was...
So here is the real thing, and for starters, it does not sit on a Pactra chassis, but one produced by their sister company, Competition Hobbies in Santa Ana. However it is listed as a Pactra model in the series, creating real confusion for the collector.

It is likely to have been briefly available in the early 1967, and there was probably a single run of both the kit and RTR versions. I have as yet to see one in either the kit or RTR box...
The RTR is fitted with a cardboard insert glued on the inside of the body and sporting a driver's head.

The car is likely to have been designed after a record-setting "lakester" from the early 1960s, but which one is still a mystery at this time.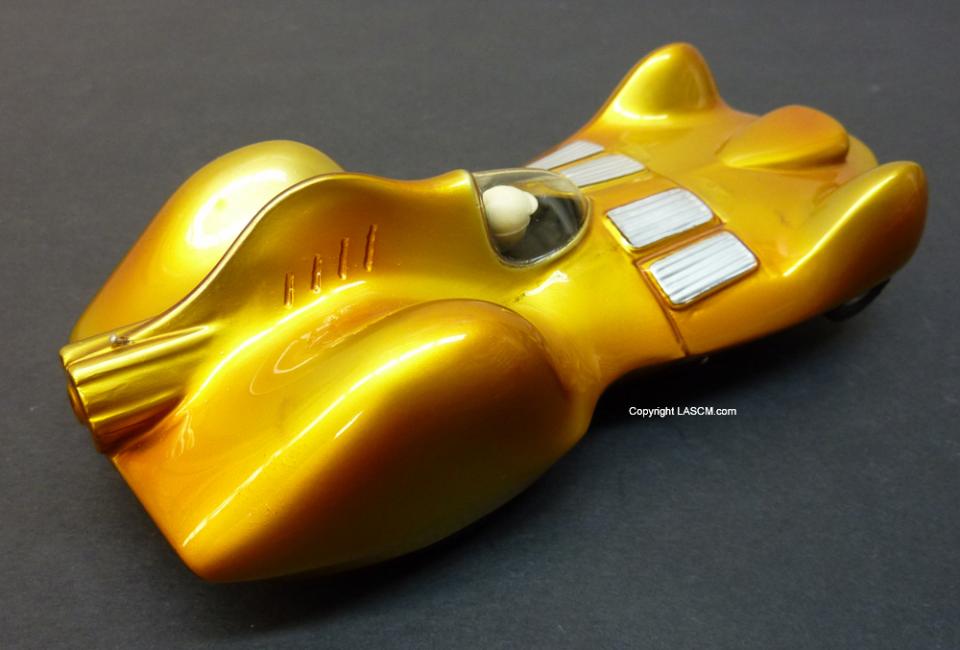 So what is it really, the reproduction of a real car, or a fantasy?