This is Rodney's first car built for the Total Performance theme.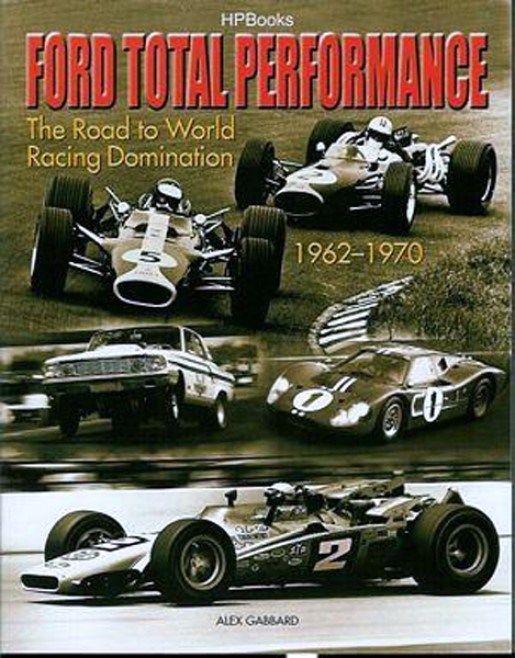 Below is a link explaining this theme:
 
Total Performance Era
 
Rodney started his build with with these parts;  Lindberg Body, Revell wheels,  French armature 36D: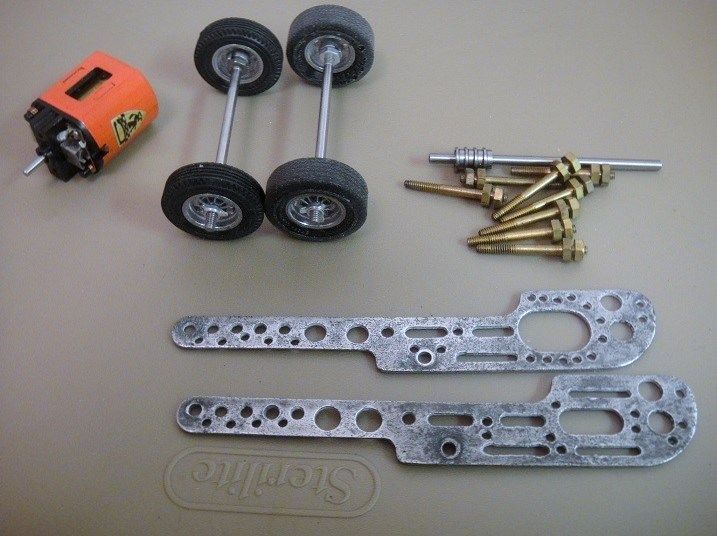 The chassis was re-drilled so the chassis "sides" would be mirror images of each other: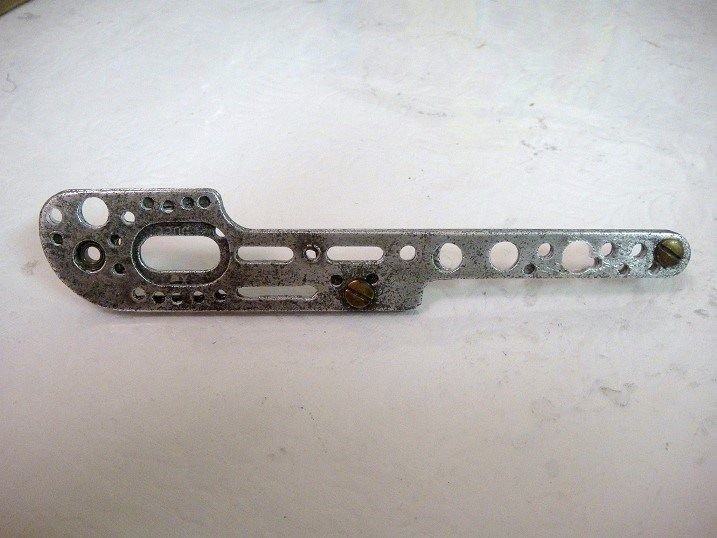 Chassis spacers were all made equal length:
 


 
Drop arm was fabricated from sheet brass:
 


 
The chassis components ready for assembly:
 


 
The chassis is assembled. Rodney describes the motor as, "the strongest 36D I have.  It has an early thin wire French Armature and early Arco magnets.  Great power and RPM."
 
The roller as it was first assembled. Revell die-cast wheels and Paul's urethane rear tires: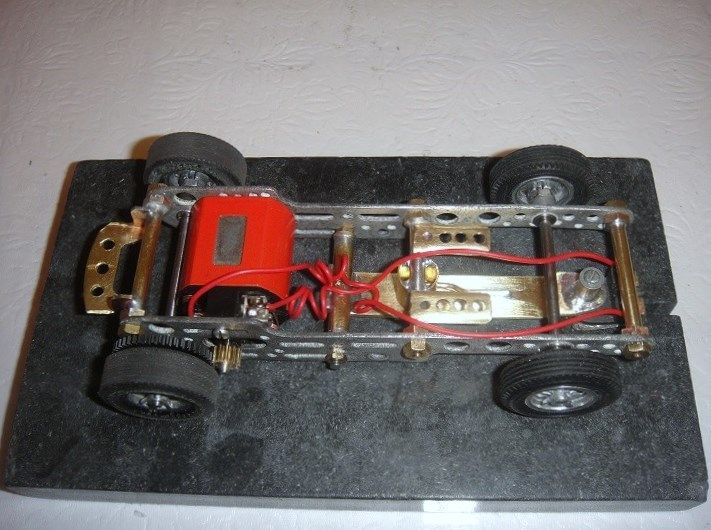 "Tested on the home track with arch rival Ferrari GTO.  Time to test at Eddie's.  Already added weights (not shown in picture) to cancel out wheelies."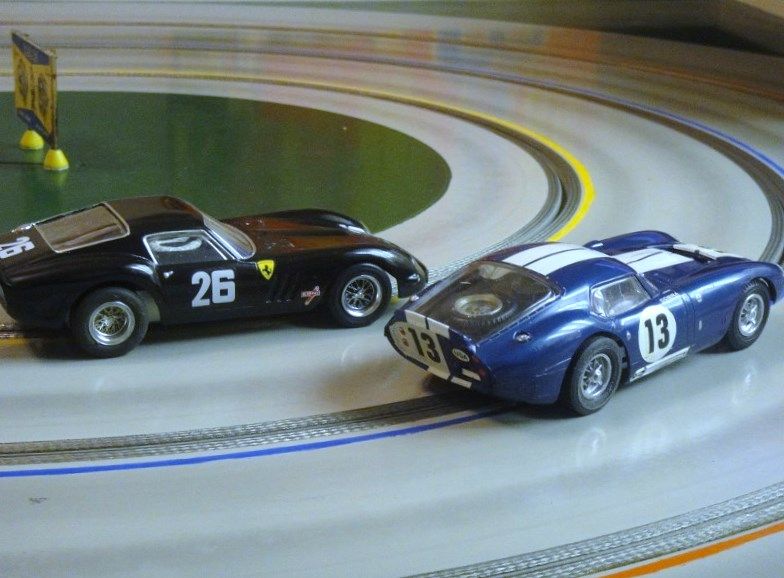 Ready for it's first track test at Eddie's: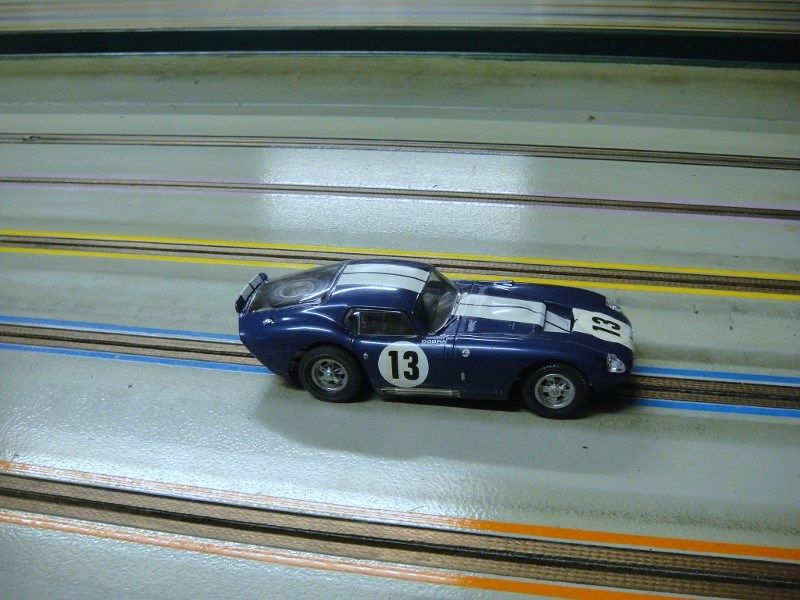 Here is Rodney's report:
 
"Putting this motor in an early sidewinder car presented some challenges.  The car probably would have handled fine with a stock 36D.  With tons of power provided by the rewind the car was undriveable.  The 36D provided a heavy rear weight bias.  The mag frame is quite light and did not provide much weight balance.  The drop arm is fairly heavy and planted the guide but the car would pop wheelies!  I think there is a reason why road course inline slot cars were favored over sidewinder road course slot cars for many years due to a more favorable weight balance with inline cars.   Angle winder cars came into play when tires were wide and tire glue was in vogue big time.  Also the angle winder era small can motors where able to push around the heavy angle winder cars."
 
"The largest spur gear (46 tooth) the tire diameter would allow was installed along with the smallest pinion gear (14 tooth) that the motor to axle spacing would allow.  I was trying to let the motor rev around Eddie's tight road course.  This gear ratio also helped with braking."
 


 
Further tuning and more track testing below: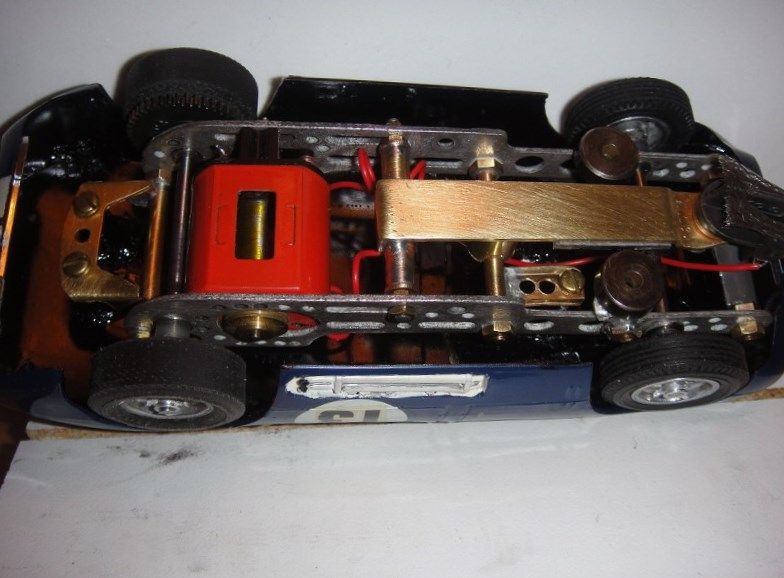 "Lead sheet was formed around the front chassis cross tube to shift the weight distribution (crude but effective).  The standard Cox set screw pickup brushes where swapped out with Cox quick change era brushes.  The soft quick change pickup brushes got rid of the springy effect the standard Cox braid provided.  The car no longer popped wheelies.    The handling of the car was balanced out with the two circular weights added (behind the front wheels, lead added to the drop arm and four thin guide spacers added (to plant the guide deeper in the slot and to have the front tires ever so slightly off of the track).  The weights and the spacers let the car have some "controlled rotation" when the car is cornering.  The car drifts through the turns with a slight oversteer when pushed.  The car is very stable and does not tilt.  I played around with the car by adding various amounts of lead to the rear body mount bracket and to the drop arm.  The lead on the rear bracket created too much oversteer.  The right amount of lead on the drop arm was found.  Too much lead on the drop arm made the car transition from from a turn in one direction to a turn in the other direction  too sluggish."
 
"The harder compound urethane rear tires used on the car are perfect and the car does not hop.  The tires where re-trued at Eddie's and the edges where rounded off a little more.   I have not had much luck with foam tires on these early cars."
 
Nice car Rodney! Thanks for sharing it with us