I usually try to get a whole build into one post but don't have the time for a start to finish build in one sitting today. As always I'll try not to drag this out over a long haul showing one solder joint at a time or whatever.
So... It's fun to build tripods and tuning forks and all the rest of that but sometimes you just need a basic car. This could be anything but it would be something that you know would always be pretty good no matter where you go. I always have a couple like that but have sold some off recently so I decided I needed a new one.
This is what basic means to me... a single .078 with a JK nosepiece. 3 15/16" x 7/8", 93.5 grams as shown. You could easily just use the whole JK kit (pans and all).
This car shown below is a little light for our NorCal Retro tracks but it is an easy layout to tune with weight. This next car will go for about the same weight range but will have different rail layouts and be slightly longer.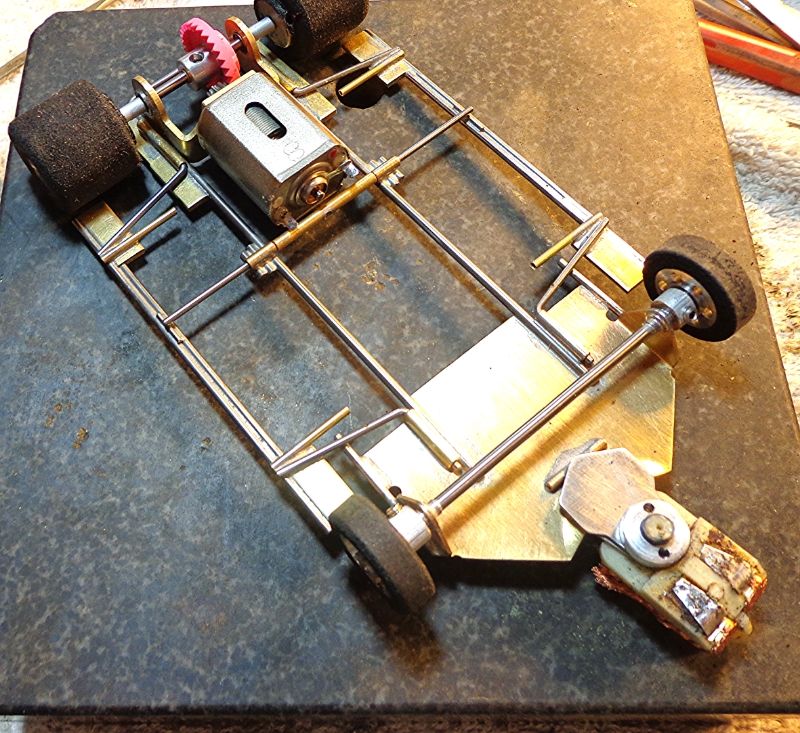 I just built this late last week and then, I got to thinking... what if you didn't have a kit handy or just wanted a little different layout, or just didn't want to spend the money on a kit? So... here's another take on the basic car with a different rail layout.
Here's our kit... an R-Geo guide flag and bracket. Detail your bracket as I've shown in the past by filing the bracket face flat and then bending the legs 90* to the newly-flat surface of the bracket face. Finally, sand the bottom of the bracket so it lays flat.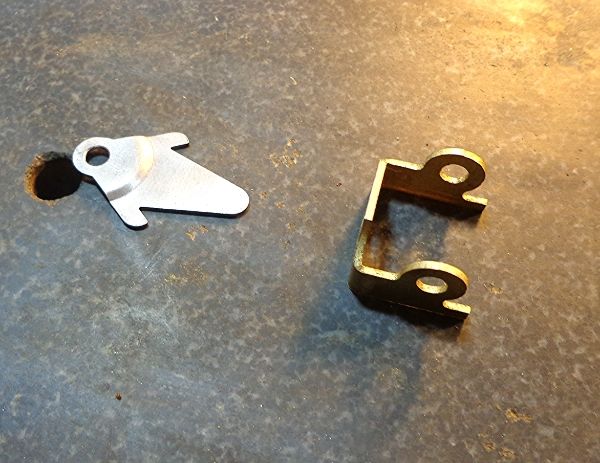 Here's our nosepiece drawn up and ready to cut out from a chunk of .032" x 2" brass. Obviously, this is a knock-off of the JK. This used about $1.50 worth of brass and took about 20 min from drawing to rough cutout.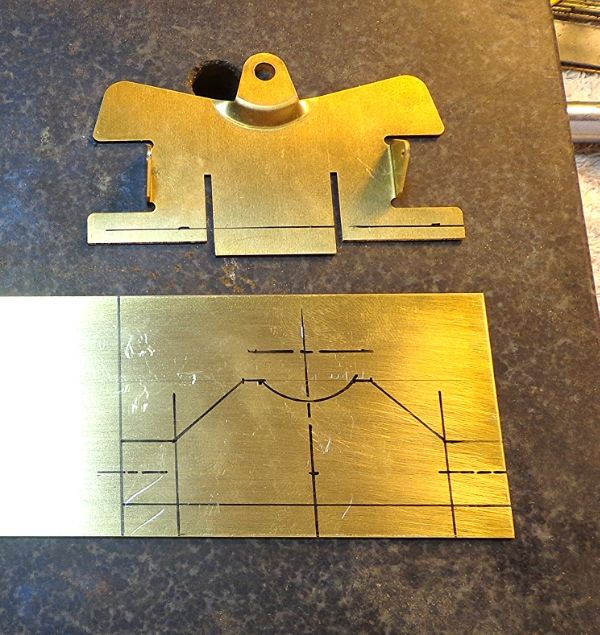 Rough cutout with a Dremel disk. This went really easily and took almost no time.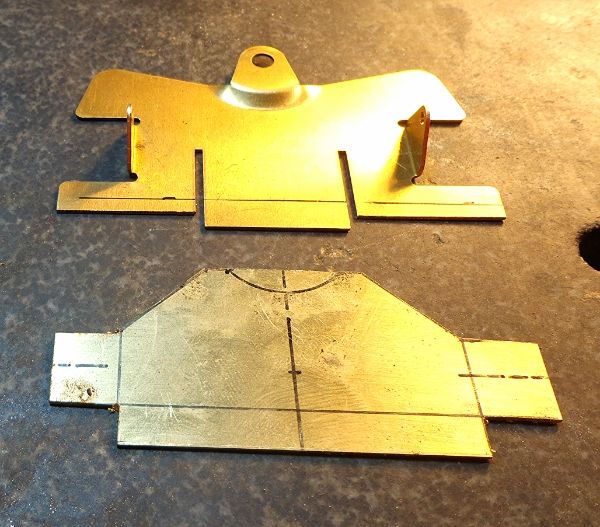 A little more Dremel work to taper the axle uprights, and cut a relief for the guide flag at front. There are a couple of tiny notches just behind the uprights that will give a little relief for the bend of the uprights. Next... into the vise for a clean-up/square-up with a couple of files.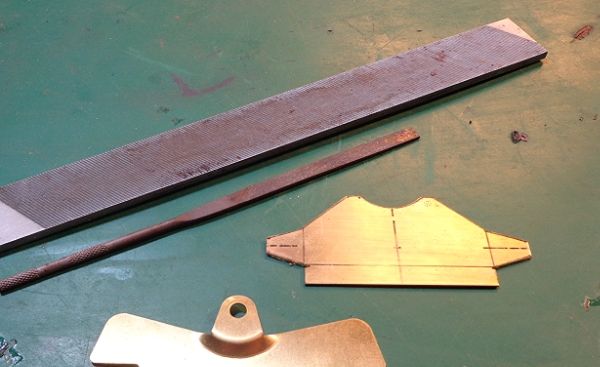 Shaping is done, uprights bent, center line verified and re-marked if necessary, and cut-outs for the main frame rails marked and started to cut. This is going to be 3 x .055" rails with a tiny bit of spacing between the rails. Each cutout is made at .175" wide x .500" long. The slots are rough cut a little undersized with a Dremel and then finished with a file. Slots are 1.0" apart at the inner edges to match your bracket width.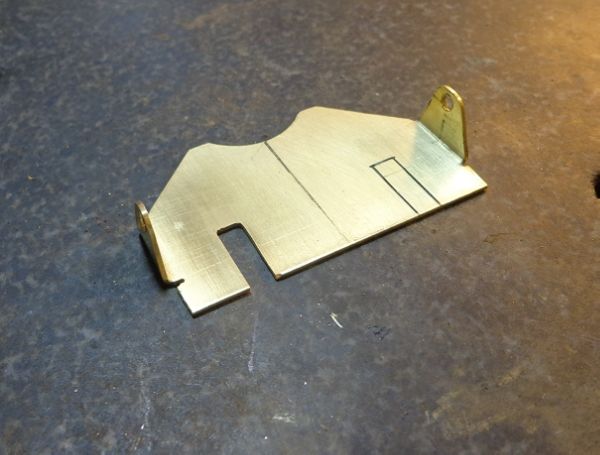 OK... guide tongue soldered in place and into the jig. Setup is going to be 4.032" x 1".
Frame rails spread out and notebook paper spacers in place. The rails will have a space of about  .002-.003" between each rail. The rails are tacked together so I can handle them as a bundle when laying them in place.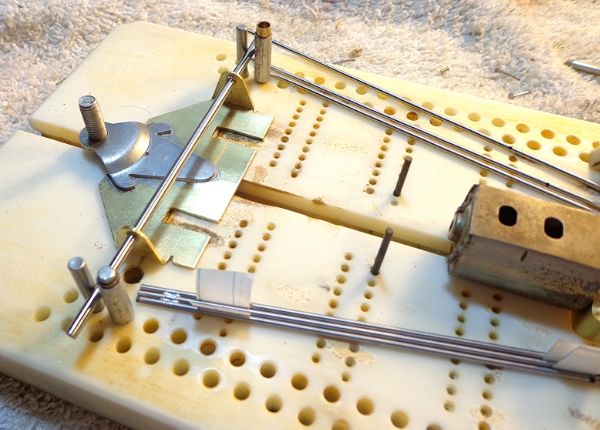 Main frame rails in place and tacked together front and back but not soldered in place yet. This is where you triple check for square and flat. Paper spacers still in place. This will create a "stop point" for the solder so it doesn't wick forward and backward into the spaces. Front arrow points to the stop point in front. Back arrow is supposed to do that but I goofed on the arrow. It should point to the back of the paper spacer not the front of it.
Bend a little bracket brace out of .055" wire. Douse the front and rear with acid, turn on your fan and hit it with either the mini torch or a high horsepower iron. (Hakko 456 in this case)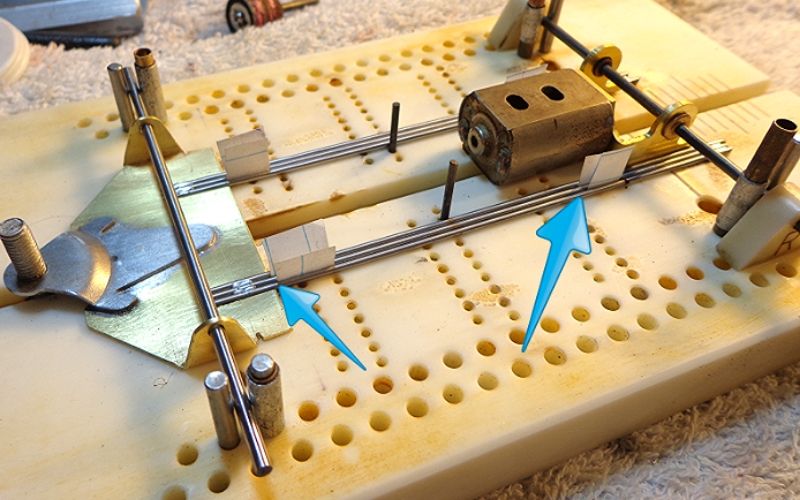 A little clean-up and then... Out of the jig and onto the flat block. A few details are shown here...
Red arrows point to the stop points for the solder.
Blue arrows point to the bracket brace and the main frame rails cut off flush with the brace.
Check for flat and square again and examine all your solder joints.
OK... here's a good place to stop. Hopefully one or at the most two more installments will get this done.