I helped our track owner back in 1989 redo an old '60s King track... pictures before digital...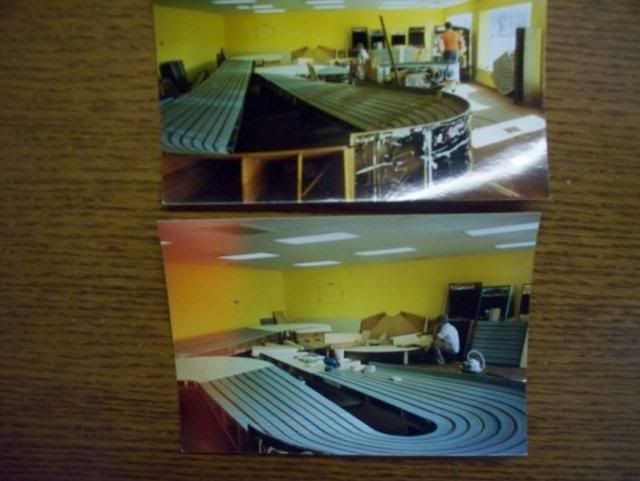 Then built a little home track...
This is 1/2'' Melamine covered PB... the dounut is Formica covered 3/4" PB and it was a bear to lift into a bridge without breaking it...
Then this one in a friend's basement mid-'90s... We ran a lot of 4-1/2" Nastrucks on this one... the esses were really great... 


I don't have pics. of the tri-oval I made...
And the last track I built was made to take apart and took up a 9' v 16' space... I built it in the late '90s and had it in storage until 2006...Then sold it...
Then this brings it up to date... Modular track that can be arranged into over 30 different road courses...
Slot car tracks
https://www.facebook.com/photo.php?v=10152414157049795&set=vb.523824794&type=3 
https://www.facebook.com/photo.php?v=10152414168374795&set=vb.523824794&type=3 
https://www.facebook.com/photo.php?v=10152385888479795&set=vb.523824794&type=3