I built this 1/24 1953 Corvette for the Pelican Park "Clubman" class. It won the "Main Event" its first time out, but because three of the four cars that made the Main were 1/24 'Vettes, there was some controversy regarding its future eligibility for the class.
So, not wanting to let it gather dust on the shelf, I ran it last night in the "Sparetime Raceway" Sportscar class against a field of seven much larger Ferraris. Again it showed its mettle; setting fast race lap-time and finishing a close second to Rich's Modena.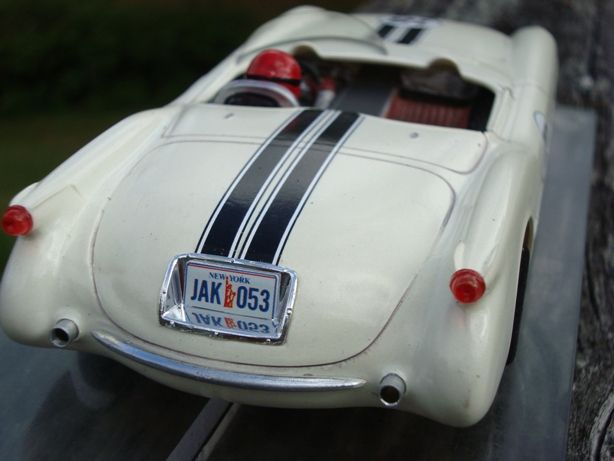 The interior is a Parma #808 GTP that was cut in half and reversed because the original is right-hand-drive and too narrow. The vacuum-formed driver's head is cut away and a solid head installed. 
The "chrome" detail was done with a Sharpie brand silver paint pen. I have to admit the I got really lucky on the Corvette script... no way that I expected such a good result.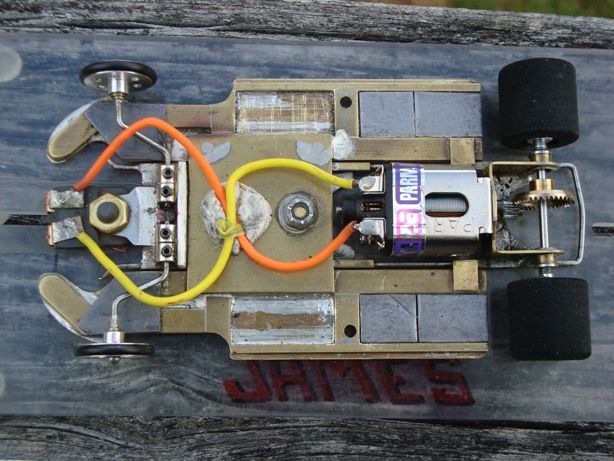 The chassis is my own design. The Du-Bro collars holding the front axle stubs allow easy adjustment of front track and clearance. Substituting wheel pairs with different offsets permits change in wheelbase. I have half a dozen different bodies that work on this chassis.