Multi rail F-1 build
Here is a simple F-1 build that I'm going to share more because of the why than the how. The multi rail frames using small wire have a very sweet flex and are more flexible in twist flex than the more standard two-three rail frames with larger wire. I have built a number of these in different rail configurations over the last year and they have been very successful winning races both on flat tracks and speedway tracks.
For this next new frame, I'm going to use these pre-made components from R-Geo. I like to build from scratch but these lay out so well for these rail setups, it just saves time in fabrication. I don't think these are sold as a package but I'm sure they are available separately in several configurations. This is a 3/4" bracket and 3/4" nose of .050 brass. The nose comes in two lengths and I chose the longer one. The pans are .062 brass and are about .230 wide. I know that the nosepiece comes in .062 brass and also in 1" width and with axle uprights.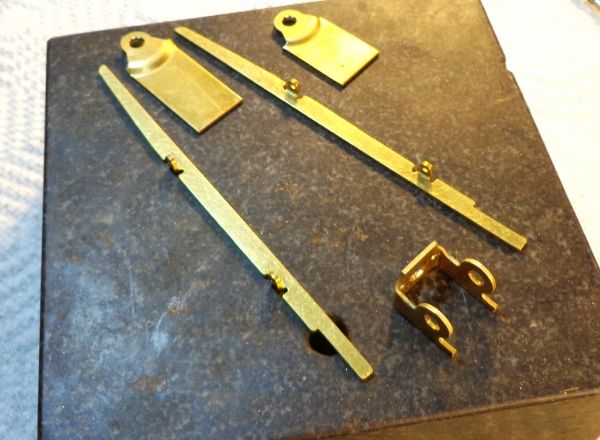 Setting up the bracket:
File the bracket face square as I've detailed in the past.
Notch the bottom of the bracket as shown so that the fifth rail will have a snug little home.
Make sure that an .047 rail fits under the notched bracket easily.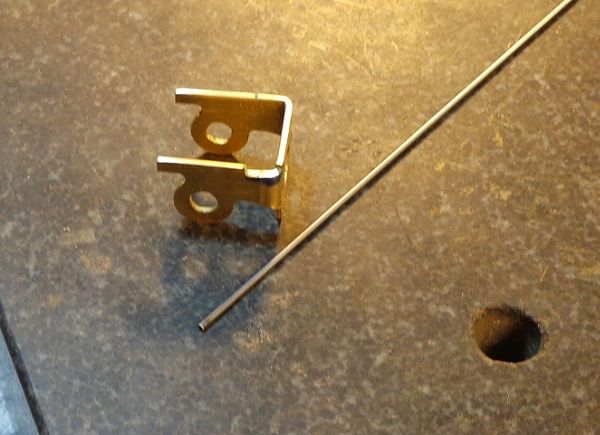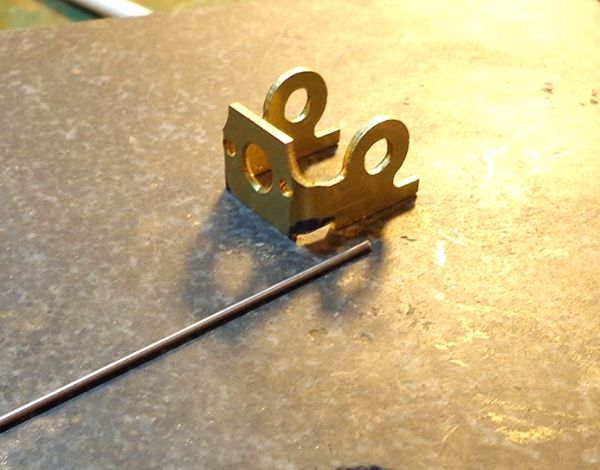 4X .047 fitted outboard of the bracket makes for a perfect fit with these components. You can also get the same layout with more flex by using 3 rails with an .047 spacer or you can go stiffer by tucking a fifth rail inboard of the four mains. This has been my recent fave. I wanted to stiffen the front half of the frame a bit in order see what more rails would do. I found that I just couldn't realistically fit in 6X .047 in full length rails without grinding the pans narrower.  That job is a bit of a PITA so I decided to lay the frame out with my 5 rail configuration and then added a sixth, half rail forward of the motor.
4X .047 rails bundled and soldered together as a package to ease handling of them on installation.
The single fifth rail is shown in approximate position.
The nosepiece is notched so the inner (fifth) rail will drop in.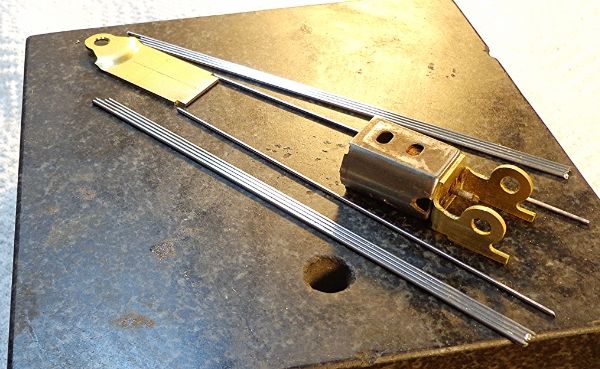 Into the Jig:
Main four rail packages are in place and tacked.
Inner rail is in place and tacked on the far side.
Ready to trim to an exact fit and then drop in and solder on the near side.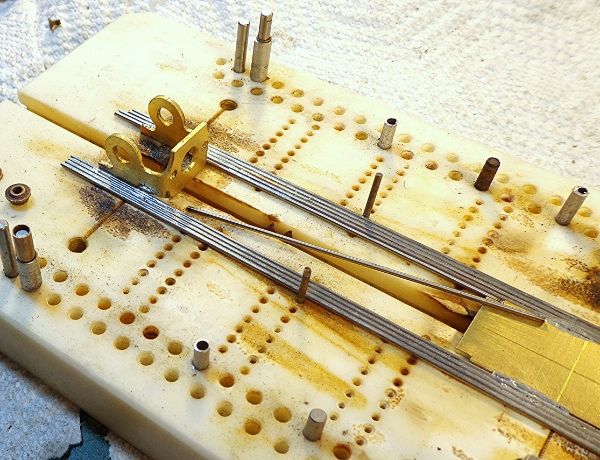 Back on the flat block:
4 rail packages in place.
Fifth rail in place.
Sixth (1/2) rail is in place and soldered (blue arrows)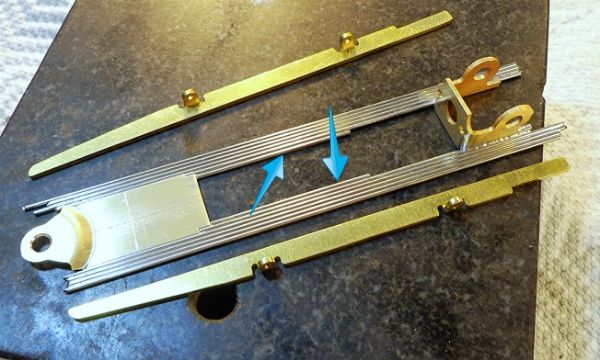 Rear frame:
Five bits of .047 wire are added to each side, outboard of the main rail package.
Each rail set runs about 1/8" forward of the bracket face.
These are placed, squared up....then soldered in place.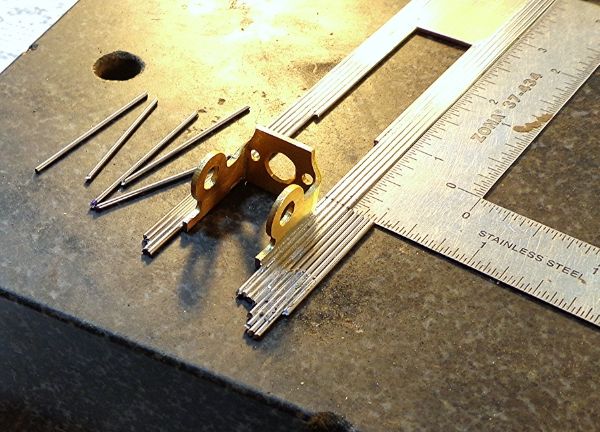 Rear frame finished:
Bracket brace of .062" wire in place and soldered up.
Extra rear rails in place on both sides and soldered up.
Small bits of 3/32" tubing at front edges of the rear platform.
These are the rear pan stop tubes.
You can see that the rear platform offers a nifty place to add some weight blocks later.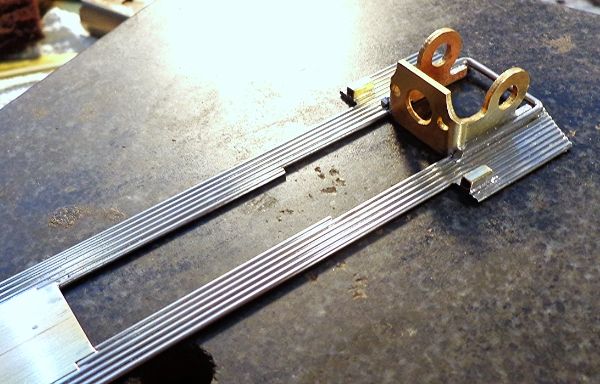 Back to the front:
Axle uprights are .062 wire.
They lay neatly into the valleys between the main rails.
Far side in place and soldered.
Near side not completed for clarity.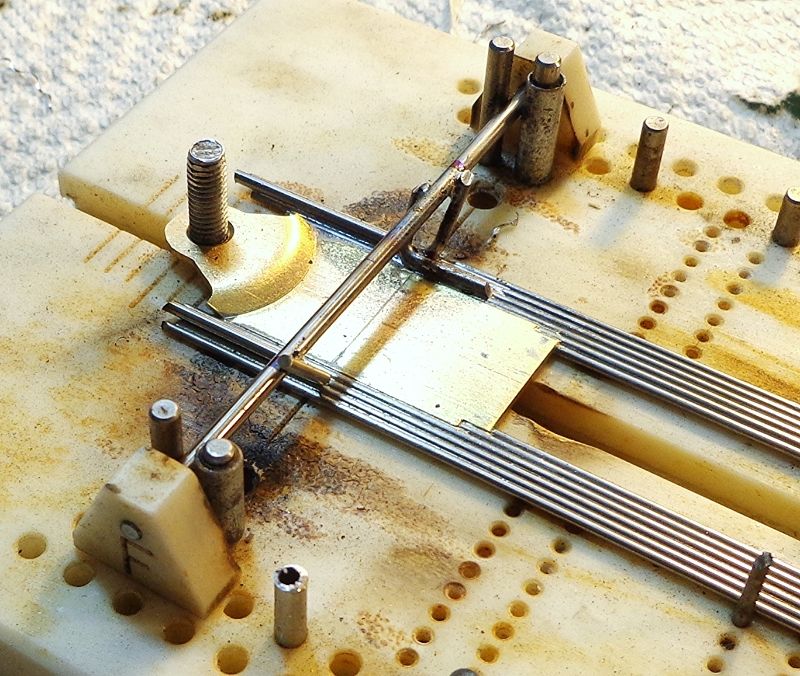 Lots going on here at the front end:
Axle uprights finished and forward excess cut off.
Front hinge tubes in place 3/32" box tubing. Soldered in place with a bit of 1/16" wire to line them up.
Near side pan trimmed to size and in place. Far side not yet trimmed.
Front hinge wire bent on near side, not yet on far side. This is .039 wire. Could well be .047 for less movement.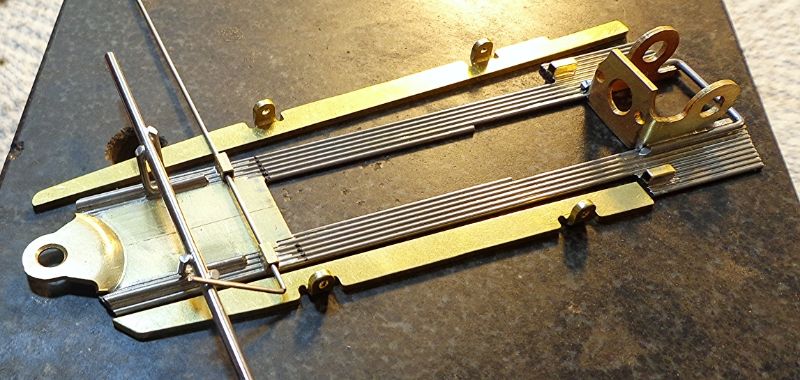 Pans in place:
Both pans are trimmed to size.
Pan hinge bent on both sides, tweaked until flat on pans, ready to solder in place.
Pans are spaced side to side with .003" notebook paper (red arrows)
Pans are spaced forward and aft with .025" card stock (blue).
Move front hinge rod to the forward extent of the tubing before soldering in place.
After soldering the hinge rod in place, you'll have about .020 fore and aft movement in your pan assembly.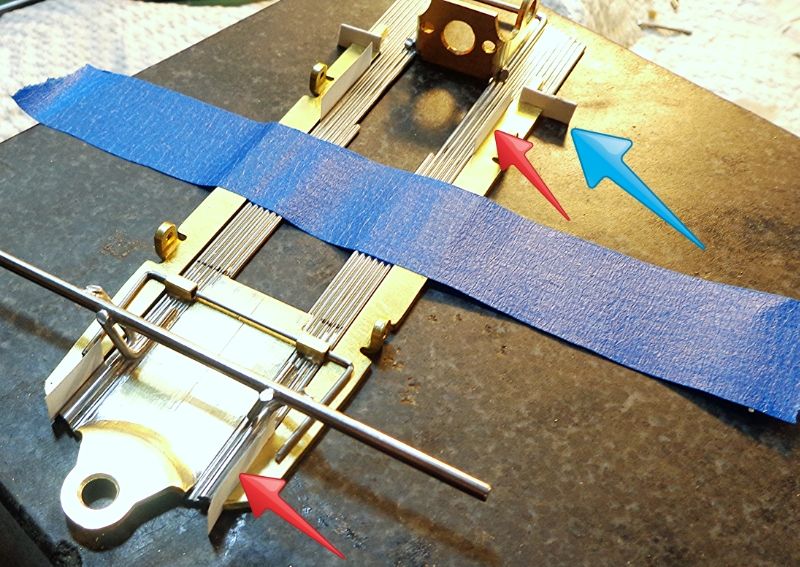 Finishing up: Lightweight configuration as shown here = 89 gr. all up (no body)
Spreader rail (.025") in place and soldered. (Blue)
This serves as a spreader and also as a hanger for a center weight.
Rear stop rods (Red) are in place (.047") could be more or less.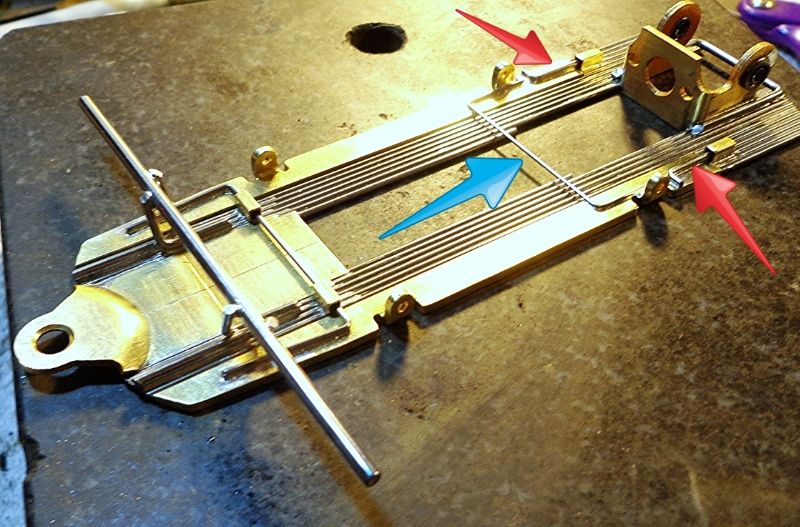 Heavier version:
Center weight is 1/2" X .062 (8.0 gr) soldered at blue arrow to the spreader rail.
The thin wire has a lot of twist flex and you'll have flex movement of the center weight.
Down stop for the center weight is a bit of .047 wire (Red arrow)
Rear weight blocks (2.4 gr. ea.) will solder or glue on the rear platforms next to the bracket.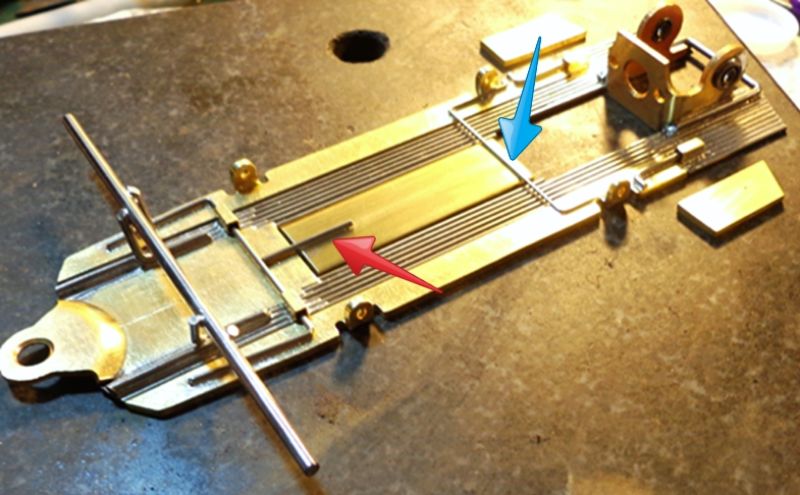 With this configuration, you'll start with about a 94 gr car w/body. Add weight where and as you choose.
Center weight. 8.0 gr.
Rear corner weights 2.4 ea.
Nose weight (lead) not shown, but 2-5 gr
Testing within a week I hope...................