Center Spine?.......................Yep, the infamous center hinge all soldered up solid so it's nice and legal.
But why? you axe..................or.......mebbeso yer not axin'..........but here's why anyway.......................
When I built that experimental CA+ car, I was underwhelmed with the effect of the center spine/hinge.
But.........I converted the car to a regular Can Am and messed with it a bit and I became more interested.
Interested enough that I've built a total of three Can Ams and a stock car with the concept.
After preliminary testing, I'd say that those all work better than I expected for light, shortish cars.
Hence......this here flatrackish F-1 with a center spine and another idea that's been percolating.
1" nosepiece and bracket are R-Geo .050 (both are substantially hacked up)
Main frame rails are 3 X .047- far fewer rails than normal for me.
Motor box is .055 wire and is fully separate from the frame rails.
Center spine is .062 with the "seat block" of .062 brass.
Weight will be focused inboard rather than outboard, hence wide bracket and narrow pans.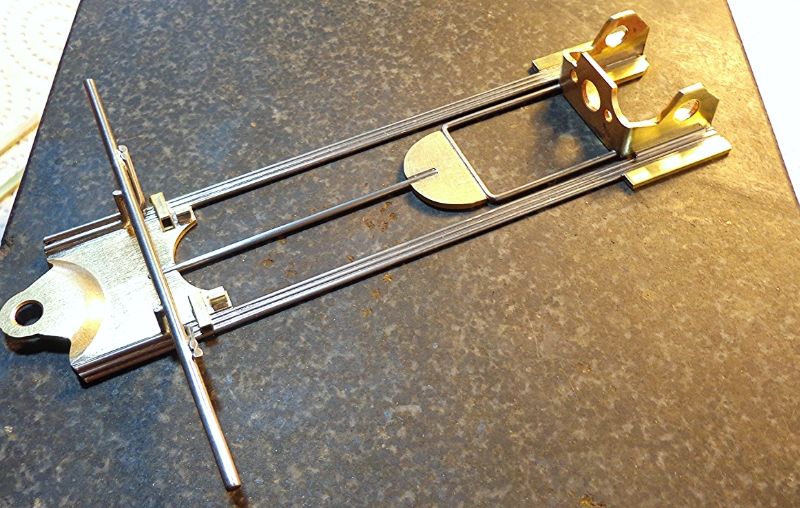 Front detail:
Horizontal tube of 3/32 tubing are for the front pan hanger.
Little bitty longitudinal tubes of 3/32 are for the center weight hanger/stops.
Aft front axle uprights are doubled up and angled outwards to 2" (not legal for IRRA)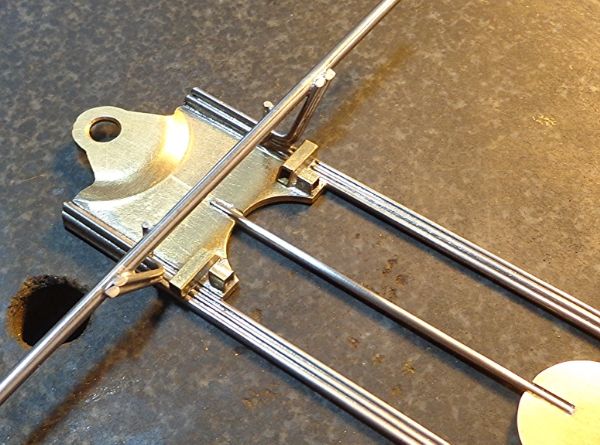 Rear detail
Extra bit of .055 wire laid in to strengthen the joint between bracket and main rails (this is one of my SOPs)
Bracket brace/rear weight is .062 brass.
This is a good look at the motor box/spine hanger and how it is separate from the frame rails.
Rear weight blocks of 1/8" X 1/16" brass will also support the rear pan stops.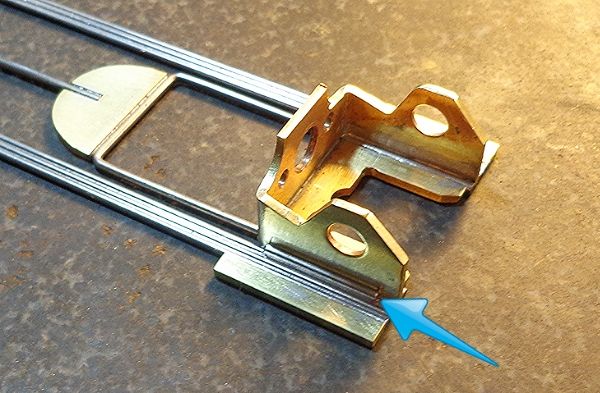 Pans and weights:
The pans are shown outboard and are 1/8W X 1/16"thick.
Center weights are 1/16" brass and go 6.8 gr ea.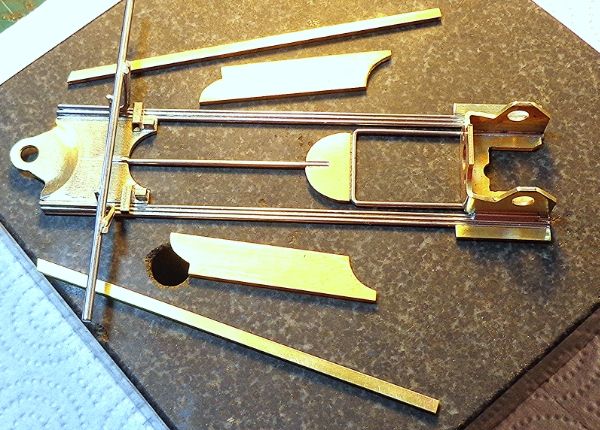 95% done:
Pans in place and hanging off of a .039" front hanger.
Center spreader is .025" wire (blue) which also hangs the rear of the center weights.
Front limiters (red) are .047 wire in the small bits of 3/32" box tube.
Center weights will flex pretty freely on the .025 wire at rear, but the front limiters will control them.
Rear limiters (purple arrow) are .047 wire going into bits of 3/32" tubing soldered onto the rear weight blocks.
Still need bearings and body mounts but this is ready for cleanup.
This will go about 105 gr with body as shown with the center weights.
If I wanted to drop out the center weights for a speedway track.....she'd be about 91 gr w/body.