Having found my Dads old slot car box with a car he purchased from Tottenham Model Raceways (a Riggen Open group 20/Group 22 plated anglewinder) with heavily-modified Mura B-can, I've been hooked on these cars. Now having seen all of the Pro car anglewinder '69 and with hot B/C can buids on here and reading all the reports from this race series it's the perfect chance to have a go at building some. 
Snagging some parts for the parts box over the months off ePay and aquiring some kool B-can parts from Rick I had planned one or two of these type builds a bit later on from this series due to the 20/40 milled B-can, plus motor endbell cooling modifications that were already underway. But seeing the proposed car build and the possibility of having the cars taken round the track by Rodney I've moved the builds forward!!

In no particular order here are the collected parts so far. 
Team Nutley pans in .040" and .047" and the newly-aquired BEE pans (were the BEE parts later?). 
Nutley drop arms in .040" and .050" with a Phaze 3 of .047". 
The already mentioned 20/40 milled B-can; yes, it's milled for lower CG but it only has mild cooling ducts filed where the endbell meets the can, but no other mods unlike all the heavily cut=up A-cans I thought I could swing it. 
A Certus "Baby X" low profile motor endbell with super proofer plates and larger 36D brushes/hoods. 
Single 24# bubble gum arm (thanks, Rick!!) 
Double 27# sitting on its packet (if I read the Mura label correctly) which is equal to the single 24#??  
27/28# double from Certus. 
The single 24# will go in this can/endbell and will look to obtain another motor setup so as to use either of the other spicy arms.

Fresh Riggen orange sponge with Rick and Steve's Riggen front and rear wheels.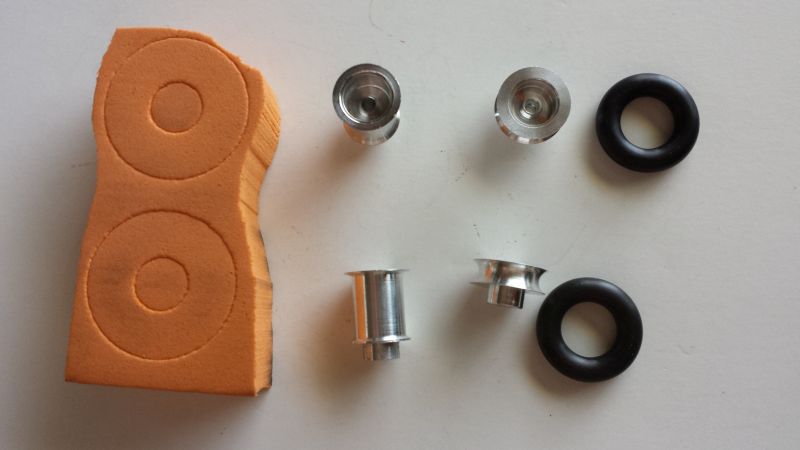 So nothing concrete as of yet and like Rick won't be able to get cracking on the chassis straight away I thought I'd share the parts I will be deciding from for a possible wiiiiiiiide GP car (those things just look so awesome
 ) and either and Coupe or Can-Am. 
To be continued!!! 
Disclaimer: this shouldn't take as long as the R&C cars took but can't say for sure!!!