OK.....here's the absolute ultimate F-1 chassis design.........

OK sooooo, maybe not the one. OK, OK....maybe not the absolute best. OK, OK, Ok already......maybe just pretty good most of the time...........sorta.
The following three chassis designs have sort of percolated out of maybe fifteen or so that I've done in the 6-8 months. Some of these have been built many times over, some are relatively new or even brand spanky new. All but the last one have been raced to wins. The last bout of testing for the ones shown was just completed @ Eddies Slot Car World in Vallejo Ca. The test venue was the infamous Motherlode flat track. The ML has 11-12 turns in it's ~~ 130' length as is generally thought of as being one of the definitive flat tracks in the USofA. With the package that we run for F-1 here in NorCal, a respectable lap time is anything under 7 sec. and best of race times have been maybe 6.6 sec. ish.
The most forgiving........................
This is a spinoff of an R-Geo kit that I first built up back in February. This is the most recent of three and has been worked over a lot. This one uses the R-Geo 1" nose with uprights and a 3/4" bracket. All main rails + the forward 1/2 rail are 1/16" bronze. None of the rails are full soldered. Pans and center weights are 1/16" brass, lead outboard of the bracket (blue arrow). 
It seems to me that the tuning fork cars make the car very absorbent and flowing.
This car is @ 116 gr as shown and is running JK 8713 P and 9/30 on the S7 mini brute.
Best time with this car was 6.64...........avg was about 6.70.
This car would race very well at any track and has come within a hair of a win as a loaner.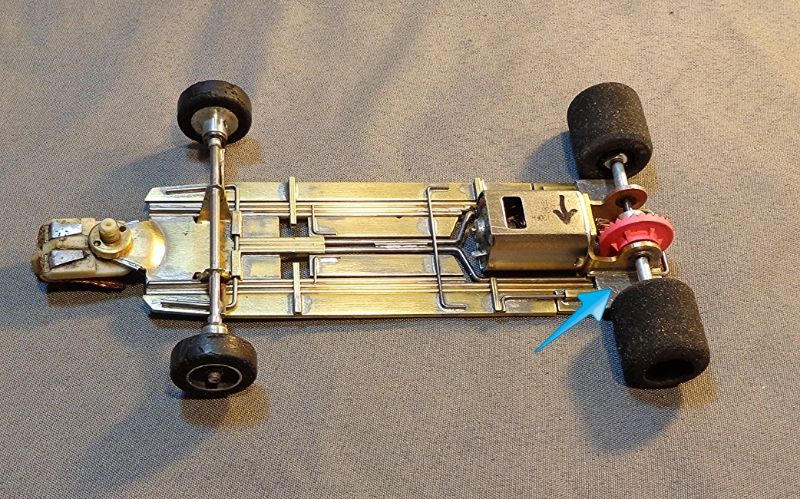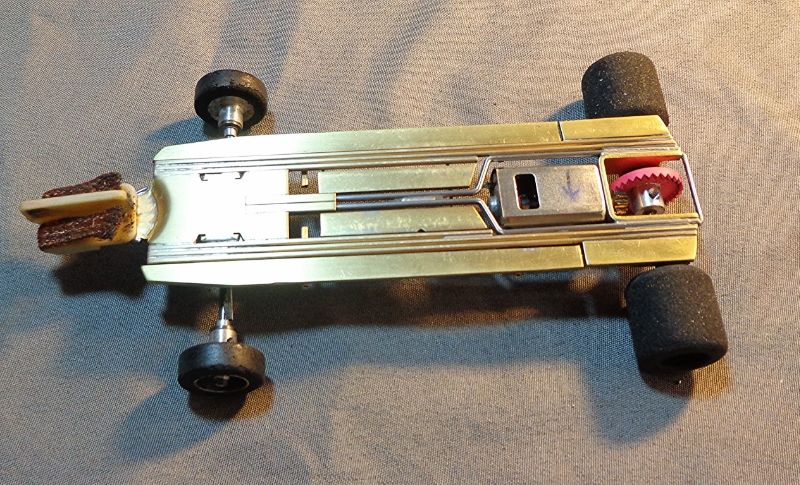 The fastest so far.......................
This is one of many multi rail .047 cars that I've built lately. This one is 5 rails/side with a sixth 1/2 rail in front. With all the weights removed, this car was raced to within 10' of a win on a speedway track and is about 95 gr that way. Predecessors to this particular car have two flat track wins. This car and it's nearly identical brothers have been fast everywhere.
This car is running an 8-28 and JK 8703P. With all the weights shown, it runs about 115 gr. There are brass weight tabs next to the bracket.
The multi rail cars like this one put the power down a little more directly than the tuning fork shown above.
This car is a little less forgiving than the tuning fork but generally, a little faster. Best times with this car were 6.55.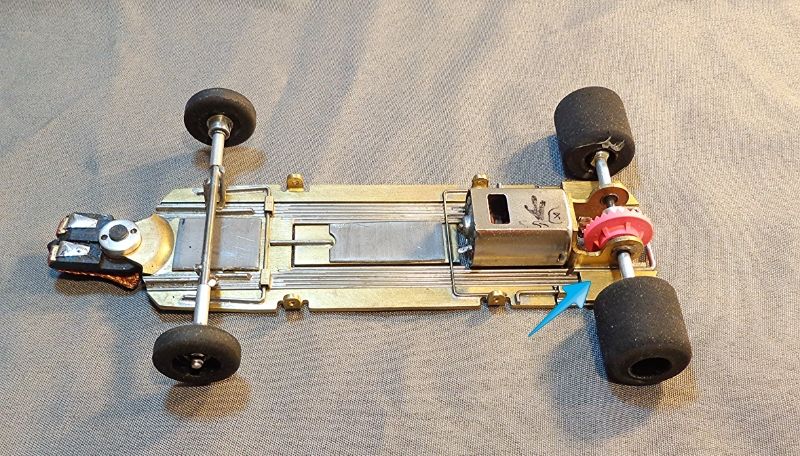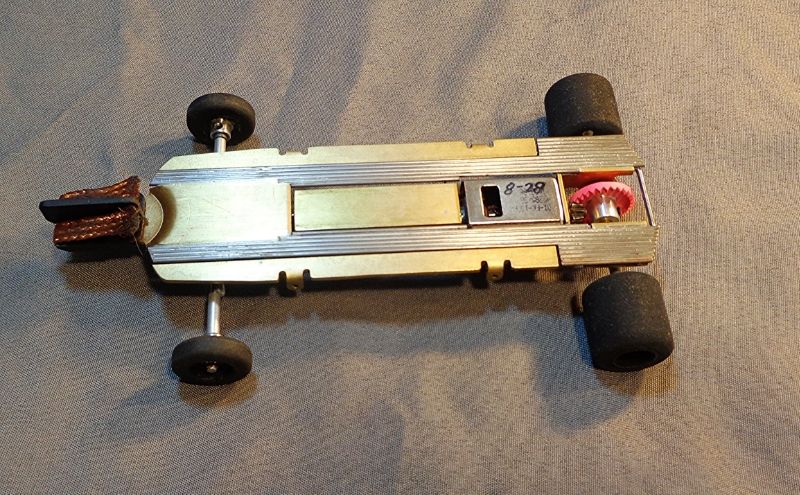 The newest.....by a little.
This center spine car was run for the first time yesterday. This is 3 rails of .047/side but with an .062 center spine.
This car was running 8-29 with JK 8703P @ .825" and .058" clearance. Weight as shown is 106 gr.
This car puts the power down exceptionally well but was too light to really race well.
Best times with this car were 6.48 but it was not easy to drive at that speed.
I'd put 8-10 gr. of lead on the center pans and maybe under the front axle.
With legal minimum .790 tires and .040 clearance, this might well be very promising.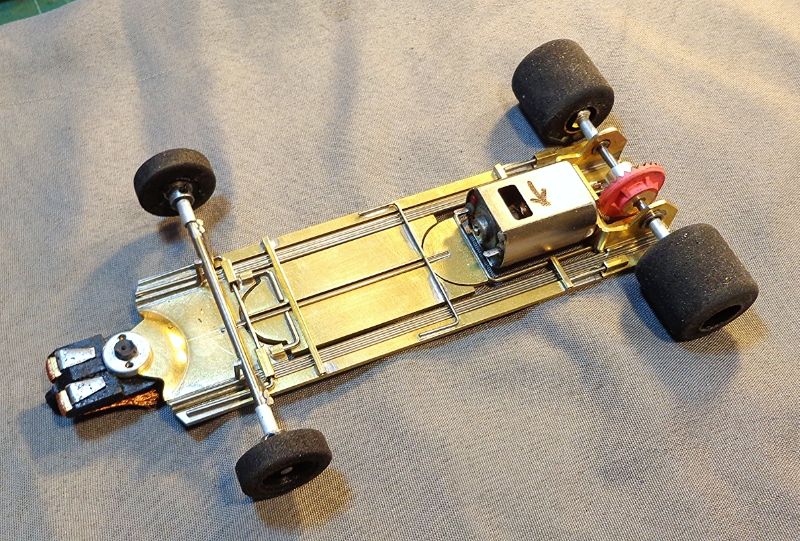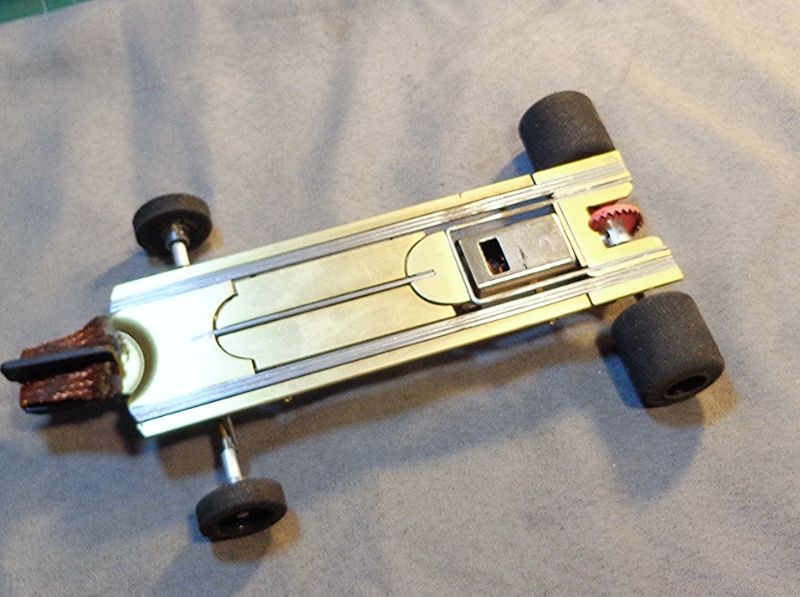 So which one is da bestest? obviously, there isn't one best. The point here being that three entirely different frame designs can ultimately be very good and while one will be the best on any given day.....which one that is, can change from day to day.