Okayso............my summer building season is winding down and I'll be back to work full time soon. Here is a recap of some of the 30 or so Can Am builds that I did through the spring and summer. A few will be sold off but FTMP, these will form my quiver of race cars for the next 8 months or so. Of course, I'll be building as the fall/winter progresses, but probably anything I do will be a spinoff of one or more of these.
Note: I've been axed in the past for a larger format pic or two in order to show some build details better. My camera work is not the best and often the originals don't look all that clear. I am going to post a larger format pic of the Multi Rail (car # 3) of the second group in a separate post immediately following this one.
High bite specialty cars:
These frames are light and short (at least for me) These will be used primarily on the King at Eddies SCW and possibly on the Hillclimb at Motown (Modesto). These are the quickest cars to put the power down and can generate very high cornering speeds. However, they have a tendency to reach their cornering limit very suddenly and will probably not be the choice for flatter tracks (ie: road courses or the flat King @ Slot Car Raceway in Rohnert Park Ca.)
Center Spine #1
R-Geo GVP nosepiece, R-Geo 1.0" bracket
3 rails of .047 as main rails. 1 rail .047 as a tripod rial.
Fixed plumber rail going into 3/32 box tube at rear.
Center spine is .062. Car weighs in @ 97 gr. w/body and is 4" WB w/ .875 GL.
This is the fastest car I have but is not at all easy to drive.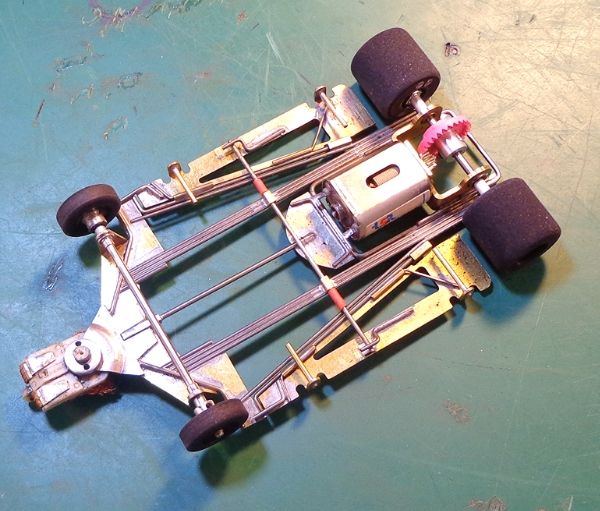 Center Spine # 2:
Handmade nosepiece, R-Geo 1" bracket.
Motor box is .055, main frame rails are 4X 0.047, fixed plumber is .047
Center spine is .062. Weight is 103 gr all up. W/B is 4" GL is .875
This car is a little easier to drive than the above and basically as fast.
Middle of the road cars:
These are frames that will work on flat road courses or flat speedways. These are generally heavier and longer than the 1st group and somewhat stiffer in flex. These will handle well on the faster tracks but may be too long and possibly a little heavy for our fastest tracks.
Car #1...the GVP heavy.
I've pictured this one before. Built standard from the R-Geo kit.
Tuning forks are .062 fixed in back, flex block in middle, free in the forward tubes.
This car is 4" WB, 1" GL and about 112 gr all up.This
 car is smooth, stable and medium bite.
Car #2 Split rails, long WB.
Two inner rails of .062 bronze, 2 outer of .055 wire soldered solid.
Handmade nosepiece, R-Geo 3/4" bracket
4 1/6" WB, 1" GL, about 109 gr all up.
Good on road courses or flat speedways.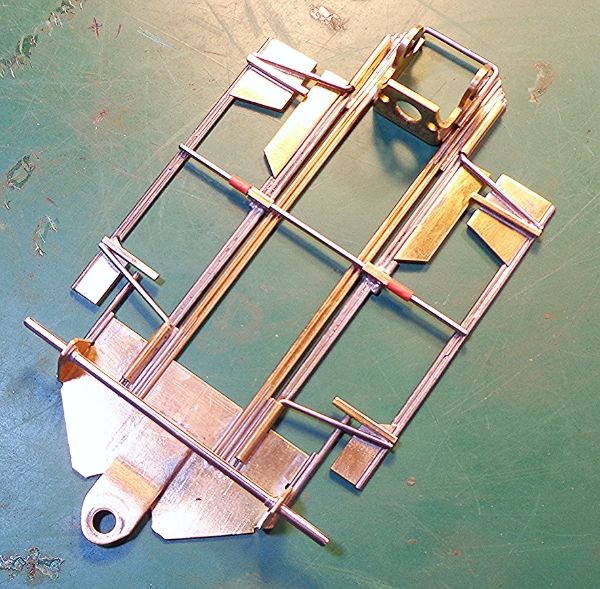 Car # 3, Multi rail.
This a handmade nose with an R-Geo 1" bracket.
6 rails/side of .047 with a small space between inner and outer sets of 3.
Rear weight blocks are ~~ 4.0 gr ea., bite bar is .062 wire not soldered in place.
This frame has more flex than the larger wire cars and is 4" wb, 15/16" guide lead.
Weight in at 108 gr all up.This car has good potential on both flat tracks and flat speedways.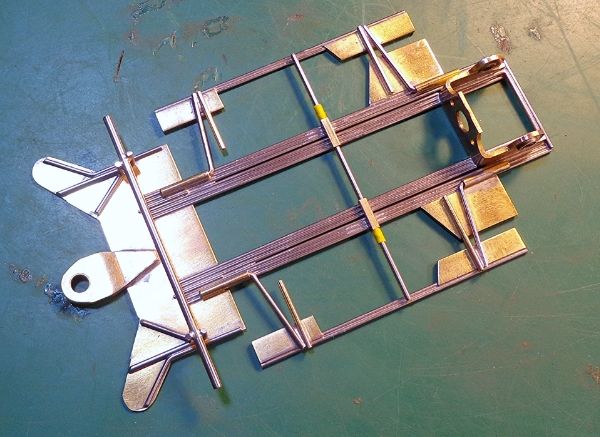 The forgiving one:
This is the car that goes into the box regardless of the venue. This will work on road courses, flat speedways and even on what passes for NorCal as a punchbowl. This car can work anywhere and will always there and ready to go with minimal additional tuning. If I had to choose one car to walk into a completely unknown race situation,this would likely be the one.
DS6 3 pc build. and is 4" WB, 1" GL, 107 gr all up.
The std 2 pc build runs the same and is easier to build.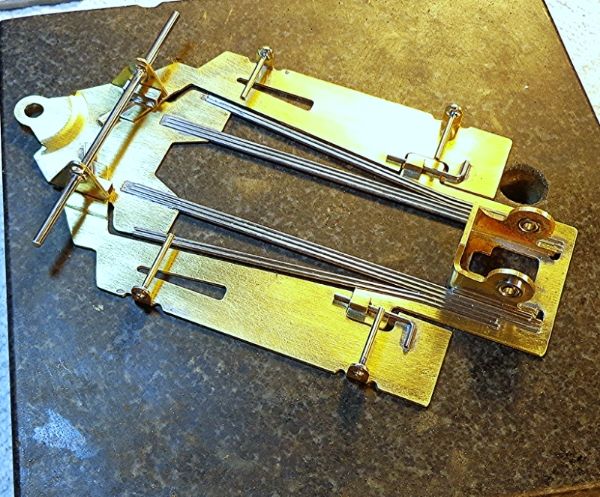 Wild Card: Obviously not quite done in this pic.
Hand made version of the 3 pc. DS6.
Warmack 3/4" bracket, handmade nose and pans, R-Geo guide tongue.
3 mains of .047, 2 tripod rails of .047.
4" WB, 15/16" GL will run about 105 gr all up when finished.
This is not tested much yet but should be as good as the DS6.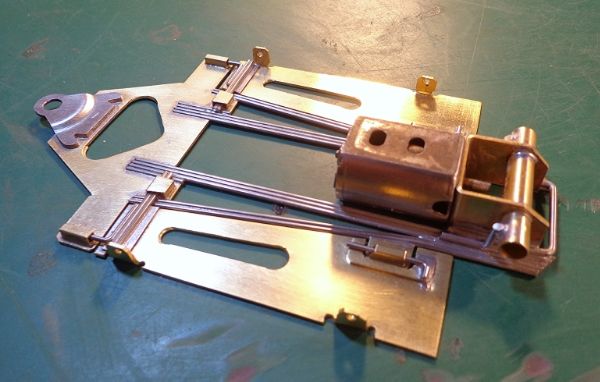 So......a pretty full quiver with something for almost any track condition. Of course, one could just have a car or two and tune for various tracks and conditions as needed. For me, the fun part of being a builder is that you can visualize that better mousetrap and then try to achieve it. Sometimes.......it even works.