Start with an AMT 1/43 '36 Ford: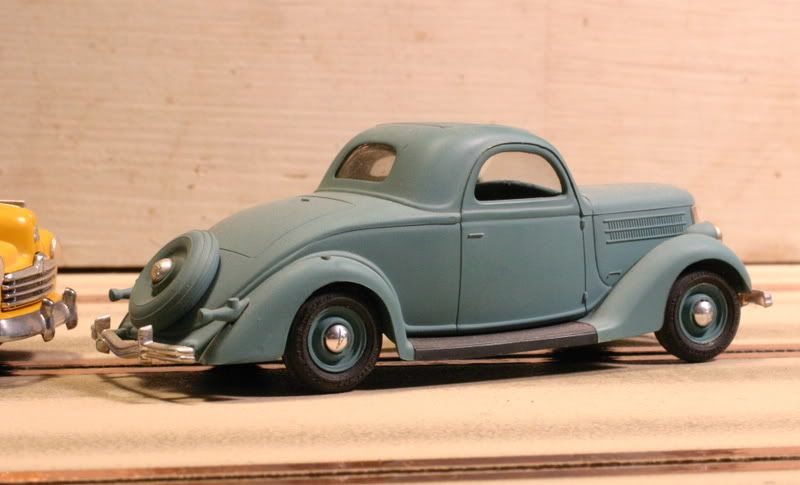 Rebuild as a stock car, from a throwback bull ring where they raced the last of the full-fender cars:
Artin "Childford" F1 chassis makes things easy. Wheelbase is right, axles/wheels/tires OK, but the 3v motor is way too fast. Substitute one of those sample BWA FF-030 mills, just right for 13.6v running. Slot Car Heroes pinion drives old Carrera take-out gear.
3/32" ID brass tubing makes better bearings, but is still a little sloppy on undersized Artin axle. But who cares? Note gear mounted on left side of pinion, for high speed oval running: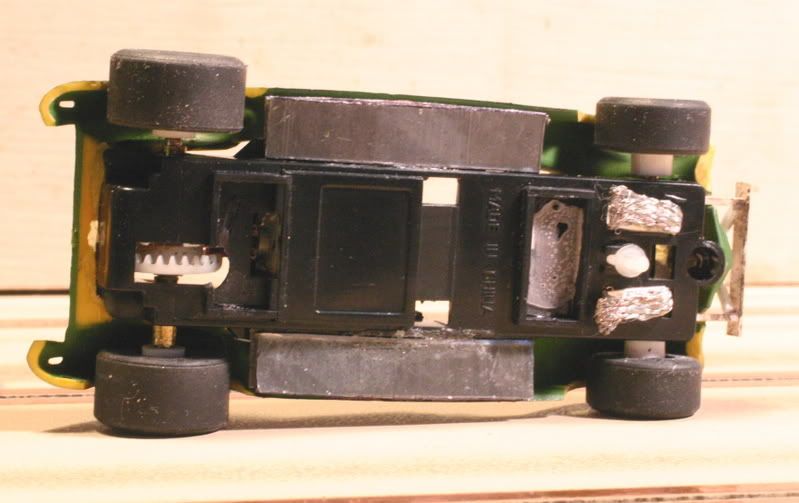 Low profile BWA motor allows "full" interior bucket to be retained, such as it is:
Total car weight is 56 grams, with lots of lead glued under the running boards. Without bothering to true the tires, car sets 1/43 lap record on East New York Raceway, at blistering 7.345 seconds per 61 feet (1/32 NC-1 cars do 6.0, +/-.3). Car is easily driven, seems to have just the right power/weight/traction balance. You can lose it in the corners; no need for more power. Thanks to Al of BWA for the sample motor, with this performance data:
BWA short motor (FF-030), 14,000-14,500 RPM/12v factory rating; tested 13,862 RPM/12v.
28 gcm/12v factory rating.