I put together a little "thing" about what I call "motor-scratchbuilding". You know, building a motor from scratch. Why you say?... why not!  Then again, I could ask..."Why build a chassis when you can just buy one? Why paint a body when you can get 'em already painted? Jeepers... why drive a slot car when you could just give it to someone else to drive?

Anyway, the result will be for sure a "one-of-a-kind". It can mostly be done with tools and stuff you either have or can get easily and mostly for cheap.  It's also just a fun/rewarding thing to do all this and hook that bad boy up to a power supply for the first time.   Like a lot of crafty-type endeavors, just the process of building in itself can be a pretty zen-like experience.
OK, so enough of the philosophy and on to the build. The subject here is a weirdo motor that has both been given to me at times and also one I've bought after seeing their potential. They come up from time to time on eBay and at the various online places where you can buy slot car "stuff". I think it's some sort of Johnson or one of the other "off-brand" type motors. It's not a Mabuchi from what I can tell and size-wise it's also pretty weird. The width is similar to a 16D, but the height is a bit taller... less than a 26D though. The can length is shorter than a 26D by a fair amount and the can will fit easily (and fairly precisely too) inside a 26D can.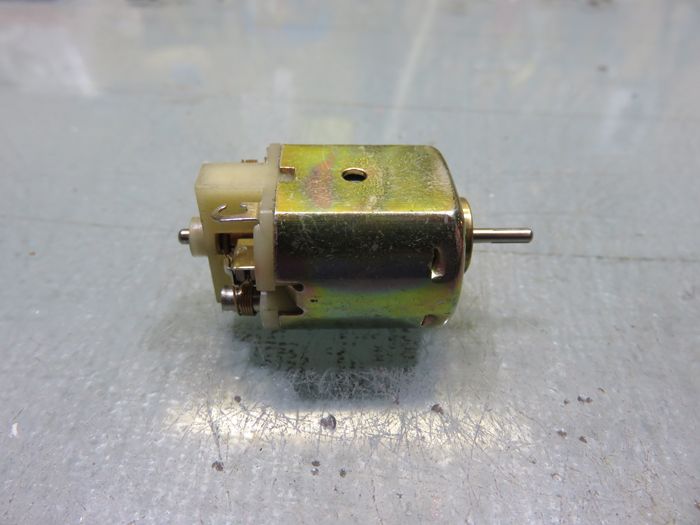 Taking it apart, you find a fairly normal can type motor. The endbell is of a much better material than the Mabuchis, but there's a caged or "self-aligning" can bushing in there just like the Mabuchi "FT" type motors we all are familiar with from the '60s. Magnets are on the thin side, held in with two U-clips (a la the later Muras) and quite strong, measuring a bit above Arcos.
The endbell hardware has that goofy arrangement where the brush springs legs are on top of the hoods and the brushes themselves are of the "vertical type" (taller than they are wide). The commutator is pretty much the same as you get on the various current Chinese motors... looking pretty much dead-on identical to say a modern Parma D-motor. Looks like the Chinese all shop at the same  "Motors R Us" place for supplies. The stack is shorter than even the short FT26D stack, is powder-coated, and wound with a bazillion turns of hair-fine wire... good for like 15 RPM in stock form. 
 They didn't bother to grind off the powder-coat from the outside of the stack as the arm fits fine as-is, so they probably figure... "Why do stuff you don't have to?"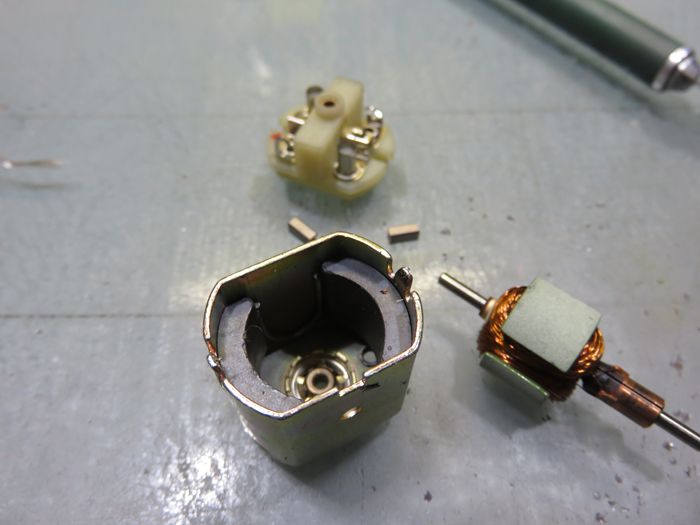 Just to give a better visual reference as to the size of this motor... here's a shot of it slipped inside of a 26D can.  BTW, enterprising motor-scratchbuilders can cut up the can for it's sides as "shims" and install these magnets and can sides into a 26D can (obviously) and wind up with excellent magnets that are, again, a bit above Arcos and sized for the .590" diameter 26D arm.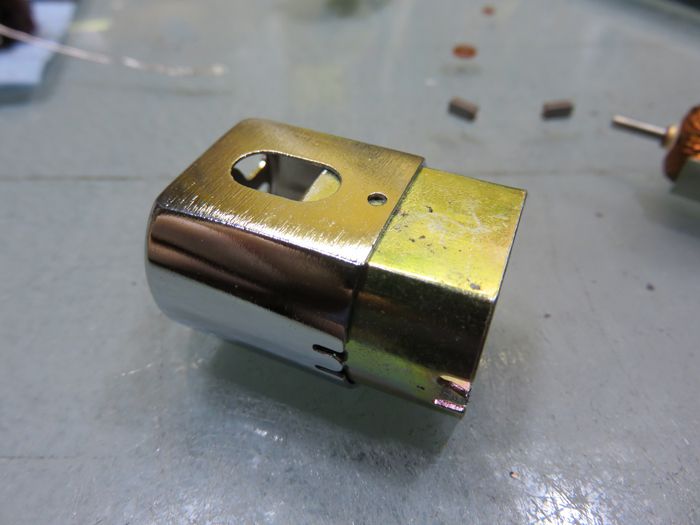 ... on to the build, or I should say "the scratchbuild."  



-john