We had a nice 250 mile run yesterday, from Newton, KS, down to Tulsa and Broken Arrow, OK.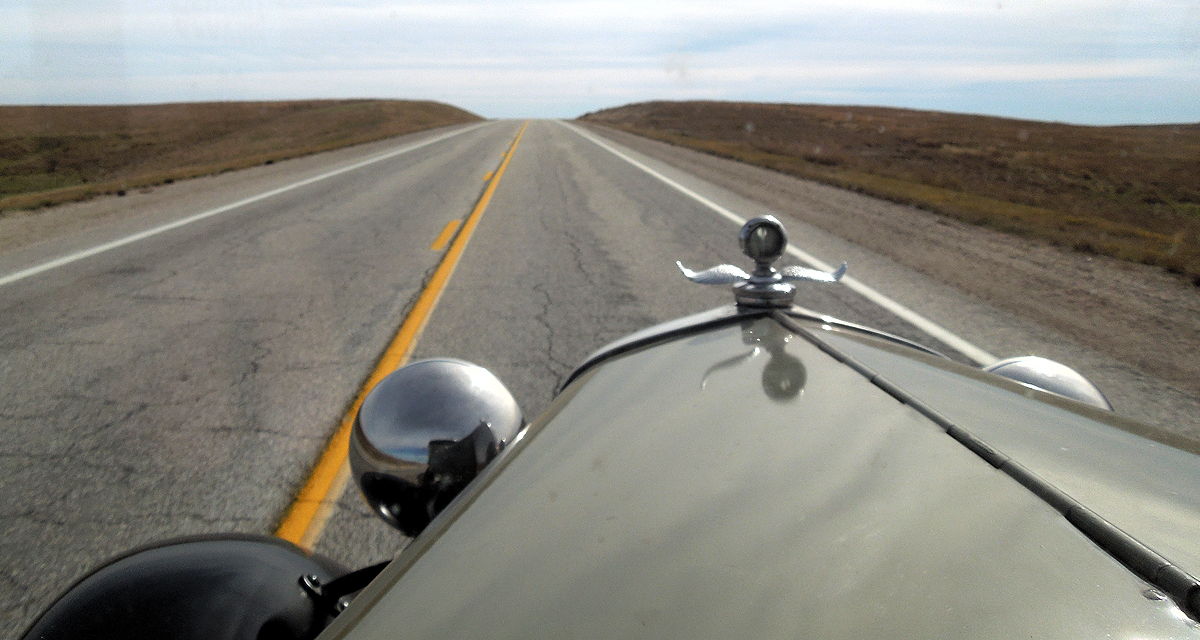 The old saying is that the view for the last elephant in the parade never changes. When you have a chase car following you, the view in the mirror never changes...
 
We jumped off of I-35 South to head east along US 166, so we could pick up US 75 South to approach Tulsa from the north. This interesting Kansas historical market was at a rest stop where we stretched our legs.
 


 
Coming into Tulsa from the north allowed for a quickie tour of the Woolaroc Ranch and Museum, near Bartlesville, OK. The Woolaroc compound was originally the private museum and collections of Frank Phillips, founder of Phillips Petroleum, but is now open to the public. Besides the museum, the ranch is home to a 3,700 acre wildlife preserve with a wide variety of exotic animals, including a large herd of buffalo, but also elk (wapiti), longhorn cattle, Japanese Sika deer, North European fallow deer, water buffalo, llamas, aoudads, ostriches, Sardinian donkeys, and pigmy goats.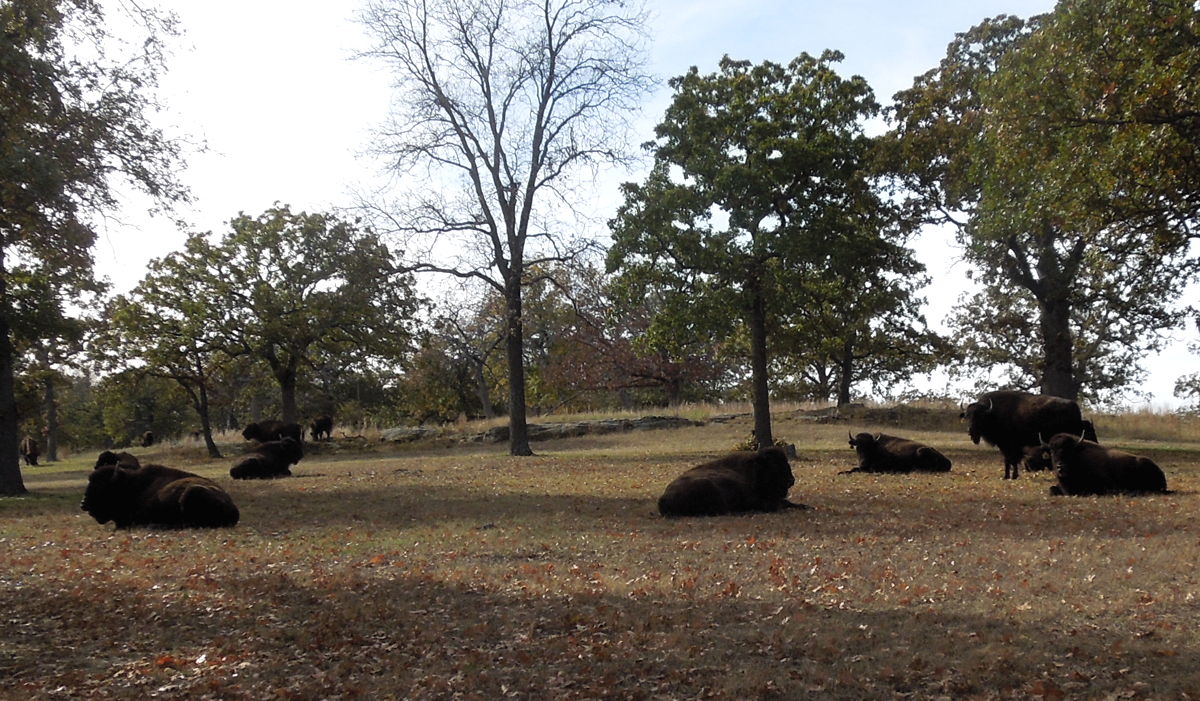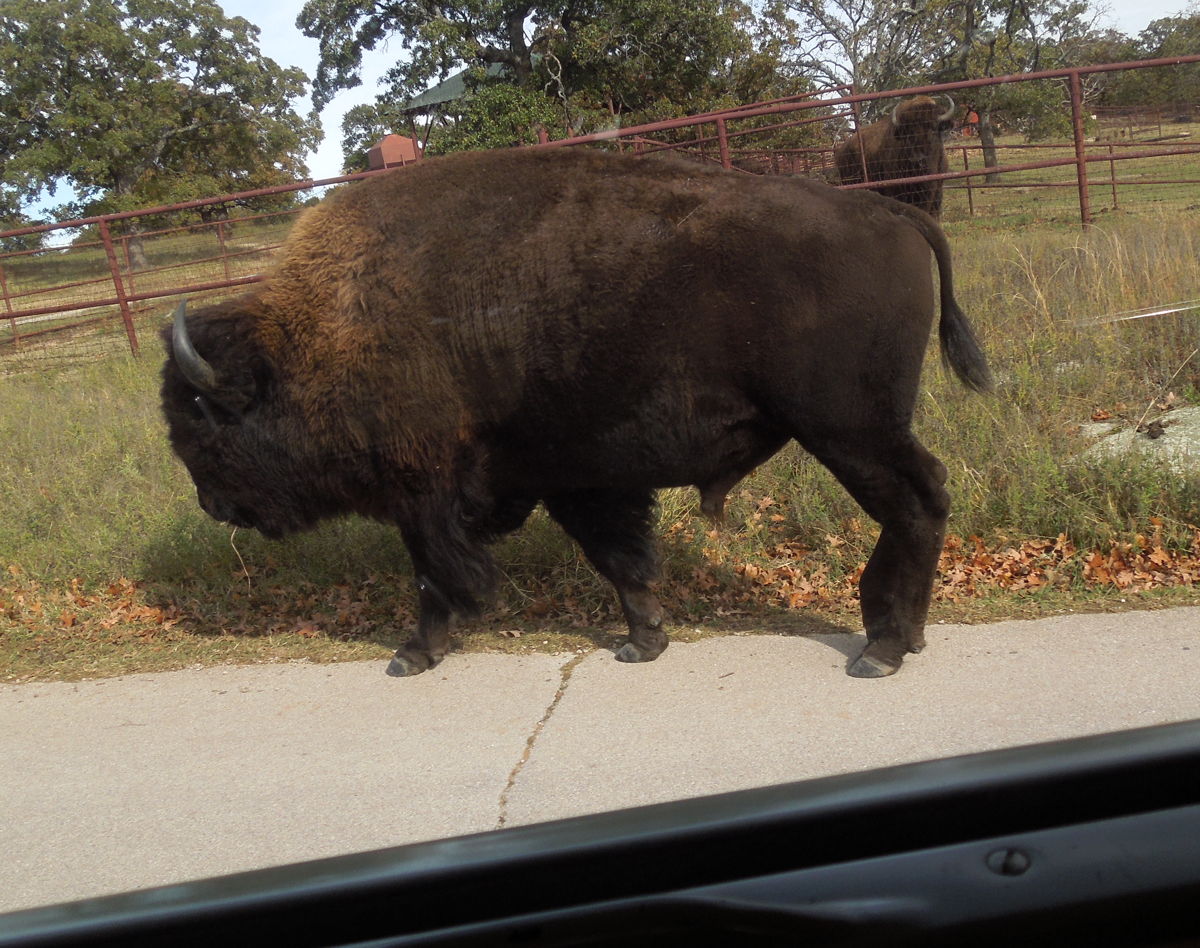 Had to encourage this brute to get out of the middle of the road so we could pass.
 
The Woolaroc museum, focused on western and Indian culture, is absolutely world-class, with more artwork and artifacts in those subjects areas than can be imagined. The museum also features one of the finest collections of Colt firearms to be found anywhere. Due to time constraints, we had to essentially run through the museum, but there's no way we could have absorbed it all if we had three days to go through it. A visit to Woolaroc is highly recommended if you find yourself in the area.
 


 
This is the museum entrance. The images on the blue background are wonderfully-done mosaics.
 


 
The courtyard of the museum contains several very nice large sculptures. This is titled "Thanks for the Rain".
 


 
The famous female outlaw Belle Starr.
 


 
Another sculpture combined with a fountain made entirely from petrified wood.
 
The ultimate destination for the day was the Auburn-Cord-Duesenberg Co. in Broken Arrow, OK, where we met up with Doug Azary (Champion 507 on the blog) and several members of the local Model A club. ACD Co. was created in 1960, when OK schoolteacher Glenn Pray purchased the rights to the three vehicle brands plus all of the remaining stocks of parts for those three makes from a company in Auburn, IN. More of Glenn's story can be found HERE.
 
Glenn passed away a couple of years ago and his stellar collection of cars was slowly auctioned off at major auctions around the country. ACD Co. still has a stock in ACD parts, most of them stored in a the building's very dark attic. Here's the only pic that is usable.
 


 
But there is a lot of interesting restoration activity happening at the firm.
 


 
This 1935 Auburn 653 was recently purchased by Mike Wolfe of the American Pickers TV show. Mike is having ACD Co restore the car mechanically but is not going to restore it cosmetically, preferring the worn patina the car carries. This is a fairly rare body style, a convertible sedan, and it is unusual in that it is a six-cylinder car with a two-speed rear end.
 


 
Glenn's son, Doug, who now runs ACD Co. after his father passed away a couple of years ago, just hauled this Cord in from somewhere near Detroit IIRC. Turns out that Glenn had restored this Cord in the '60s and then sold it. The car passed through a couple of owners and then went to an owner who stored it in a dirt floor barn for the next 60 years. It easy to see that wasn't the best place to keep it. Unfortunately, Doug had a business appointment yesterday and we were not able to meet him.
 


 
This Cord was one of Glenn's, as I understand it, and is shown in a view one rarely sees: with the disappearing headlights open. I believe the Cord 810 was the first production car to feature disappearing headlights.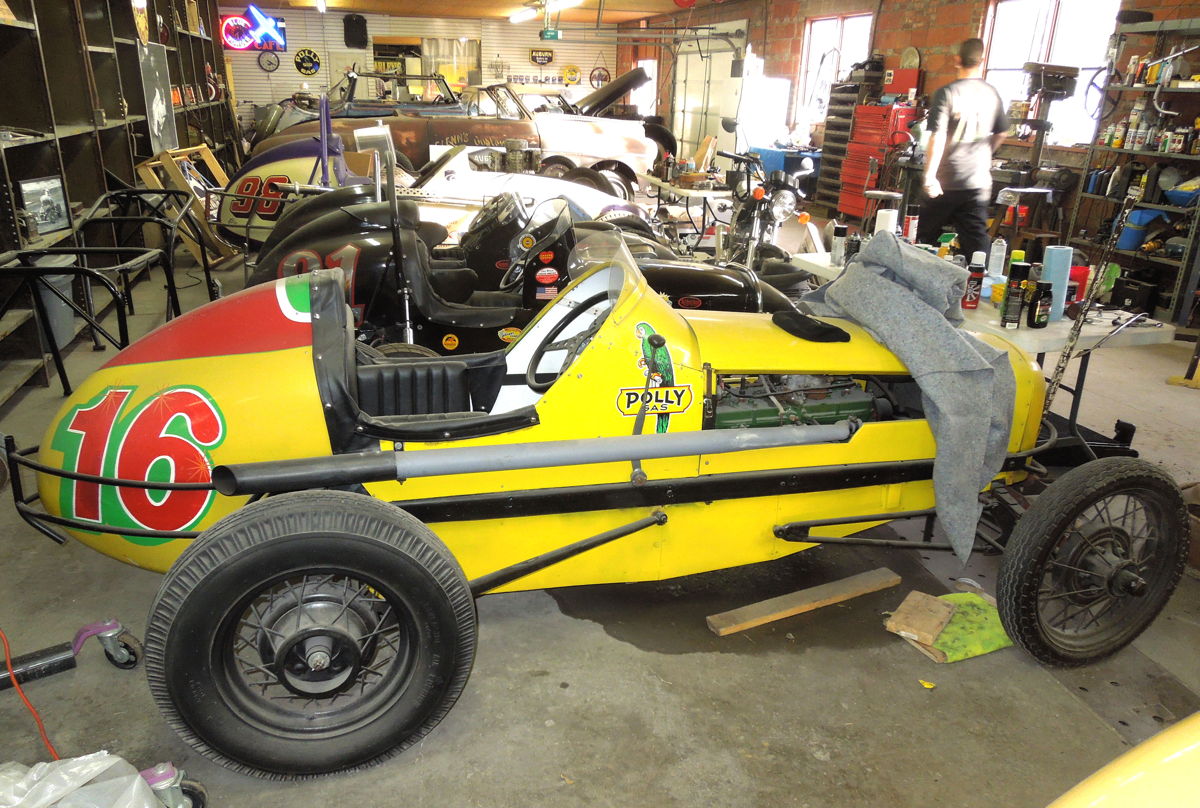 The shop contained several vintage sprint cars. Didn't ask if they're just being stored or are being worked on.
 


 
Glenn Pray was clearly a collector with varied interests, one of which was vintage radios and TVs. Here's just a small part of the radio collection in the building.
 
Our itinerary for today is to try to make it to Little Rock, AR, which is just over 250 miles from Tulsa, but that may not happen. Look what "greeted" us this morning:
 


 
Doug Azary has already gotten a recommendation for a tire store in Tulsa not too far from us who can install one of the new 19-inch tubes I brought along, so this may not delay us too long.
 
Onward to Arkansas (after a decent breakfast of course...)