95ft. of 1/32 at MoTeC

What a flog!
An overly ambitious re-build coupled with an overly ambitious race program resulted in the best set up my "little" 1/32nd track has ever had and a really relaxing and satifying day of racing for the lucky few who could get to the inaugural running of This Old Track ten years on!
The leg re-do talk started a few months ago between Steve S. and I and with a few revisions came together perfectly resulting in a wobbly track becoming as stable as a pool table. We had bought and I had "machined" most of the wood the previous weekend and we started at 7:30 Friday morning and busted our humps until I pulled out of Dodge at 12:20 AM Saturday Morning. I was very impressed that my old friend (also 60) not only kept up with me through an 18 hour grind but was ready to do even more which he did by laying out a great spread of tasty treats on raceday.

Two sections at poolside.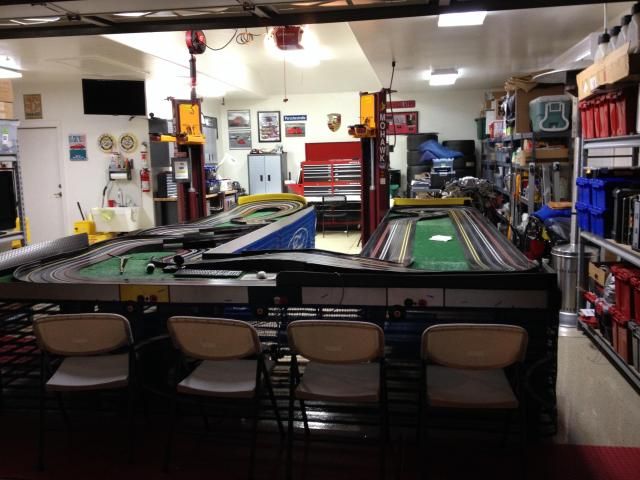 12:17 AM of raceday…almost done.

 We were open as advertised at 7AM Saturday morning when I suddenly realized that I had forgotten the new Ninco F-1 cars I had bought just for this event and so as KC and Mark were arriving I ran back to my house to gather up the wayward box of toys.
Not surprisingly the only Tribesmen who had ever seen , much less raced on this layout was Bob Scott who built it, and I and Rick Schonfeld who had been on it a little back in the day (2004) at Cruzin Hobbies+.
To give everyone a good chance to get thier head wrapped around this complex layout I delayed the first race for lots of practice and when we did finally start it was a 10 man race of 10 minute heats which was also part of my scheme to get everyone settled in with the Fly Classic cars they are most familiar with. It apparently worked because I saw smiles all around the garage and at the end of the day it seemed we all had a good time with close racing, several winners and excellent and friendly competition.

The first race started around 9:30 > 10:00 and was an expanded version of our most often run Fly Classic series but with 10 minute heats rather than the three minute runs we usually have every week. At the end of about two hours we had a lot of hungry racers and Steve was right on time with several tasty pizzas, veggies and assorted munchies for lunch. Rick was the first winner with Bob the creator close behind him and although the computer didn't catch up I was ahead of Mark for third, only an inch from having 222.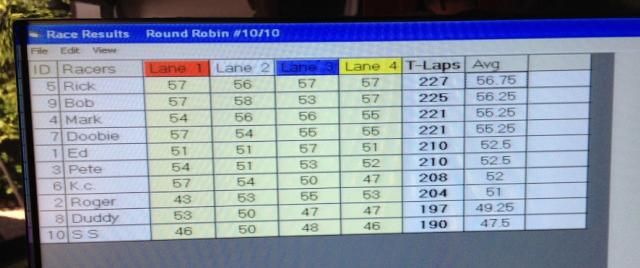 After lunch Mark and Bob had to leave and we continued not to Slot-it non magnet GroupC/GTP running on Scaleauto ProComp3 foam tires treated with NSR 4605 tire"oyl".

Lo and behold we had a new Foam tire Slot-it winner with Dave Duddy edging Rapid Rick and Pete in hot pursuit.




It was here where we veered from the race order and by nearly unanimous consent chose to run NSR / Sidewinders ( NSR , no mag, Supertires / All other Sidewinder brands, no mag, any slip on silicone and Orange (ish) endbell NSR or Slot-it motors. I pressed a five year old NSR Fort GT MkIV into service re-bodied with the new Martini #3 livery and very happily won on my dream track with one of my favorite cars in a very competitive class. (Rick has one of those deadly Slot-it HSR chassis.)

Next up was my new Ninco F-1 IROC type race. I had bought all five colors knowing I may need spare parts and sure enough one of the cars had a wheel that was so crooked on the axle that it went down the track like a dog with three legs! Come on Ninco, that crap is oh so ten years ago…or is it so in Spain?
I robbed the fifth car and sanded the rear tires and we were off and racing. For not having any other prep they did all finish the race but there were a lot of problems. The up side was all the laughing and good humor proving that these are the guys I want to race with.
As you can see in the picture the Trackmate software didn't total all heats (strange!) The correct order is
 Rick 60/ Doobie 59 and a three way tie with KC, 3rd. Steve 4th and Pete 5th.




Next up was the Racer / Sideways Gr.5 IROC that Rick and I provide for the group. These are non-magnet on Scaleauto ProComp3 foams and handle great! Again we had close racing with Rick, Pete and I tied. I think that's the order. (?)  I do know I had three fast laps and didn't win.  


95ft. of 1/32 at MoTeC / Part 3

The last race of the night was the IROC type 50's F-1 series we call Pete's F-1 because he is always asking for us to run it. Well we did and this was Pete's first win in the class !!! A fitting win for a proud Vietnam Veteran!
Pete 58, Rick 55, Doobie 53 with shared hot laps.




We didn't get to run all of the 13 races I had planned but we had a full 12 hr day of racing and everyone who won left with a prize thanks to the generosity of Rick. I didn't get to set up the GoPro for time lapse because of brain lapse due to only 4 hrs. sleep but the good news is that Steve announced that what was to be a one time run on the long version of the track will continue for a while and so there will be some video soon!
Thank you Steve!!!

We missed the rest of the tribe but hopefully they can all get to my place for the 5th annual Black Friday Bash!!!!!  Save the Date.