21st century slot cars…
Started by
Phil Hackett
,
Feb 11 2015 02:19 PM
Posted 11 February 2015 - 02:19 PM
This is the first I've seen of this… so forgive me if it's already been posted:
Click
HERE
to contact Sonic Products. The messenger feature on my Slotblog account has been disabled.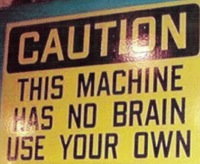 ---
Posted 11 February 2015 - 02:35 PM
Hey Phil,
 
Real cool!
 
Shakey George

---
Posted 11 February 2015 - 02:58 PM
These can't be slot cars, there's no slot. More like R/C cars on a different kind of track.
Jim "Butch" Dunaway
 
Anything is possible IF you don't know what you are talking about.
 
When you are dead, you don't know you are dead. It is difficult only for the others.
It's the same when you are stupid.

 
---
Posted 11 February 2015 - 03:57 PM
Pretty sure this has already been mentioned here Phil; I first heard about it back in 2013... 
We've even got a complete subsection on SlotForum about these kinds of systems: 
Guided Slotless
Funny, when that idea first came up, some folks protested because it wasn't "slot" racing, even got kind of violent about it, but we decided to try it anyway and see what the reaction was like. I figured they're all basically "tabletop" racing systems, so still in the same very general category - and that's what distinguishes them from R/C.  
Don  
PS: Lots of citations here too, try the search box for Anki...
---
Posted 19 May 2016 - 12:10 AM
Anki Drive is an opportunity to make Slot Car Racing BETTER!
Digital Slot Racing has weaknesses in lane change locations and limited power across lanes. Anki technology can allow fully powered cars to change lanes at will. The technology can provide IR control of throttle, pin-lift/drop and AI assisted lane change steering). You can go as fast as you like, swap lanes wherever you want and drive through the pits without interference.
Scenario: Tri-oval with 3-4 lanes running in Kunga lines. A standard controller has an added stick you can tap to change lanes left or right. When you tap he stick, the car lifts the pin and steers to the next lane where it drops the pin again. The lane change steering is stabilized by the Al. You can change lanes anywhere on the straightaway you want and steer onto the two lanes in the pits.
It may not be as fast dedicated lanes but it is faster and more 'realistic' that Digital Racing.  
Pete Shreeves
---
Posted 19 May 2016 - 09:04 PM
LMAO.

R/C cars have been driving on slot car tracks since the 20th century. Tamyia came out with 1/24 cars way back and the Radio Shucks cars worked good as well and were cheaper.
Larry D. Kelley, MA
retired raceway owner... (for now)
race directing around Chicago-land
Diode/Omni repair specialist
USRA 2017 member #404
USSCA  member
Host 2006 ISRA/USA Nats
Great Lakes Slot Car Club member
60+ year pin Racing rail/slot cars in America
---
Posted 03 June 2016 - 08:50 AM
It's cool and all but not exactly for me. But I see no reason to argue about something that could possibly bring new clientele into a raceway.

Robert Fothergill
---
Posted 03 June 2016 - 04:59 PM
I raced the trains on the tabletop before I got my first slot car track. I have no interest in using a telephone to do anything other than to talk.
Larry D. Kelley, MA
retired raceway owner... (for now)
race directing around Chicago-land
Diode/Omni repair specialist
USRA 2017 member #404
USSCA  member
Host 2006 ISRA/USA Nats
Great Lakes Slot Car Club member
60+ year pin Racing rail/slot cars in America
---
---