New "cheater" magnets for FK motors?
Started by
MrWeiler
,
Apr 07 2015 10:26 PM
Posted 07 April 2015 - 10:26 PM
"TANSTAAFL" (There ain't no such thing as a free lunch.)
Robert Anson Heinlein

"Democracy and socialism have nothing in common but one word, equality. But notice the difference: while democracy seeks equality in liberty, socialism seeks equality in restraint and servitude."
Alexis de Tocqueville

"In practice, socialism didn't work. But socialism could never have worked because it is based on false premises about human psychology and society, and gross ignorance of human economy."
David Horowitz

Mike Brannian
---
Posted 07 April 2015 - 10:56 PM
Is that the "North" or "South" magnet?
Gonna need a bloody big flexi chassis to race that beast.
Ron Thornton
---
Posted 08 April 2015 - 11:26 AM
Yah Zip that would be hard to slip by the tec-man.......
GAV
Gary Vogeler
---
Posted 08 April 2015 - 12:16 PM
You all laughed when I presented liquid Nitrogen as a way of increased performance….. Fermi Labs is still studying Burrito Grease from Imperial Burger. They'll report the results when they become available…
Click
HERE
to contact Sonic Products. The messenger feature on my Slotblog account has been disabled.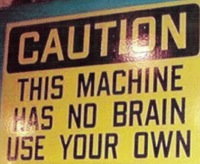 ---
Posted 08 April 2015 - 01:17 PM
Although it has never happened at Imperial Burger (knock wood), I have been at places where the results of Burrito Grease are known in as little as 15 minutes 
Max Bowers
---
Posted 08 April 2015 - 03:34 PM
One of the locals used to eat a bowl of chili & have a couple beers before the Tuesday night races. Same results!

Bill Fernald
 
"I'm not short, I'm just down to earth."
---
Posted 08 April 2015 - 08:59 PM
I use to do that to make me fart a lot and distract the other drivers. Works every time.  

Jim "Butch" Dunaway
 
Anything is possible IF you don't know what you are talking about.
 
When you are dead, you don't know you are dead. It is difficult only for the others.
It's the same when you are stupid.

 
---
Posted 08 April 2015 - 10:08 PM
There is nothing like having one racer who can clear the drivers' platform, let alone the raceway, by dropping his guts and then innocently carry on racing.
Names have been withheld to protect the guilty
---
---