As most know, I've been off the track and off the jig since last November. Moving forward, I had to think about what I wanted to do with the various classes of cars that I build. I'm starting with the F-1 class b/c I had a pretty good idea of new direction and also, I had plenty of stuff that was really good anyway. Thus.....if my newest and brilliant-est idea was a bust.....no biggie.
Testing starts this weekend. Can Ams are being tested too but my direction is less clear there.
Starting from here.........I did articles on both these designs although the bottom is a variation.
Top car:
5X .047, R-Geo bracket, pans, nosepiece. 107 gr all up.
This design has won on every flat track we run on except one.
Good basis design, reliable, not exceptionally fast in cornering speed.
Bottom Car:
2 1/2 rail (all bronze) .062 tuning fork free in tubes. This is a spinoff of an an R-Geo kit design that I wrote an article on..
This is a bridesmaid car....has podiumed in two races with as loaner. (1 flat track, 1 speedway)
This car is always really good yet there was always something that I thought was a little better.
Probably best as a flat track car.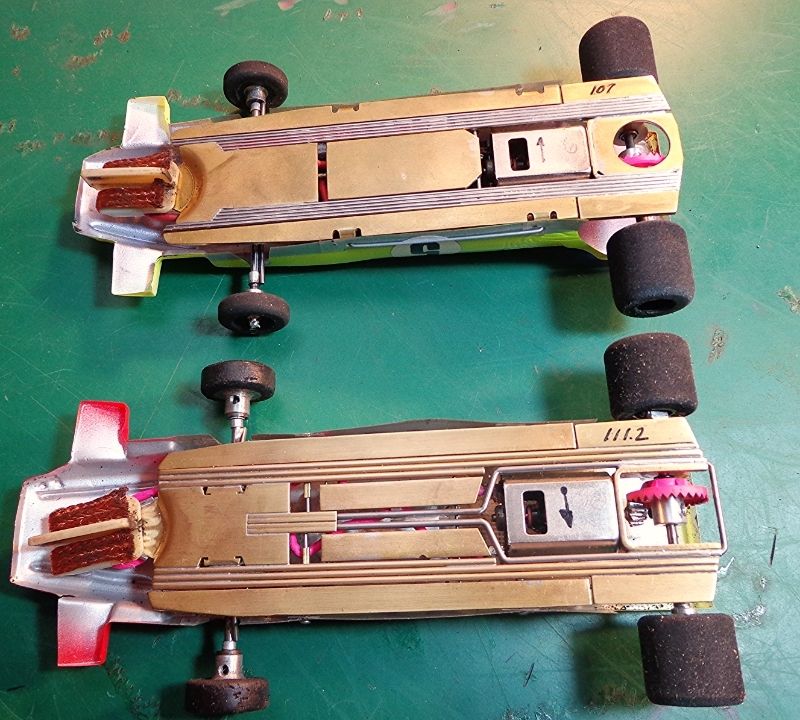 Then I went to this..........the "Toronto"
R-Geo kit with .050 nose and bracket. This one uses scratch built pans of .062. I have built several of these with slight variations. All have been very good.
Weight of 108 all up with body and weight on the center pans. This is flat track setup. With center pans off, ~~ 96 gr.
Finished cars in October, raced them once (loaning one out) to a 1,2 finish on a speedway. Excellent Speedway car. Not much time yet on flatsters.
I have some ideas that I've implemented in the frame shown below mostly for flat track use.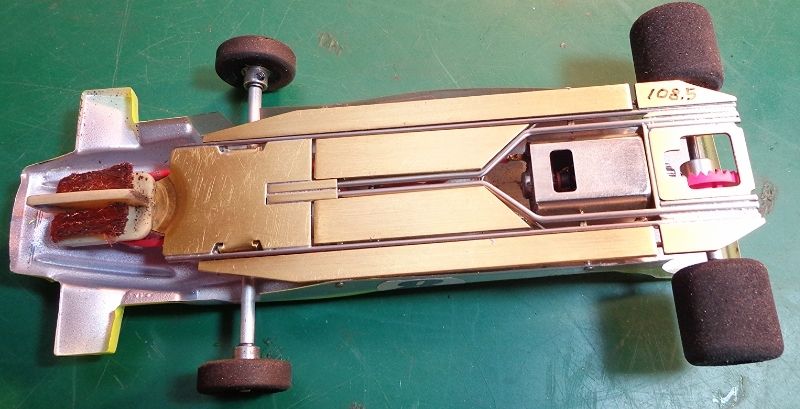 So........what do I want?...........high cornering speed of the Toronto but adapted to flat tracks.
Prototype #1 is below..........this is cobbled up from available stuff. I already know a few changes.
Hand made .032 nosepiece set up to left coast configuration.
Tuning forks are .047 each fork built in two parts. Soldered at front, flex limiter just forward of the crux.
.062 brass tail weights and .047 single frame rail outboard of that.
Pans are minimal, 2X .047. Weight 108.5 as shown with added lead.
The goal was to get the weight out of the pans and get it inboard.
Keep the weight rear biased and as close to the centerline as possible.
Try to hit approx flat track weight of 110 gr, w/out adding lead on top. (missed on that idea)