Once again Summer is coming and it's starting to get too hot to hold outdoor races in which case there's nothing better to do than open the garage and race all day!
I started setting up the tent at 5 and the boys started arriving promptly at 6 to watch the sun come up and help me finish the tent and set up the track.
We had the tent up in record time without many racing banners and lighting and then set the track up in the shorter than normal 3 section layout.
These things would prove to be valuable at the end of the day!
We had a bit of practice and started the day with our H&R Sportscar race. This is one of our favorite classes because of the wide range of model bodies that mount on the H&R and old Pro-Track chassis. Twelve racers lined up and off we went.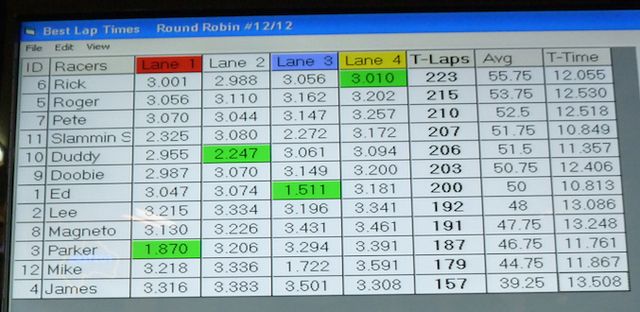 Rick Schonfeld from Tucson AZ. led the way followed by Roger Gunning and Pete Vespender.
Next up was Lee's 1/24th Carrera IROC.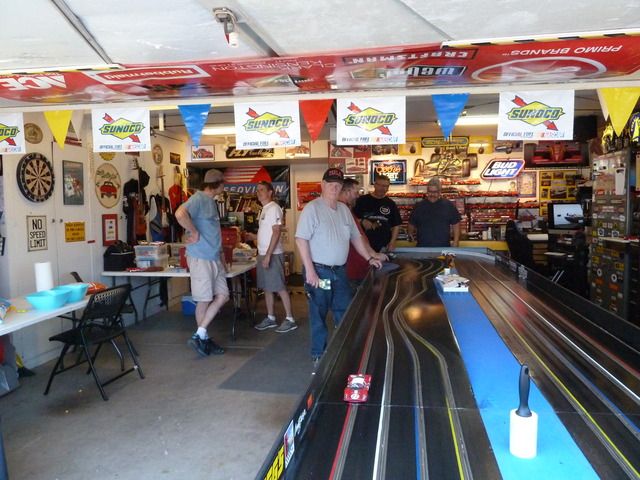 Lee Bumbalow from Payson AZ, there in the foreground provided the original four cars and I have been experimenting with them for a few years to make them work well on wood tracks at 10 > 12 volts. This time around I had put the 10 tooth pinions back on them to improve the braking on this short track. My next mod may be to replace the PlaFit Cheetah motors in with H&R Cobra motors in Devis3D printed motor pods. We'll see how the prototype compares...
These are heavy brutes but man did they make for close racing in an IROC format. Check this out!
Why can't Trackmate sort? ... Oh well!
Rick won race #2 by just staying ahead of Dave Duddy (195+ to 195) and Roger Gunning came in third with 194. That was followed by a three way tie for 4th, all with 193 led by Pete over me and Slammin' Steve Hill.
That race did take a bit longer than planned due to a broken wire in the big connector that ties the TrackMate to the dead strip in the second heat. It
took a little trouble shooting to find out why Blue stopped counting but after the repairs we were able to restart the race.
Next up were the new JK flexi type 2014 Indycars.
This is a great product for home racing as well as at raceways. When we first tried them we weren't sure if they would work on smaller tracks and so we tried using the stock tires and "Cleaning" them with ScaleAuto Slot Grip Tire Cleaner and also silicoating them. (Yes, that is a new word and you may use it.)

The good news is that the "Cleaner" is all you need and even on a short board track these things fly!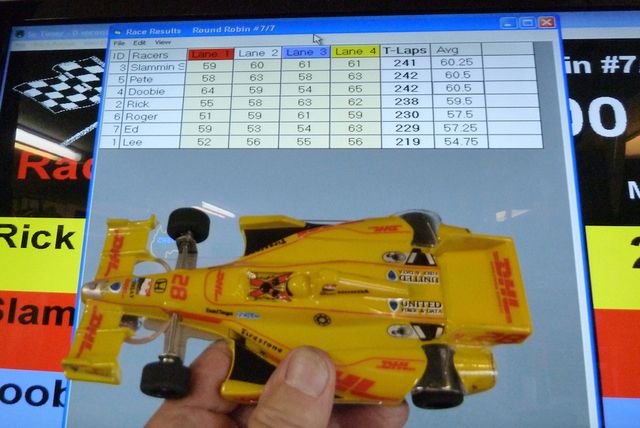 Pete Vespender beat me by about half a lap and Slammin' Steve was close behind.
Time for lunch....