Primary focus here is the Can-Am shown below but there is also a brand new 4.5" Stock Car that shares the premise.
So... why do it???
I love to build stuff and can usually build something for about any conditions (within reason).
But... I always want to do something new (to me anyway) so this is different for me.
I have recently built a couple of good lightweight Can-Ams but they have not been great on flat tracks.
Partially because they have been built with too much flex (hence too bitey).
Also, I made no provision for adding a lot of weight, so I couldn't get enough weight in the right places.
So... what is it???
This is a six-rail/side using a combination of .047" and .039" wire.
This is stiffer in twist flex than my recent lightweights.
This is made in a very general 4" x 15/16" configuration.
I've made pre-planned weight additions that will go quick and easy.
These additions will allow me to easily tune where the weight goes as well as how much of it.
Here is is in starting form with no added weights. This will go about 86.5 grams without body (92-93-ish all up).
Here are all the pre-made add ons.
The small rear weight tabs add 4.4 grams and are shown shown in place (sooo... 97-ish all up).
The two large weight tabs add 8.6 grams (sooo... mebbe 101 all up)
The center tray adds 5.0 grams, can be added without soldering, and is mixed and matched with the rear tabs.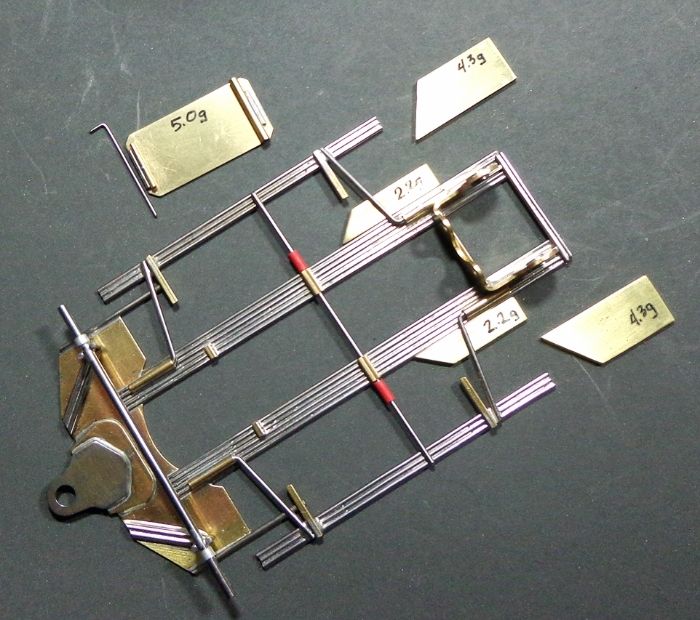 Maxed out...
Center tray and large weights in place gets this to about 106 grams all up.
There is plenty of room for lead on top of the rear tabs or on top of the tray.
This could easily get to say 116 grams or so for a good flat track weight.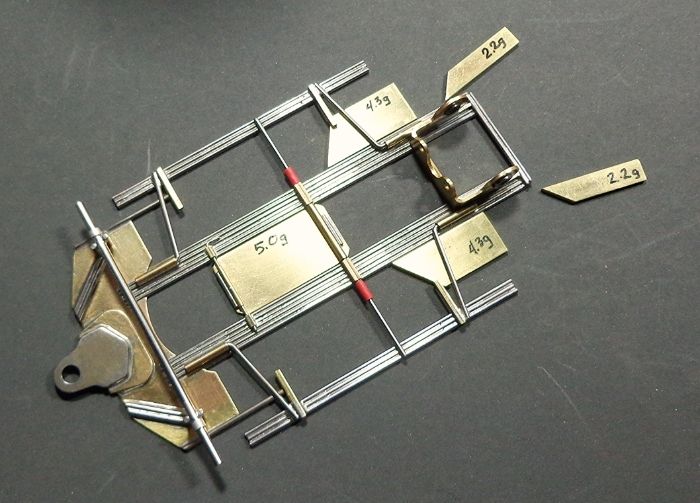 Here is the Stock Car... already tested once.
This was tested without the center tray and came in at 117 grams all up
This is waaay too light for one of these bricks, I knew that, but wanted to test it anyway.
Sure enough... fast like crazy but tippy as hell.
The center tray adds 5 grams and gives an easy location for 5-8 more.
I can add about 4 grams/side on top of the rear tabs.
I could add weight to the nose. I usually don't use nose weight but these things sometimes need it.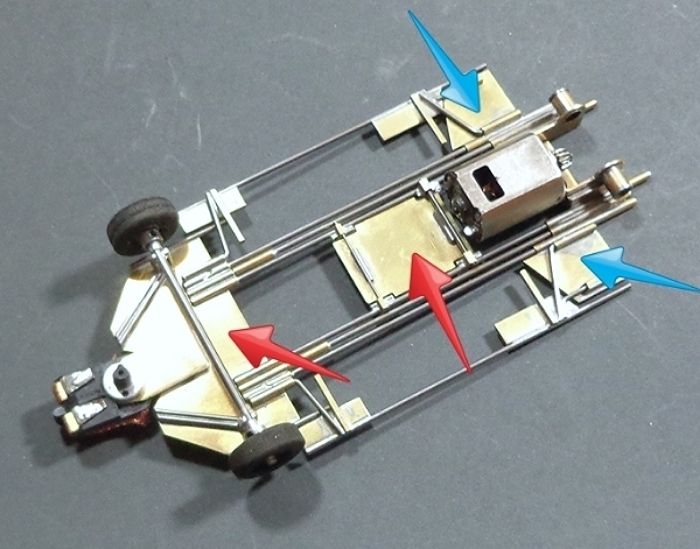 So the idea with these was to build light but plan ahead for addition of weight in various locations. My current trend is not much weight on the pans and more toward the center-rear. As mentioned, I seldom use much nose weight but once in a while, it works nicely.