Six locals showed up to race Super Stock and Vintage Econo at STR on 7/13/15. Vacations get in the way of a robust field. Track conditions were good but a bit loose for my taste.
The Econo class features plastic model replicas of full or mid-sized 1949 -1960 American iron. The class is quite competitive for several reasons. First, a relatively simple, standard chassis is specified. Chassis movement is limited to a side to side or rattle motion. Second, track is specified and either front and/or rear tires may protrude beyond the bodywork. Third, either sealed Deathstar or sealed ProSlot 16D motors are specified.
Below are a few close-up images of Terrys 1949 Ford.
The Super Stock class features plastic model replicas of 1959-1979 American made sedans. Chassis are sophisticated hinged brass and wire scratch-builts with .790 rear and O-ring front tires. Although rules allow for any 16D type motor, most all of the racers rely on either Deathstar or ProSlot sealed 16D power plants. Below are a few images of Matadors fielded by Terry and Ron.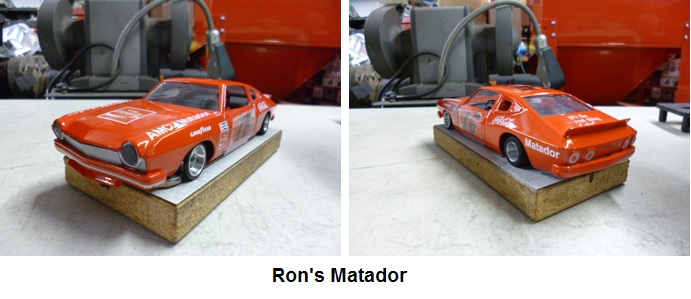 Highlights
The Vintage Econo race was a nail-biter with the top four finishing within less than a lap of each other. In the end it was Jack (49 Mercury), Rich (55 Chevy), Bob (57 Chevy) and James (57 Chevy) for first through fourth respectively.
In Super Stock, James smoked the field with his Chevelle turning a class record of 89.5 laps and coming within a whisker of breaking his own record for fast lap in the class. Bobs Chevelle and Jacks GTO were second and third respectively.
Vintage Econo
Any one of the top five cars had a shot at a podium finish and a close race it was. Rich and Ron battled it out head to head in the first heat and got tangled up in the flat turn after the bank, snaring Terrys 49 Ford in the wreck as well. Each lost valuable time and Rich finished with a very poor 19 laps putting him out of contention, or so he thought. The race progressed with very few offs. Going into the last heat, Jack and Bob were within a few sections of each other and Rich was more than a lap down. Bob closed the gap on Jack late in the heat and it was going to be close. While attempting to pass Jack in the turn entering the pit straight, wheels touched and both cars left their respective slots. Rich managed to slip by Bob in the melee. In the end it was Jack, Rich and Bob for first through third. James finished fourth, running a very consistent race (95.47%) but it wasnt enough for a podium finish. Below are images of the grid and details of the finishing order
Super Stock
James Chevelle was clearly the car to beat, turning a near record fast lap. That being said, never count Bob or Jack out in this class. Both have very competitive rides. James, not only turned the fastest lap time, but ran a very consistent race (95.00%) managing a new class record for total laps of 89.5. It appeared to me than both Bob and Jack were struggling to keep up with James. As a result, each had a few offs putting them out of contention for the top step of the podium. In the end, Bobs Chevelle bested Jacks GTO by about a lap for second and third respectively. Rich, Ron and Terry were clearly in the second tier, turning laps nearly .3 of second off the leaders pace. All three of the second tier rides, however, were competitive among each other. Going into the final heat, Rons red Matador was just a few feet ahead of Richs green Chevelle. The battle for fourth was a very heated duel. Rich closed the gap early but just could not get by Ron. Any bobble could make the difference, however both drivers ran a clean heat. With only a few laps to go, Rich managed to pass Ron but could not open a gap. At the end of the heat, it was Rich by only a few feet over Ron. What a fun race!! Below are images of the grid and details of the finishing order.