These are in the other thread but were failures. This was the era of totally unlimited glue and they were all designed with the idea of getting through the glue better. Fred Strauss and I were alway willing to try anything in the quest for that "magic" chassis in our battles with the Camen crew.
Steel Puzzle Pan the motor pod rattles around like the original one built years before by Sandy Gross. It ran OK but nothing special; I doubt we ever raced it.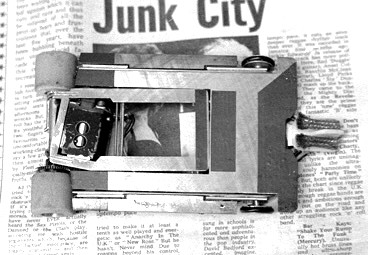 The Starship. Again it was OK. I know Fred raced it a few times, but it was no better than a straight rail centersection. I think the biggest problem was it was just too stiff. 
The Panzer. The idea was super stiff, keep the weight out wide and not effected by the body which was supported by those light pans. Since we were running with the front tires not touching, the front axle is in an over-sized tube and just rattles around. The concept of letting the body move without effecting the chassis is the basis of my Aero chassis I built for Retro. Not sure how it ran, but I know we never built another one in any form. lOL.