For the last month or so I have been working to catch up on customer cars, showcase cars and some repair/re-jig jobs that I've promised. Just starting to get some new experimental stuff going, here is some of it.
I realize that these are even more obscure than 1/24 anglewinders and I don't build 1/32 cars often so I like to try new things. Powered by Slick 7 Mini Brutes, these are very fun cars and pretty darned fast. These are flat track builds.
Here are a couple of 1/32 anglewinders that I've built up in the last two weeks. The top one has been tested, then stripped down and rebuilt. The bottom one is just finished and is about to get cleaned up. These are two pretty different approaches to frame rail configurations.
Top Car. Approx 15* motor angle, rear motor tray, center weight, nose piece = .032 brass. Pans .062 X 1/4" brass. This was a "salvage build" from something else that didn't work very well.
Original configuration was 3x.039 frame rails per side.
Pans are shaker mounts.
Center weight originally floated in the front center retainer tube and at rear attachment point.
As tested, this car was really fast to a point and then exhibited wheel hop at highest cornering speeds.
Harder tires mitigated this to a point but didn't solve. I concluded a little too much flex and too much lateral slop in the center weight.
Modified as shown here:
Frame rails are now 4 X .039/side.
Center weight is now hanging on a .032 cross rail at rear and soldered so no lateral slop.
Ready to be cleaned and reassembled for testing, this car will run 96 gr.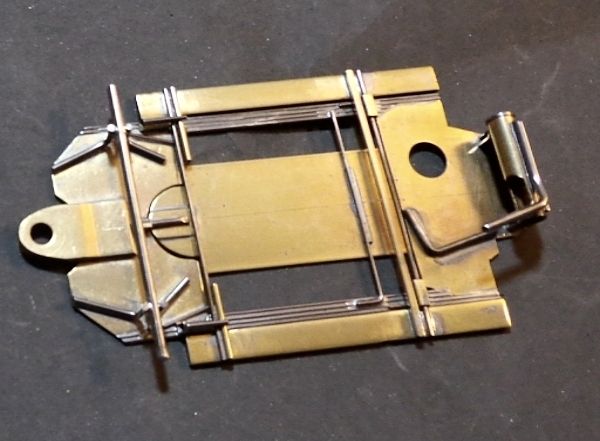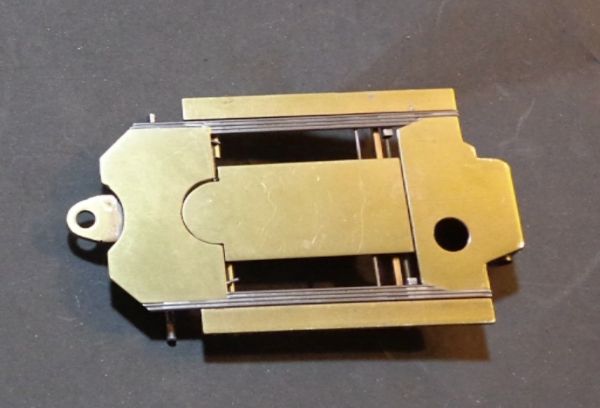 Second car: Motor tray, pans = .025, nose plates and guide tongue all .062. Motor angle = 13*
I didn't know what I was going to build when I started this one, but ended up with........
 
Main rails = 3 X .047 wire.
Conventional hinges.
Despite larger wire, this car has notably more flex than #1
Ready to run this will be about 92 gr.
Not yet tested.
This frame inspired a vaguely similar Can Am.....also just finished.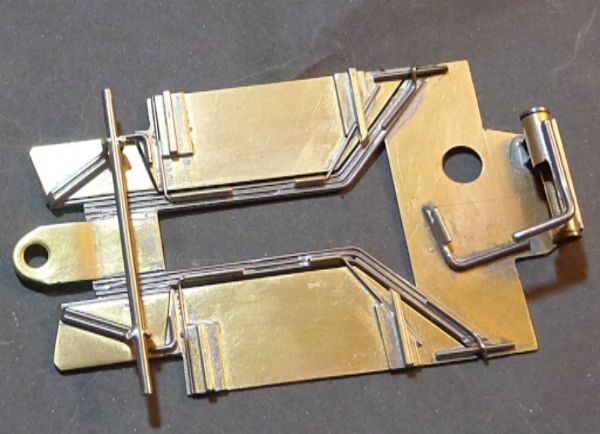 Testing will start sometime next week.