The inaugural JK RTR Indy Car race was held at Bill Pinch's track in Melbourne Florida on Sept 12. We were surprised to have 11 entrants for this first race. Way to go you guys! We did not state it at the time of the race, but the drivers were separated into Expert (E) and Novice (N) groups.  The race was very close between Dennis and Matt, with Dennis taking a one lap victory  The overall finishing order is shown below.
       Driver (class)        total laps  fastest lap     lane
1. Dennis Demole (E)     205      4.4490 sec    black
2. Matt Boman (E)          204      4.3284 sec    purple
3. Doc Dougherty (E)     200       4.4492 sec    yellow
4. Marcus Ramos (E)     192      4.6087 sec     purple
5. Nathan Pickett (E)      186      4.5502 sec    purple
6. Charles Harley (N)     185      4.7220 sec    yellow
7. Greg Walker (E)         183      4.6677 sec    blue
8. Walker Carpenter (N) 169      4.8788 sec    black
9. Jim Smith (N)              155      4.9417 sec   orange
10. Captn Bob (N)           94        4.9922 sec   green
11. Mike Henry (E)          16        4.9374 sec   red
Since we missed to boat on the expert vs novice drivers at the time, we only have a picture of the top three.
Dennis Demole (winner) is in the middle. Matt Boman (2nd place) is on the left and Doc Dougherty (3rd place) is on the right.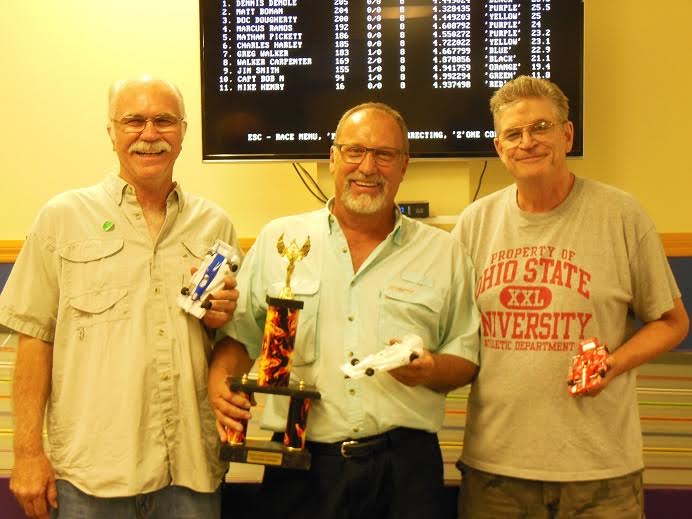 The cars are shown below.