Have been invited to show off the Model A at a school tomorrow and today was making sure she was up to snuff for the trip.
 


 
The recent starting trouble was, just as I was told and thought, I needed to service the battery. Way low on water in all three cells.
 
My old Sears charger finally bit the dust so I sprang for a fancy new one with rotating LED displays providing all the needed info. Set the charging rate to the lowest possible - 3 amps, called "Maintenance Mode." After a couple of hours, 100% charge and good to go. My old Interstate Battery guy told me that most all of their "defects and returns" just needed water and a slow charge to be "like new."
 
Installed my restored year-of-manufacture license plate; see pic below. 1930 Georgia plates are not common and are rather disliked for their plain colors. This craigslist find was being sold by a former NAPA store manager whom I had done much business with for a decade or so twenty years ago!
 
Had to resort to some hammer and dolly work to straighten the rear plate bracket, which was twisted pretty badly. Still can't get the plate to sit exactly level, no matter how much I bend on the assembly. Close enough for now...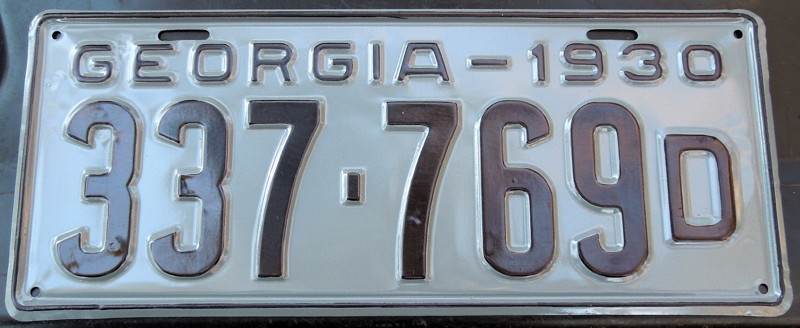 Gotta the clean the whitewalls tomorrow. They're so yellow it's embarrassing. Took three stops to find Bleche-Wite. Walmart was the winner.
 
Thank goodness it's finally cool enough to work on the car outdoors. My garage situation is so tight I can't do much while the car is inside.