I have been quiet on this forum of late but that has just been a matter of available time. I have been building a fair bit though, and so in response to a couple of whatchoo-beendoin' questions, here is an update on some developing stuff.
Can-Ams:
Torsion Car. I have not been a fan of torsion cars due to most of my efforts being not very good. However, I know they can be very good and so this one was built after seeing a pic of something Rick B has been messing with. I had a JK center section laying around so I dusted it off and cloned his concept.
JK center, R-Geo 3/4" bracket. All up about 104 grams.
Tuning forks are .062" and are free in the tubes.
Frame rails are .062" but do not connect to the bracket.
Frame rails join the fork rails via a spacer or tie bar of .062" wire.
This bit was originally about 3/8" long but is now is about 3/4" long.
Outboard, the frame rails are free in the square tubes attached to the pans.
This car has been tested once on a flat King that had very high bite on that day. This was good out of the gate being easy to drive and forgiving on turn entry. However, in the very fast donut, the car developed a loud "crackling" noise and released suddenly. I attribute this to too much torsional twist and the frame putting a heavy load on the outside front tire. This pic shows the spacer increased to 3/4" and a limiter at the crux of the forks.
 


 
No-Brainer Car: I have been goofing with some fairly exotic frames lately and this was intended to have something that works everywhere and is easy to tune. I have tested this a fair bit and indeed, it works everywhere and is usually one of my two or three fastest cars. Three or four other guys have driven this and two have ordered them.
R-Geo 1" bracket, all the rest is handmade.
Single rail of .078" wire, pans are .062" wire. Weight is about 104 grams all up.
Pans have normal hinge in front but outboard shaker tube setup for rear hinge.
This car is very tolerant of different tires and doesn't need a lot of tuning.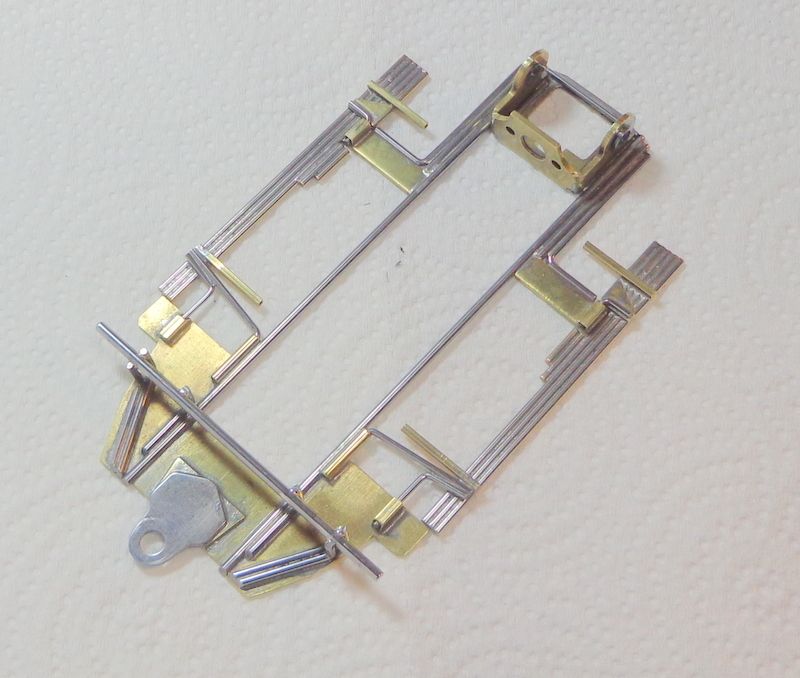 The NOT No-Brainer Car: Attempt to follow up on the above build with something with the potential to be faster. It is... sometimes. This car was the fastest in the box when running on the Purple Angel at Fast Track Hobbies on a day with modest bite conditions. However, when tested on the flat, highly-stuck King track at Slot Car Raceway in Rohnert Park, the car had to be driven very carefully. It was really fast... just before it came off.
R-Geo 1" "Pro" bracket. All other bits handmade.
Five rails/side of .047" full soldered. Weight about 101 grams all up.
Conventional hinge front, outboard shaker rear.
This car may eventually become a six-rail/side.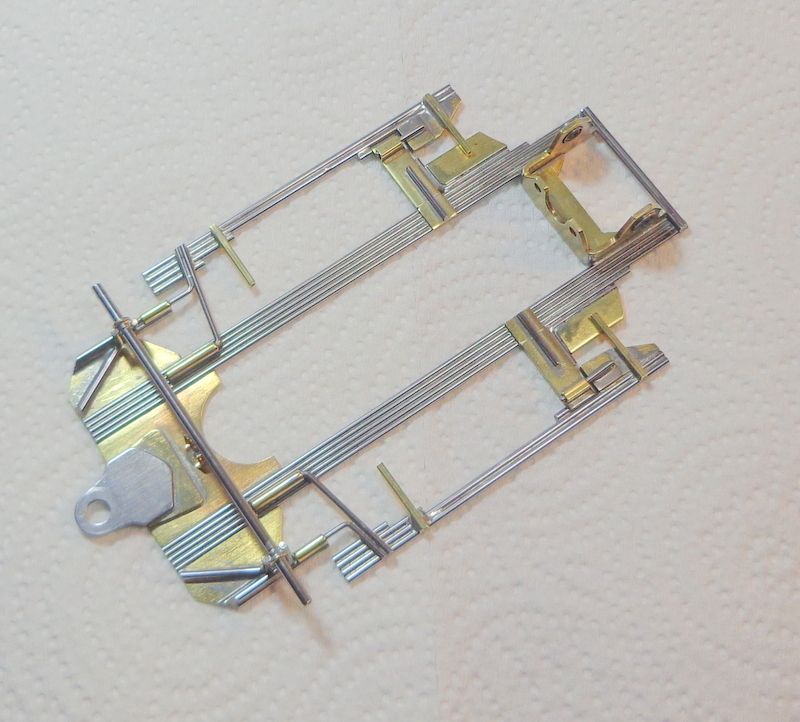 The X-3: This is the latest generation of the X-1 experimental chassis that I posted on some months ago. This has only been tested once, on the flat, bitey, King track at SCR in Rohnert park. On that day, this car turned the fastest time that I have ever done there and it handled the high bite very well. Like the original X-1 and the subsequent variants, this is a perimeter chassis. This one differs in that it uses a fork configuration that I have seen on cars by the Tokyo crew and also by Jim Lange. This is the stiffest of the X series chassis so far.
R-Geo 1" bracket, all other bits handmade.
Central forks are .062", tied into the nosepiece with a single bit of .062".
Single perimeter rails are .055". Pans are .062" wire. Normal hinge front, outboard shaker rear.
Car runs 102 grams all up with the center weight in place, 97.5 without it.
So far... this car is pretty darned good just as it is.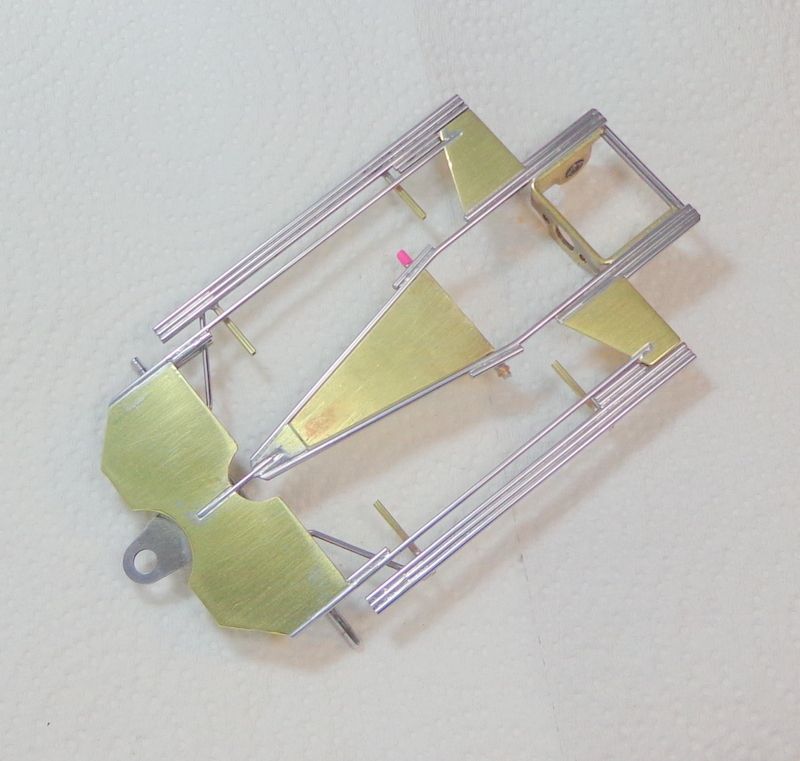 Will follow with a few F1s in a day or so...