Beginning next Saturday at the regular monthly King track races at Buena Park Raceway the SCRRA is going to try a few minor body rule changes. These will ONLY be in effect for the monthly races and will NOT be allowed in the major SCRRA races.
We have discussed these changes recently with most of the BPR regulars and almost all think it is a good idea or don't care.  Beginning Saturday we are going to allow certain bodies to be fitted with small side air dams or front diaplanes.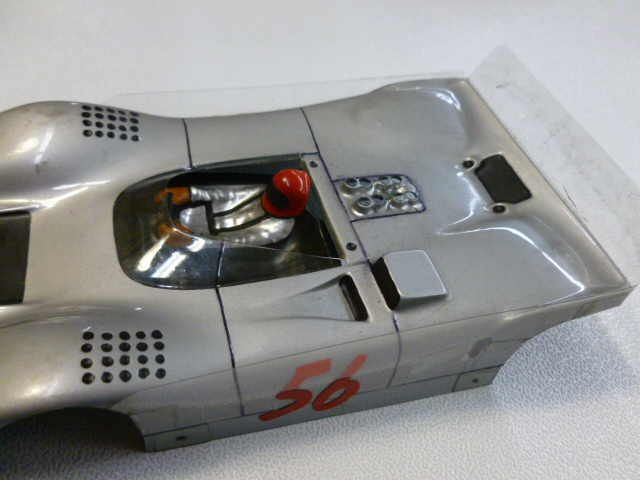 Side air dams
Front diaplane
The side air dams will be allowed on all the legal bodies other than the Ti22's and the front diaplanes will be allowed on only the SHORT version of the Tis  Very simple actually as we're just trying to get some different bodies involved in the races and basically a pet project of this race reporter as he just got tired of seeing almost nothing but long Tis occupying every grid for every race! 

Also, most racers have droves of Lolas, Ferraris, and short Tis hiding away on shelves and locked in closets just waiting to be brought back to the track.
Whether these little aero tweeks actually help is a matter for discussion but the perception is that the long TI's have a distinct and decided advantage and that is why everyone runs them.  We're just trying to level the playing field and involve some different bodies and these changes will be easy to police.  The side dams can be no higher than the line connecting the top of the front fender to the top of the rear fender and at no point can be higher than 1/4" from the bodywork. The front diaplanes on the short TI's can be no longer than 1/4" and no wider than the body.  I will provide anyone with lexan strips free of charge for both applications and these can be easily mounted with double sided tape, clear tape or with the little Swingline "TOT" staplers.  See me at the track if you want some.
 Remember, these changes will ONLY be in effect for the MONTHLY BPR SCRRA races and will not be used in the upcoming Zimmerman "Festival of Speed,  the Summer Western Classic,  or the Boola Bash.  Just something to try and to mix things up out here in the "Wild West!" 
  Slap some .005 lexan on the sides of a Lola and give it a try!  See you Saturday!