A few photos of the 2-3-16 Monza race for pre-1960 F-1, Indy, Gran Prix cars.
Main event: James 1956 Lancia Ferrari D-50, red lane; Cully, '56 Lancia Ferrari D-50, white; Paul,
1956 Kurtis Craft Indy roadster, blue; Todd, 1959 Watson Indy Roadster, yellow lane. Cully wins.
Consi or "B" Main: Basil, 1954 Mercedes W-196, red lane; Greg, 1958 Vanwall, white; Dave, 1956 Kurtis Fraft
Indy roadster Hemi! blue, Tom, 1955 Lancia D-50, yellow lane. Greg wins.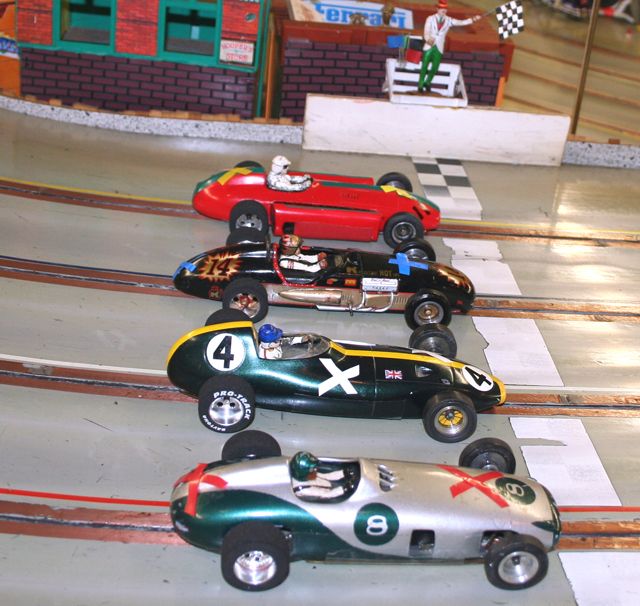 Score sheet: Cully and Todd win most of the heat races.
Main event starting line up: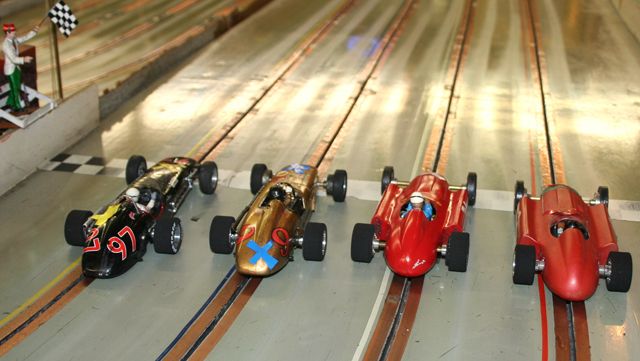 Consi starting line up:
Crowded Monza pits: Track side scenery is an important feature of Pelican Park's racing atmosphere.