From today's Virginia 
News Leader
: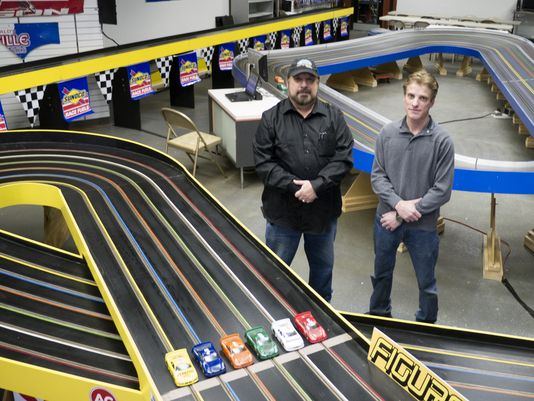 Russell Schmidt and A.J. Marshall pose in their newly-opened Staunton Speedway & Hobbies in the Staunton Mall Thursday, Feb. 11, 2016. They are standing between a figure-8 slot car track Schmidt built in the 1980s and a larger tri-oval. (Photo: Randall K. Wolf/The News Leader)
Miniature cars whiz by on a large indoor track at the Staunton Mall, transporting grown-ups back to childhood.
With hands gripped around a controller and a finger on the trigger, a simple click back and forth on the throttle can either send you zooming around the track or make you go flying off it.
"The trick is to slow down on the curves and catch up on the straightaways," A.J. Marshall said.
This is the nostalgia that Russell Schmidt and his son, Marshall, hit on the head when you enter their new store at the Staunton Mall. Staunton Miniature Speedway and Hobbies caters to the stock car racing enthusiasts who need a thrill, but at a cheaper price and a smaller scale.
Back in the 1960s, Schmidt received his first stock car racing set. From the first race, he was hooked. At the age of 12, he was working in a nearby miniature track and store on Long Island, New York, and hasn't looked back.
"When I was 12 years old, my parents got me my first slot car set," he said. "It was a lot of good times for me. There's just a lot of good memories."
He would spend hours at the local miniature slot car track in his Long Island town, grab food at the Howard Johnson, and then come back for more racing.
You can read the rest of the article
HERE
.