The Arizona HO Racing Association gathered at Russ Upton beautiful TKO track for IROC T-Jets, G-Jets and Brasscars.  Special thanks to Russ and Al Thurman for providing cars for everyone to enjoy.  We had a visitor from the great northeast Dave Lockwood who was a wealth of T-Jet, Fray information and racing stories.  Lew made it for his first race with us and got up to speed in an impressive fashion.  Information on finishing order and fast laps can be found at our Facebook page Arizona HO Racing Association.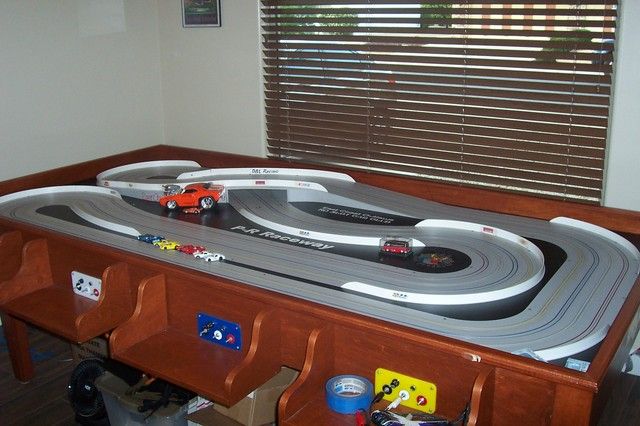 Russ won the T-Jet barely edging Dave 124 to 123 with Glenn 120, Don 119 and Al 118.  It was close tight racing with lots of laughing and joking while sliding the skinny tires T-Jets on every corner.  Russ put a lot of work into them making them super smooth and a joy to drive.  The G-Jet race featured a fun filled battle to the point that the difference between fast laps was only .056 seconds among 5 racers!  Glenn Gordon cranked out an impressive 2.705 early which everyone gave it their best shot but it held up.  Glenn won with 225 to Greg's 223 and Dave Franson rounded out the podium with a 213.  I got the bug after reading Cobra Ferrari Wars book so whipped up a Ferrari 250 GTO, Cobra Daytona, Corvette GS and Ferrari 275 LM.  Brasscars was a Dave Lockwood show easily winning with 145 to Russ' 138 and Glenn's 136.  Al's cars provided an insight into the Brasscar, Gravity class which is so popular in the Midwest.  Lots of sliding and rocket motors!  Superb handcrafted chassis!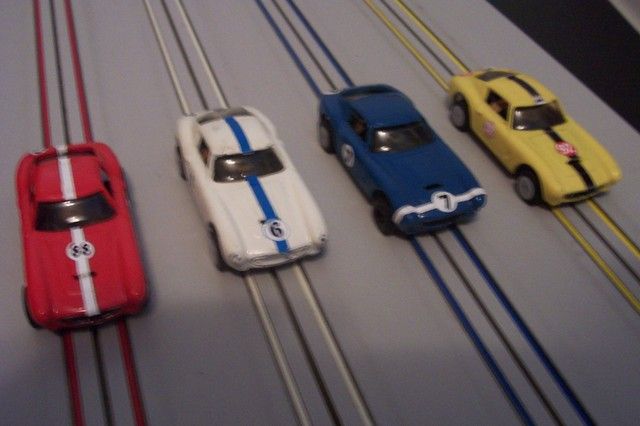 Even though the track is rather tight being around 40 feet it provides a lot of close racing.  Down the main straight you enter a very fast sweeping left hand which leads an uphill that tempts you to give it full throttle.  Near the top is a slight kink to the left which gave some a bit of trouble.  Downhill leads to a tight 180 degree right hand into the tunnel and a short straight.  A tight right hand hairpin leading onto another fast straight.  There is a slight right kink into the left hand hairpin onto the main straight.  We were getting lap times in the mid 5 seconds for T-Jets, 3 seconds for G-Jets and 4 seconds for Brasscars.  Russ won the track in a raffle where the last prize was the track.  His was the last ticket remaining so never was he so happy to lose when the other tickets were pulled.  So now it is Arizona and we're so happy he invites us to hook up on it.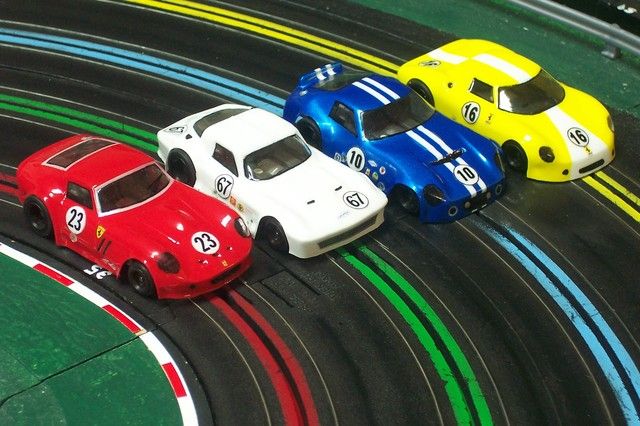 After the races we sat around for many hours (I crawled into bed at 2:30am!) discussing all things HO slot racing.  Russ' excellent food spread including a 6' sub disappeared quickly.  Dave was questioned on how he got his D B L Racing controllers working so well and was generous in giving out information.  He even drew up a schematic to help one of the guys.  I tried his controller and it was very smooth and linear on how the car accelerated and handled.  He went into great detail on his hinged wiper which is a nice piece of work.  Some of us in AZ are behind the curve on the Fray cars so both Dave and Russ showed us some of the latest setups and tools in use.  When I crawled into bed at 2:30am (did I mention that?) I was smarter after meeting with Dave.
One aspect of the conversation I truly enjoyed was having been around the country a little bit we could talk about friends in HO slot racing we all knew regardless of their location.  So being the majority of the conversation dealt with pancake cars our appreciation of Paul Kniffen of Zoomin Motorsports came up.  I first met Paul racing Tyco Modifieds in the 90s and we went our separate ways with him to pancake and me pretty much everything.  But those who know Paul and the superb products he makes know the high standard he puts out there for all of us.  When it comes to creating parts or tuning Paul has his game at the highest level.  It was fun to say, "I would do it this way.  Then Paul would do it this better way!"  There were be an appreciative nodding of heads, yes Paul would do it that precise way!  So Paul if your ears were ringing early Sunday morning it was all good!
A truly wonderful evening of racing amongst good friends who share a love of racing little electric toys.  Can't wait for the next race April 9th.  We will be at Russ' again where a surprise IROC race may debut.