"CALL THE PLUMBER!"
This build is a tribute to Howie Ursaner's 1968 Cobra Invitational car he World Record TQ'd at Buzzarama in Brooklyn, NY.
It is going to be a team effort with:
Howie Ursaner - Team Leader
Steve Okeefe - Master chassis builder
Joe "Noose" Neumeister - Painter extraordinaire
Rodney Chew - Expert vintage builder and tuner
Sandy Gross - Cobra teammate and supplier of rare NOS motor parts
and Captain Rick putting all the pieces together
Here is Howie's account of the Buzzarama race:
The Cobra Invitational race at Buzzarama in Brooklyn, NY, was a race held by Cobra, my sponsor, in 1968. It was one of the first big races after switching to anglewinders. This race attracted 116 racers from around the country. About every pro out there was in attendance. My car that I built for this race was one of four at this race using the latest plumber construction. I ran a Lotus 30 body and a production Cobra motor. Throughout 1968 Lou Graziano, head honcho at Cobra, forced me and Sandy to run production motors. I told him there is no way we would win any races and he said he didn't care and we had to run them. I did and was plagued at every race. What was happening is that they would get so hot the motors were melting.

 

Mike Morrissey, in Model Car Journal, described Buzzy's on this day as "Cough City". The power was so dirty, and the winds were getting so hot that almost all of the motors were blowing. I did TQ at this race with a time of 5.30 that Mike Morrissey claimed was a new world record for a King track. It was amazing that so many big names were not in the A Main. In the race I was in trouble quickly as there was no way to keep the pinion on. I was installing with high temp silver solder and in this race the pinion kept unsoldering itself and coming off. I never had pinions come off before this.

 

Brady had hooked up with Phil Ingles when he had no motor for the Main after running the Consi, and Semi. Phil was building great motors that ran cool. That is how he won this race. After this, and a few more like it, Lou wanted me to win so I went to running Emott chassis and Kean Cans. Bob was building a lot of his anglewinders and we won on Sunday and he sold on Monday. Sandy was under the same restrictions in this race and it shows in his finish as well. Sandy had pretty much disappeared at college at this time. Things were changing. Partying and girls had come into the picture and I was getting pretty distracted, and stayed distracted for 42 years.
Below I've included all eight pages of Model Racing Journal, Vol. 1, No. 1, as it's a pretty cool issue. The race report starts on page 1 and is titled "First Cobra Invitational, Jerry Brady Continues New York Dominance":
(Click on the pictures to enlarge them.)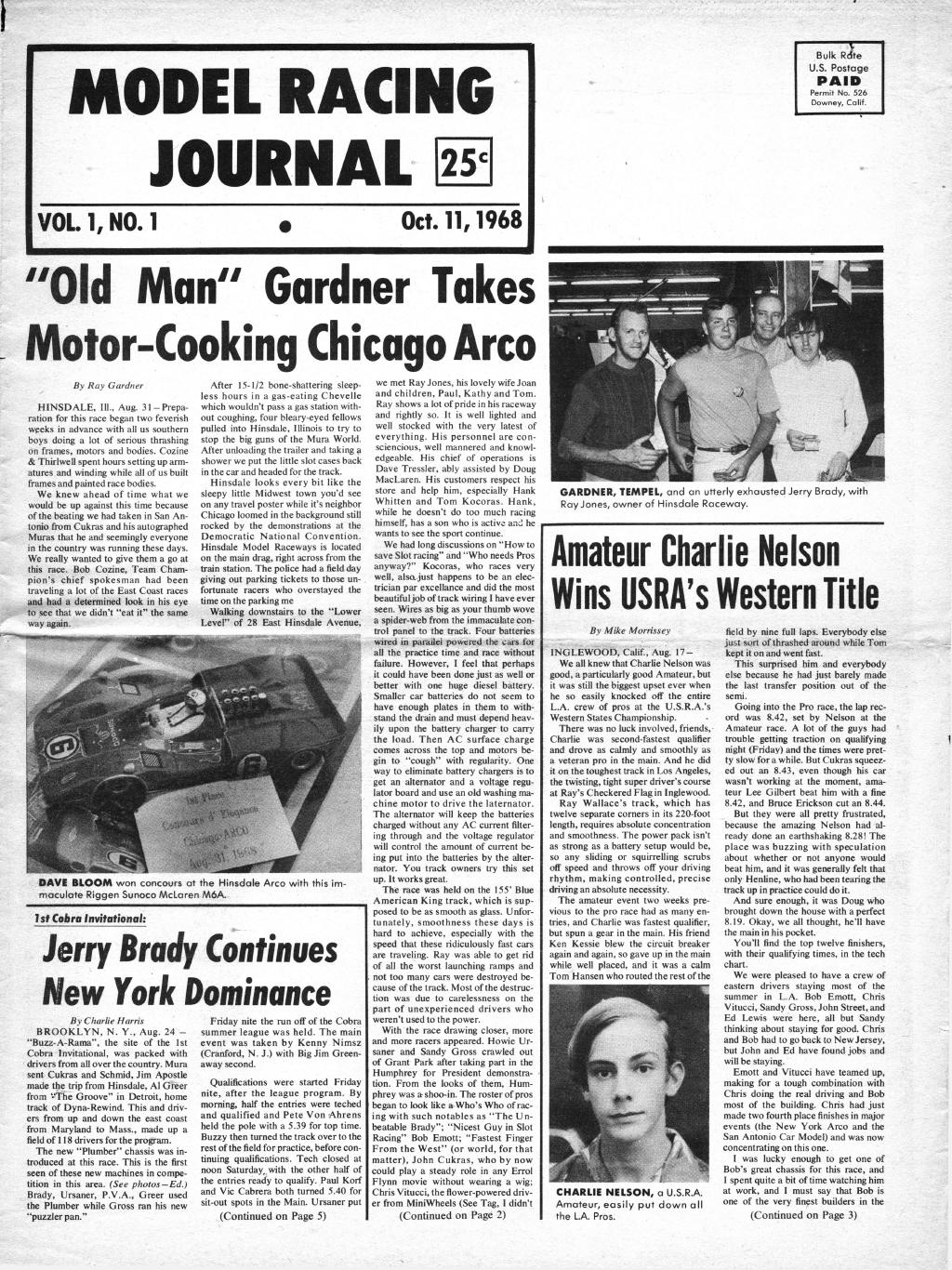 We have one very dark and very fuzzy picture of Howie's car to work from:
Thank goodness we have Steve! He will be doing a post soon with all the chassis details he worked out with Howie and several of his wonderful Excel chassis drawings.
Stay tuned!